Destiny 2: Xur location and inventory, Invitations of the Nine - March 15-18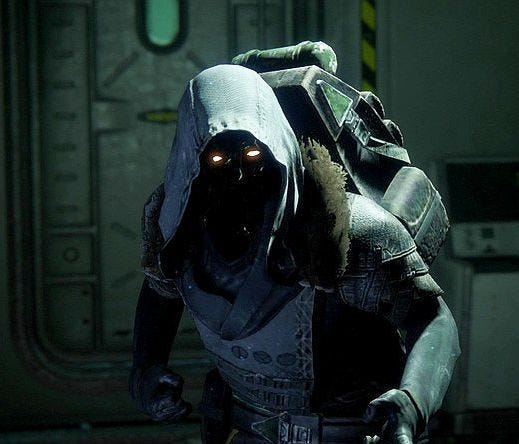 Xur has returned this week with new goods and an interesting Invitation for Destiny 2 players.
Our tentacle-faced shopkeep Xur is back for another few days in Destiny 2, and as usual, he wants your shards.
This week you can find him at The Rig on Titan.
With Season of the Drifter live, the peddler will start selling Forsaken Exotics; however, that's not the case this week with the weapon. That said, there are two armor pieces for sale which were released with the Forsaken expansion: Titan Gauntlets and a Warlock chest piece.
Xur inventory for March 15-18
Considered a spiritual successor to Destiny 1's Red Death, which was considered the "deadliest rifle in Destiny", Crimson features a three-round burst with a 14 round magazine, and some really nice perks.
Crimson was one of the many Exotics added with the Curse of Osiris expansion, and a super nice hand cannon to own. In the end it's your decision on whether to buy Crimson or not. Like with anything else, just do a bit of research first before handing Xur 29 Legendary Shards.
Destiny 2: Season of the Drifter – Invitations of the Nine
In addition to his Exotic inventory, Xur will start offering a quest item for you to complete each week, for up to nine weeks. Each week you engage, you'll be invited to learn more about the Nine and unlock lore pages to dive deeper into their story.
This new questline is called Invitations of the Nine. For the next nine weeks, the fella will task you with completing weekly bounties.
To get started, pick up his weekly Invitation which becomes the Into the Unknown bounty. This week, the Invitation is The World and will cost you nine shards.
The World tasks you with collecting metaphysical samples from defeated enemies in the European Dead Zone. You will also need to finish the strike Lake of Shadows and complete the following objectives:
Invitation - The World- Objectives
Collect nine Cabal samples
Collect nine Fallen samples
Collect nine Taken samples
Complete Lake of Shadows Strike
Get out there and have fun.