Why Red Death is the deadliest rifle in Destiny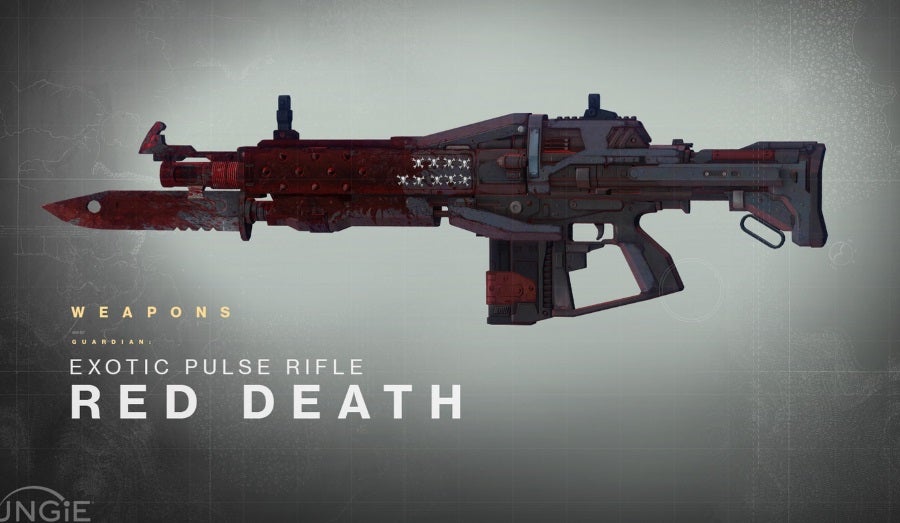 One hundred percent health regeneration and faster reloads - come with us as we take the 'Guardian killer' out for exercise.
"In addition to 100% health regeneration, each kill boosts Guardians with a faster reload. This significantly changes the flow of your game to deliver kill streaks and multi-kills that are otherwise broken up by long periods in cover."
The Red Death is an exotic primary weapon found in Destiny regarded as the deadliest burst-fire rifle there is. Its barrel shroud is caked in crimson with a bloodied bayonet attached. It has a brilliant-red skull and crossbones reflex sight and the report of a ridiculous road drill. Though Red Death arrived with a menacing look at the dawn of Destiny, only lately has it been living up to its name.
When hard mode launched for the Crota's End raid in January experienced Guardians mostly sailed through the upgraded challenge, all thanks to well rehearsed routines and existing exploitations. One obstacle still provides a headache for many teams, however: in hard mode Crota there's no life-restoring chalice to doctor wounds when the Presence of Crota debuff is in effect. This is especially a problem for the Guardian tasked with taking down the Big Guy, invisible Hunter or not.
If you're fortunate, you'll run the last checkpoint of Crota with a team that knows to leach orbs from the Hallowed Knights. Hopefully you have armour equipped too with a perk to replenish health from the shimmering snacks scattered around the crystal chamber. This is a lot left down to chance. Now, the reason Red Death is primarily back on everyone's radar is because a kill guarantees a full heal.
Sword bearers will know very well the added spring in your step that Red Death brings – any thrall that dares bite at your heels while heading to and from Crota's platform can also be the Red Death's next meal. Meanwhile Red Death's reputation has been growing in Destiny's PvP mode, the Crucible.
See, in addition to the 100 percent health regeneration, each kill boosts Guardians with a faster reload. This significantly changes the flow of your game to deliver kill streaks and multi-kills that are otherwise broken up by long periods in cover. It's important to note that healing is cancelled upon taking a hit, shifting your focus more keenly on the crossfire. Even so, smart use of the terrain and the likelihood of rival Guardians not possessing one of the most intimidating guns in the game grants a predator's edge over any wounded. If you really want to start upsetting people equip High Caliber Rounds so that they're flinching while trying to aim a return shot. Since the Unflinching perk is standard on Red Death, your Guardian will be holding his/her ground like a god.
The cherry on the cake is that Destiny update 1.1.1 brought a 9.7 percent damage boost to pulse rifles across the board. This sealed Red Death's exalted new status ahead of exotic auto rifle Suros Regime with its reduced range and only a slim percentage chance of returned health.
Speaking of Suros Regime, it is becoming apparent that Red Death is a rare catch by comparison. We've witnessed far more Guardians acquiring Last Word and PlayStation exclusive Hawkmoon than our gore splattered new best friend. Xur sold Red Death last September, and there's talk that it will return to his stall. Though not as elusive as Gjallarhorn, Red Death is nowhere near as common as Plan-C and certainly not goddamn No Land Beyond. Just keep praying that the Vault of Glass exotic chest delivers or that one of the raid bosses has one waiting at their table.
While there are no real substitutes for Red Death for all the reasons mentioned above, we can recommend the somewhat hard-to-come-by Praedyth's Timepiece pulse rifle that drops from the Gatekeepers in hard mode Vault of Glass. Its Headseeker precision perk combined with Perfect Balance for extremely low recoil makes this Arc damage weapon extremely effective at range. It's awesome for any Arc burn Nightfalls and Heroic strikes, but mostly an elegant tool in the Crucible.
As for granting more independence for hard mode Crota, it's only Suros Regime that can hold a candle to Red Death. It's only the bottom half of each magazine that provides the small percentage chance of returned health after the Suros Regime perk is unlocked. Get what you can. With Hammer Forged extended range enabled you're still going to terrorise Guardians in the Crucible, and that's despite the 1.1.1 debuff. If nothing else, you can wave yours around in the crystal chamber just to show that you have one and act all casual about the way you acquired it. You may even have three. None of them are called Red Death, however, and they're nowhere near as monstrous are they? No.
Please ignore any 'Red Death or…' forum threads last updated before 26 February 2015. Red Death wins.