Call of Duty: Black Ops 3 brings back 4-player co-op campaign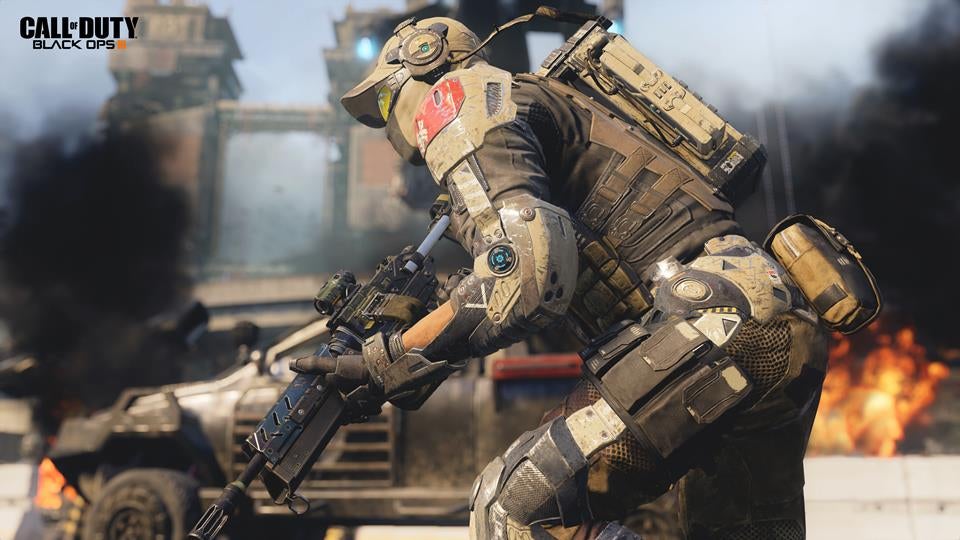 This year's Call of Duty campaign is designed specifically for four players to experience together. Let's get boots on the ground, soldier.

Don't call it an Exo skeleton. Call it the Direct Neural Interface. Okay, it's a little less catchy, but the DNI biotechnology in Call of Duty: Black Ops 3 will feel familiar to those that played Advanced Warfare. Once again you take control of a super-soldier with enhanced movement abilities, cool and effective skills and a new arsenal of guns and gear. That's the Call of Duty 2015 box ticked.
But the real change in Black Ops 3's campaign is that you're no longer fighting alongside AI buddies. Although it can be played solo, Call of Duty: Black Ops 3 allows up to four players to run the campaign mode together from start to finish, something that hasn't been seen since World At War seven years ago. Treyarch wants as few barriers to that as possible, so players who haven't opened up certain missions will still be able to play them if you're with someone who already has, and there's also support for two-player local split screen.
That co-op experience has forced developer Treyarch to think differently about map design, movement, character abilities and more. Call of Duty is known for funnelling players through corridors and prompting them to watch in-game cinematic events - something it does to great effect. But tight corridors won't work with four players tripping over each other's feet, let alone getting them all in the same spot at the same time to watch a plot-hinging moment of high drama.
Wider open levels are going to be key to changing the game and making it work for four players. As players spread across the map to attack enemies from different angles, T-Mode will allow you to keep track of your buddies' role and overlay information from them on your own HUD. Sometimes those big cinematic happenings will play out via a soldier-mounted camera, other times the game switches to third person so you all get a wider view of the action.
Treyarch is also promising 20 different emergent enemy AI types in a bid to give players a real challenge. "You need a larger space for players to move into tactical positions," says Jason Blundell, campaign director. "As the space gets larger, you need to bring it to life. The [enemy] AI has to be able to make decisions about not only where one player is, but where other co-op players are in different groups and different spreads across the space. "
"We have AI-to-AI behaviour," says Blundell, offering an example of new enemy types. "The bi-pedal robot enemies will move into phalanx positions based on where you are and they don't worry about self-preservation as much as human AI so they move through the battlefield differently."
As with Advanced Warfare, you're no longer playing as someone who is just human. While last year's Call of Duty had players wearing a suit, this year, it's all about what's under the skin. The idea is that alongside replacement limbs is a neural interface that not only allows you to take control of technology on the battlefield, but also the soldier's physiology, such as adrenaline and healing.
As this is another future-set story, the use of cybernetic implants and abilities allows players to customise their character. The idea is that you'll tweak your build so that each of you has complimentary skills, in turn allowing for different tactics on the battlefield. One mission we saw set in Cairo had one player take control of drones and turn them on the enemy, another working on disrupting the ground with explosives, a third hacking a terminal while the fourth thinned out enemies with a gun that shoots explosive spikes. The idea being each has a different role to achieve, creating teamwork dynamics. "We want you to go off the rails, to explore more and take advantage of your different positions," offers Blundell.
More immediate are the physical changes. Sprinting in Black Ops is unlimited. Clambering and climbing over obstacles no longer lowers the weapon, so you can fire at any point and remain engaged. The same goes for performing a power slide on your knees, during which you can change direction. The thrust jump is similar to Advanced Warfare's Exo jump, but it now has a meter which you can eke out or use in all one go, and being more adaptable with it means you can change direction mid-air. And then there's the wall run, familiar to anyone who's played Titanfall. You'll be able to aim down sights while doing these moves too, and with some practice the intention is that you'll learn to chain them together to rapidly move around the maps.
With persistent characters there should be reason to go back to the campaign mode once you're done, which is a far better reason than just switching up to Veteran difficulty. Alongside a new Safehouse that allows players to show off their characters, achievements and unlocks, Treyarch intends to create a more social Call of Duty campaign. Because that's been one of the real triumphs of online gaming; to play cooperatively with a handful of friends, instead of competitively against strangers.
Matt Martin recently visited Treyarch Studios. Activision paid for accommodation and flights.