Beyond Good and Evil 2 in-engine E3 demo provides an impressive look at the game's scale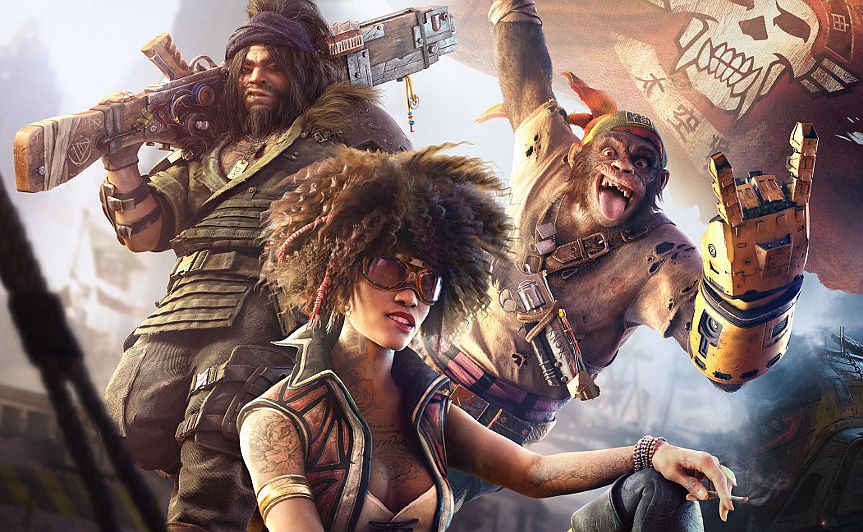 The in-engine gameplay demo for Beyond Good and Evil 2 shown to the press at E3 2017 is now available for viewing.
The video starts out with creative director Michel Ancel discussing the Mothership in Beyond Good and Evil 2, which is a place for the you and the crew, and also a place to store your spaceship. Speaking of which, there are various movements your ship can use when flying around, such as drifting.
Players are also able to explore other ships and interact with those who are running around doing chores, languishing about, or participating in immoral activities such as human trafficking. The player can take pictures of the more nefarious activities and hand the evidence over to the city authorities.
To provide the viewer with a sense of both large and small aspects of the game, Ancel straps a jetpack onto the hybrid-monkey fella you saw in the E3 trailer ,Knox, and flies him around the orbiting Mothership. Not only does the viewer get a sense of how large the ship is, but the city Ganesha in System 3 below.
Ancel said one of the most important aspects the team wanted to convey with the demo was the sense of scale in Beyond Good and Evil 2. Players will also be able to transition from smaller areas such as those in the city and into outer space seamlessly. This is something he touched upon at E3 2017 last week.
The atmosphere in the game is also interesting, in that atmospheric changes in real-time will determine how your ship handles, and even planetary rotation and orbit occurs in real-time. Astronomical bodies such as meteoroids can also land on the planets, affecting the landscape - sometimes drastically.
Ancel goes into much more detail in the video above, so you'll have to give it watch.
A cinematic trailer for Beyond Good and Evil 2 was revealed at Ubisoft's E3 press conference last week and while platforms haven't been officially confirmed, the Space Monkey Program lists PC, PS4 and Xbox One. It may even be coming to Switch.
Since the game isn't in full production yet, we'll have to wait a bit longer to find out which platforms it will release on and when we can expect it to hit shelves.