Yakuza Remastered interview: producer Daisuke Sato on bringing the complete Kiryu saga to PS4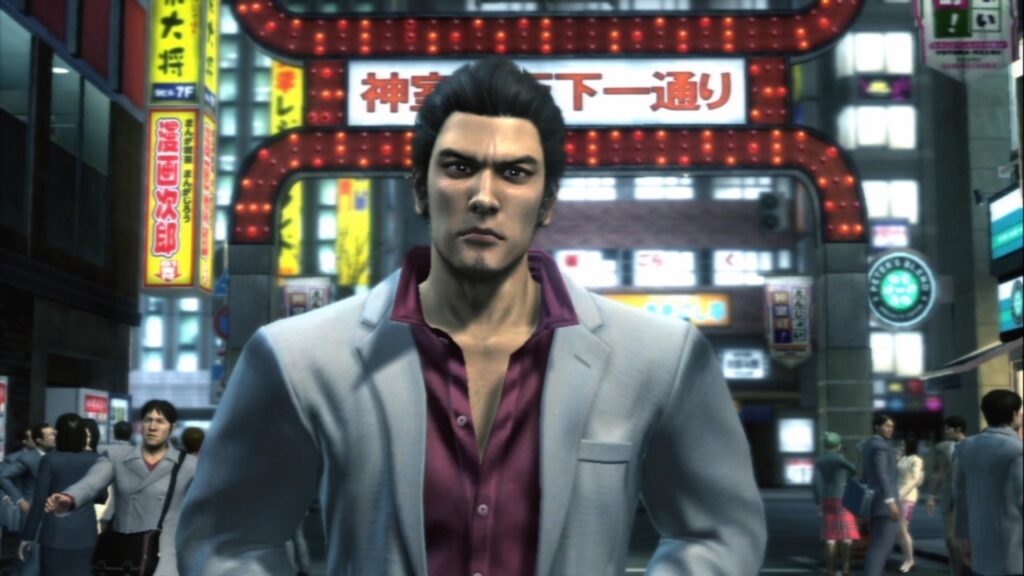 Surprise! Sega is bringing PlayStation 4 versions of Yakuza 3, 4 and 5 to the West - and the first of the trio is out now. We spoke to Yakuza Series Producer Daisuke Sato about the surprise release.
In case you missed the out-of-nowhere reveal, the Yakuza Remastered Collection is gathering Yakuza 3, 4 and 5 together on PlayStation 4. The trio will be released physically in February of next year, but fans desperate to get started will be able to buy a digital 'season pass' that'll get them access to all three games as they're ready, starting right now with Yakuza 3. Yakuza 4 will follow in a few months, then the collection will be completed digitally just prior to the boxed version hitting stores.
Just before the news was revealed to the world, we sat down with Yakuza series producer Daisuke Sato - who seems gleeful to be fulfilling a particularly strong fan demand, even as we cheekily ask about a PC version. Here's our chat.
VG247: This is obviously a bit of a surprise announcement... so how did bringing these remasters to the West come about?
Daisuke Sato:: There was a big raise in the fanbase of Yakuza starting with Yakuza 0 on the PS4. These fans who joined Yakuza on the PS4 know Kiwami and Kiwami 2, they know Yakuza 0 and 6... so we decided to bring out Yakuza 3, 4 and 5 on PS4 for this fanbase as well, to allow them to experience the whole storyline of Yakuza and all of the main characters.
VG247: So, for fans familiar with the original games, are there any major differences between the original versions and these remastered versions?
Daisuke Sato: So, as it's a remaster one focus was to up the graphics to 1080p and up the frame rate from 30fps to 60fps, so it's much more smooth. On top of that, there were several things, especially in Yakuza 3, that were cut from the PS3 version. Stuff like shogi, mahjong, the massage parlor, the cabaret club... all of this is now available in the new remaster.
Also, regarding the translations, it's not the old translations from the PS3 versions. The team that's been localizing the Yakuza games since Yakuza 0 has now reworked the translation to make it more understandable, smooth and natural. So there's a higher quality of translation and localization, too.
VG247: You're releasing the three games one-by-one digitally over the course of several months - what was the thinking behind doing that?
Daisuke Sato: The original plan was to release all three games in February 2020. We started to develop them - one at a time, one after the other... and because of that, we reached a situation where Yakuza 3 is already done, 4 is in the mastering stage and 5 is still a work in progress. After discussing it with the marketing team, they thought that once we announce it fans might want to get their hands on it as soon as possible.
That's how we got to releasing it digitally as the season pass beforehand while keeping the original planned release date with the boxed versions.
VG247: What do you think newer fans will get out of these releases, given they've already played newer games which are arguably more refined feature-wise?
Daisuke Sato: Everybody who played Yakuza 0, Kiwami, Kiwami 2 and perhaps 6 - this can finally finish the storyline. I'm really happy that I can provide these games so that the users can experience the full story. Also, especially in 4 and 5, there are multiple main characters. In 4 there are four playable characters, while in 5 there are five. The first time you play these characters yourself, I think you can get a very deep understanding of these characters and who they are, what moves them.
I think this is very helpful in helping to build the whole world and surroundings of Yakuza. Also, I mean, there are some characters that appear in Yakuza 6, but for those who just jumped in with 6, they might not be all that easy to grasp. These characters become much more relatable once you've played 3, 4 and 5.
VG247: What's it like revisiting these titles as a creator? How do you think they've aged?
Daisuke Sato: I directed Yakuza 3, and I have a lot of memories of it. As I was returning to it and comparing it to newer gaming systems... it's kind of like an itch that you can't scratch! [laughs] Of course if you compare it to the newer games it's of course not of the sort of quality that we've reached now - but on the other hand you can also see where a lot of stuff that appeared in 6 started at in 3.
In this sense, you can experience the history in a few ways. You can experience the history of the world, the story and the characters in this game, but you can also experience how the game systems evolved over time.
VG247: I think it's fair to say that Yakuza's Western fans are quite vocal. They know what they want and they'll ask for it... so does it feel like a weight is being lifted by getting these out there?
Daisuke Sato: We would like to have done this earlier, obviously. The order in the West is totally screwed - it's like 0, 6, 1, 2... and now 3, 4, 5! [laughs] But it's kind of, like... I'm now just very happy where we've created an environment where the users that started on PS4 can experience the whole story.
VG247: You're about to start a new journey with a new Yakuza game - but do you think these games provide an interesting context when considered next to what's to come?
Daisuke Sato: So, we're about to restart the series with a new main character, and we're putting a lot of effort in to make sure that anyone who hasn't played any of the older titles will be able to enjoy it.
But that said... of course there are fans that played all the old games, and there'll probably also be some minor plots or details that might be more enjoyable if you're familiar with the old stories. I wouldn't say it's deeper - that's not quite the right word - but there'll be something there for fans who have followed it all.
VG247: Fans are never really truly happy - there's always another thing on the list... and you've had a lot of success on PC. Is that something where, if you could make it happen, you'd like to get the complete saga onto the PC Platform?
Daisuke Sato: [laughs] I can't comment on that at this very moment.
...but I wouldn't say it won't ever happen.
VG247: I'm pretty sure the fans are going to be ecstatic. Is there anything particular you want to get out to the fans alongside this reveal?
Daisuke Sato: First off, there are probably a lot of fans who have been waiting for this for a long time. All I can say is that we're very sorry to have kept you waiting for so long!
On the other hand, there might be people who may have been hesitant before who might now play the games now that the series is complete and they can play it the way it was supposed to be played. I'm hoping for some new players coming to the series through that. I'm really excited for everybody to play, and to gather feedback... and I really hope everybody enjoys it.