Will GTA 5 patch 1.16 be released this week?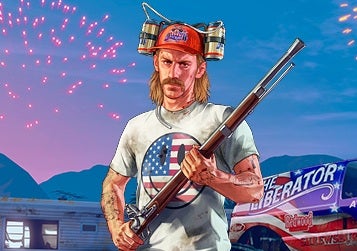 Speculation on when Rockstar will release Grand Theft Auto 5 patch 1.16 is hotting up, as is what exactly will be included in any DLC.

YouTuber NoahJ456 looks at the release dates for all the DLC that has dropped for the game so far and worked out that the average time between releases is 27 days (the shortest time between updates has been 14 days, the longest 48, although that was over the Christmas holiday period).
It's also worth noting that Rockstar hasn't pre-announced the past two updates - the I'm Not a Hipster and Independence Day Special - it just went straight ahead and released them.
As it's now 26 days since the last update, should we expect new content to drop this week?
Elsewhere, TrippyGlitcherHD has released a wishlist video for patch 1.16 with the help of his fans, and as well as including the inevitable call for online Heists and more stripclubs, he also requesting shark hunting, new jets and military clothing.
Check it out below.