Whatever Arslan: The Warriors of Legend is, I like it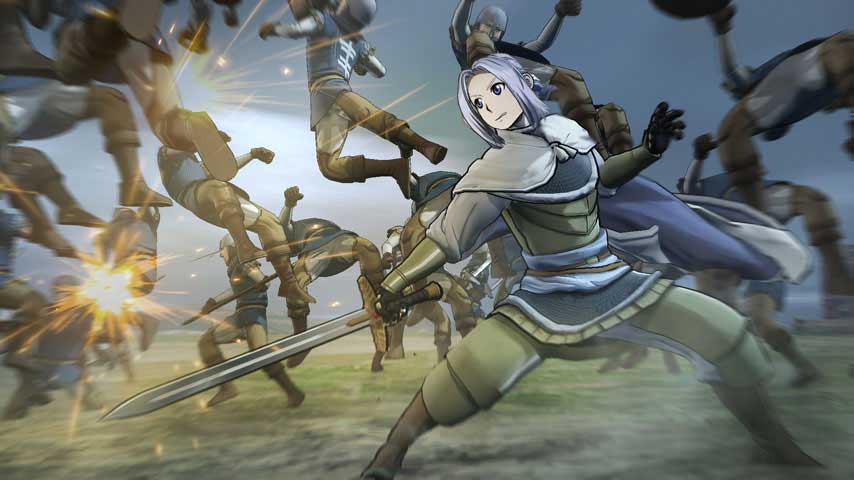 New faces, new places - but the same old smashing of bases. This is Arslan: The Warriors of Legend.
"If you can smack square repeatedly and get 1,000 KOs every stage, I'm there."
One of my favourite moments of TGS 2015 was when a Koei Tecmo PR rep introduced me to the translator for my Arslan: The Warriors of Legend interview, and described me as "a huge fan".
"Let me guess, you like the OVA?" he asked. "No, no, Brenna is a fan of Omega Force," my minder clarified.
"I had literally never heard of this property before you announced it at gamescom," I added, quite blissfully.
He looked a bit non-plussed. Why did I want to interview someone about it if I had no interest in the property? The answer, as the faithful know so well, is that I will play almost anything Omega Force turns its hand to. If you can smack square repeatedly and get 1,000 KOs every stage, I'm there.
The Heroic Legend of Arslan is - well you know what, I coughed this up once already and won't pretend to know more. The latest anime is proving pretty popular in Japan, apparently, so maybe I'll look into that after I have inevitably fallen madly in love with the game.
The anime's popularity is one of the reasons for Arslan: The Warriors of Legend's existence. Another is the strong relationship between publisher Kodansha and Koei Tecmo, currently yielding such fruit as Attack on Titan as the two companies get together for the 30th anniversary of the Romance of the Three Kingdoms series (please localise this for me Koei Tecmo, thanks in advance).
The third reason is that producer Shigeto Nakadai is a big fan of The Heroic Legend of Arslan, and put his hand up immediately.
Nakadai was lead game designer on the original Bladestorm: The Hundred Years' War, a game occupying a higher place in my heart than several former lovers, and his fingerprints are all over this one.
If you've been tuned out from the Warriors or Musou franchise for a few years - or forever - you may not realise that Omega Force has been getting closer and closer to its vision of battlefield sims. Sure, there's always an element of fantasy - the player characters are superheroes, and the core experience is "one versus 1,000" - but the idea is that you've been plonked down in a historical battle, and can follow the tactics and events that dictate its flow and turn the tide.
Recent entries have emphasised this more and more by introducing core objectives and improving troop flow mechanics; I want to have a longer chat about this when I eventually get around to talking about Samurai Warriors 4-2. For now, it's enough to say that my hands-on with Arslan: The Warriors of Legend was only a taster, but definitely foregrounded this element, particularly when it came to leading troops.
More recent Musou titles seem to have osmosed a few features from from Bladestorm, and Arslan: The Warriors of Legend also borrows that title's enjoyable cavalry mechanics. I'm not sure if it's a special ability specific to Arslan, but under specific circumstances you can summon a cavalry charge and wheel across the battlefield, devastating enemy lines and knocking through obstacles. It's called Modern Rush, and it's terrific fun.
"You'll be able to lead archers, infantry or horse to do a charge or send arrows at the enemy. You'll get the thrill of leading an army out of this game."
"The cavalry of Pars is supposed to be unparalleled, in Arslan's world, so I personally wanted to lead a horde of cavalry to tear up the enemy force," Nakadai said.
"That's why we implemented that in the game. You'll be able to lead archers, infantry or horse to do a charge or send arrows at the enemy. You'll get the thrill of leading an army out of this game."
This emphasis on leading a force into battle is not the only differentiator between Arslan: The Warriors of Legend and its sibling Musou games; Nakadai emphasised the new weapon change system. Although switching weapons mid-battle is not new to the franchise, Omega Force has refined the system with an emphasis on stringing attacks and weapon changes together tactically to extend combos endlessly - if you have the skill.
Not every character can use every kind of weapon - the game is faithful to the source material in that regard. There seem to be fewer weapon types, too. Hopefully, this means players should be able to bring the skills they develop with one character to bear when they switch to another.
This is quite important for two reasons. First, mastering every weapon in a Musou game is a little wearing and therefore a strong incentive to keep the difficulty down rather than exploring the genuinely satisfying depth available in the upper reaches. Second, Arslan: The Warriors of Legend is narrative-driven, and players will take on set roles rather than picking their own path.
"We want to stay faithful to the story of the anime, the comic and the novels. We will be telling the story from different characters' perspectives. The character will change battle after battle, even within the battle."
In addition to following the plot closely, Omega Force has done a wonderful job creating a cel-shaded reproduction of the recent anime's colourful characters. So far, the confirmed cast includes title character Arslan, a crown prince working to reclaim his throne; Narsus, his strategist; Narsus's young attendant Elam; the bow-wielding priestess Farangis; the wandering bard Gieve; Zot tribeswoman Alfreed; and cavalry general Kishward.
The motley cast seems like a perfect fit for a Musou title, lending itself to a varied roster. And despite the emphasis on sweeping military movements and the possibly unfamiliar property, Nadakai was adamant that Musou fans around the world will feel right at home
"This is a Musou game," he emphasised. "We want you to experience the one versus 1,000 feel at the same time as we brought the army, battle charge feel to the game."
Arslan: The Warriors of Legend is coming to PS4, Xbox One and digitally to PlayStation 3 in early 2016.