"We didn't want to do sci-fi," says director of new sci-fi game Detroit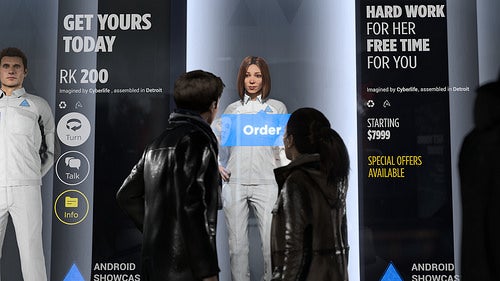 David Cage reveals the inspiration for new PS4 exclusive.

Don't call it sci-fi, I guess.
Quantic Dreams' David Cage has said that his development team "didn't want to do sci-fi" when developing new game Detroit, in which Androids and humans co-exist.
We're being a bit mean. He's talking about the type of sci-fi that you can't relate to.
Detroit, revealed last night as a PS4 exclusive, has many familiar elements that players will find believable - it's set in a real-world industrial city with broken neighbourhoods at one extreme and multinational corporations at the other.
It also features semi-naked android women and stations for charging identical robo-dudes, from what we've seen so far.
But don't read my pithy comments, go watch the video above in which Cage discusses the origin of the game, why he chose Detroit, comparisons to Heavy Rain and Beyond, and how the player tells his own story through the game.