Did you know you can get Jon Snow's sword in The Witcher 3?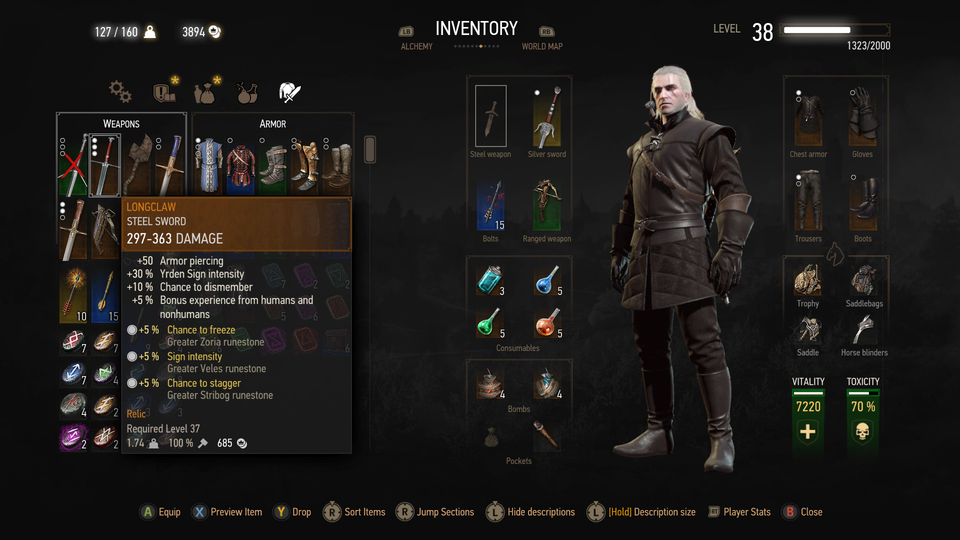 I've played hundreds of hours of The Witcher 3, read A Song Ice and Fire at least two times through, saw Longclaw in both, and never for a second thought to connect them.

It wasn't until I saw it on Reddit that I finally realized: Geralt of Rivia can get Longclaw! Or at least a sword with the same name as it - I'm not quite sure Valyrian steel exists in The Witcher 3, but surely Viziman steel is close enough.
Check out the photo below, which a Reddit user named DirtyDirtbike shared online earlier today.
+10% chance to dismember? That's very Longclaw-y, isn't it! and a +5% chance to freeze enemies as well - that must be from Jeor Mormont's many years spent at The Wall.
Or it's just a different sword with the same name - but come on, it's pretty likely that the writers at CD Projekt Red had read enough George R.R. Martin to plug in a little Easter egg. Also, as you can see from the photo, Geralt is all kitted out in Stark-esque light armor. He's not wearing the black armor and cloak of the Night's Watch, but it is very Ned Stark-y, which means it's very season 7/season 8 Jon Snow-y, too.
As somebody pointed out on Reddit, this sword should make Geralt incapable of saying anything other than "sheez muh kween!" about Yennefer of Vengerberg, and "ah dun wanit, ah nevah ave" about... about what? Breaking the djinn's curse? That makes sense, let's roll with that.
Also, when you think about it, Ragh nar Roog at the end of The Witcher 3 and everything North of The Wall in Game of Thrones are both, like, snowy and stuff, so maybe Longclaw is the true answer to defeating supernatural enemies who love -150 degree cold.
Anyway, you can get Longclaw in The Witcher 3, if you fancy. In related news, these mods bring the Netflix versions of Yennefer and Triss to The Witcher 3.
Also, according to the books, fall damage in The Witcher 3 is complete horseshit.