Watch as we build Joel's house from The Last Of Us 2 in The Sims 4
The building tools in The Sims 4 are one of the best things about the 5 year old game. And what better way to show it off than to re-create famous gaming locations in The Sims 4?
In case it wasn't clear, I'm a huge Sims fan, and I've recently fallen in love with The Last Of Us Part 2, too. I've been livestreaming The Last Of Us 2 over on our YouTube channel, and I even persuaded my boss the need to review a recent Sims expansion pack about hippies.
So we decided it was time to bring my two loves together.
You might be asking "why now?" and the reason for that is: it's my last day at VG247. I'm super sad, the team here are lovely and I've had the best four months making amazing videos with them, but I'm on to do something a bit different with my career.
So, here's my send off. Building Joel's absolutely massive house raises a few questions. This man has more bathrooms than anyone ever needs, and there's also something suspicious going on between the outside of the house and the inside. Something doesn't quite add up.
One thing recreating "real" houses highlights in The Sims is why on earth aren't there half-length walls? We have half-height walls, but real houses don't play by The Sims' rules, so it's hard to properly recreate something like for like. Maybe I should've asked Sim Guru Ninja when we could expect to see them.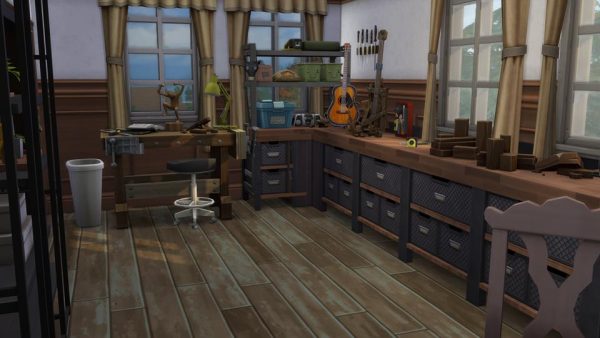 Some of you may recognise my famous gaming locations Sims builds from somewhere else, and that's because this all started over on Rock Paper Shotgun, and I hope to continue doing these after I've left VG too.
You can watch the whole build in the video above!