The Elder Scrolls Online: Elsweyr trailer shows off the new Necromancer class
The Elder Scrolls: Online's newest class is coming in the next major expansion, and here's a peek at what it's capable of.
The Elsweyr expansion was announced earlier this year, and the new trailer gives players a look at the new class' capabilities, and it looks pretty bad ass. The Neromancer can raise the dead, encase themselves in "impenetrable bone," and "weave severed flesh back together with the power of Tamriel's dark arts."
All of these skills are on show in the Become the Necromancer trailer. The class "requires a certain level of subtlety not found in the game's other classes," says Bethesda.
"We felt it was important to intertwine necromancy and Justice for much the same reason we put Justice in the game in the first place," said Lead Content Designer, Ed Stark, who has overseen the Necromancer class and the Justice system. "Historically, necromancy has always been frowned-upon by Tamrielic society, and so, when some NPCs see an overtly necromantic act, they react with fear or aggression and report it for the crime it is."
So while you should be mindful of using your dark arts in view of NPCs, it's only "very obvious necromantic actions" that may have repercussions.
"There are abilities that are borderline, like Render Flesh, but raising bodies out of the ground is glaringly obvious and will get you in trouble," explains combat designer, Kyle Nowak.
"A player who chooses to assume the role of a necromancer in ESO needs to understand that they're playing something of an outlaw class," added Stark. "It's similar to a player who decided to engage in wholesale crime—they're taking on a bit of an increased risk in exchange for increased excitement."
They explain that while you're likey to get away with using the Render Flesh healing ability in public, transforming into a big old bone colossus might draw negative attention.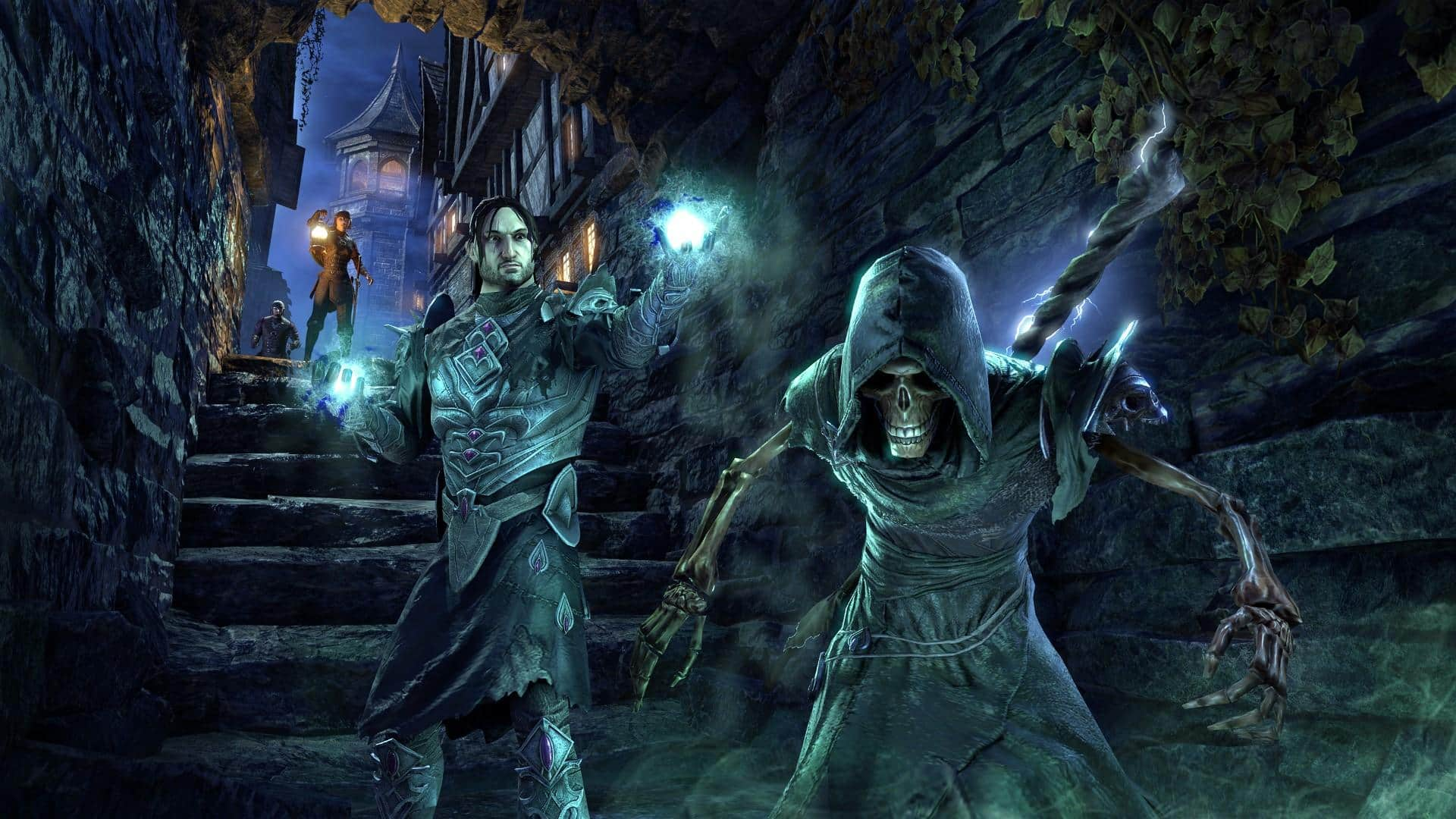 "We put some safeguards in place," said Nowak. "For example, if you cast something and 10 people witness you, you won't get 10 times the bounty. We also had to perform an audit on a lot of older content, because there are NPCs within places like delves or quests who can witness Justice actions, and you don't want to earn a bounty for doing a quest."
Elsweyr pre-purchase bonuses include:
Noble Clan-Chief costume
Dragon imp pet
Baandari Pedlar Crate
Rahd-m'Athra Mount
The Elder Scrolls Online: Elsweyr is available on PC and Mac on May 20 in early access, and will launch on all platforms on June 4.