The 12 Best Games of 2018 So Far
From climbing a mountain to, uh, climbing another mountain (but with your son), these are the best games 2018 has had to offer so far.

This article first appeared on USgamer, a partner publication of VG247. Some content, such as this article, has been migrated to VG247 for posterity after USgamer's closure - but it has not been edited or further vetted by the VG247 team.
We're officially six months into 2018, and while it isn't as insane as 2017 was at this point last year, it has still been a pretty solid year for video games. We've experienced the perils of fatherhood with Kratos, gone Super Saiyan a dozen times over, hunted monsters with friends old and new. As bleak as 2018 has often been, video games have persistently been a bright spot in the darkness.
And so, we've come together as a team to share our favorite games of 2018 so far. By the time we do our Game of the Year deliberations in December, it's likely that some things on this list will remain, and others will fall to the wayside. But as of June 2018, these 12 games have stood out to us the absolute most, and lingered in our hearts and minds.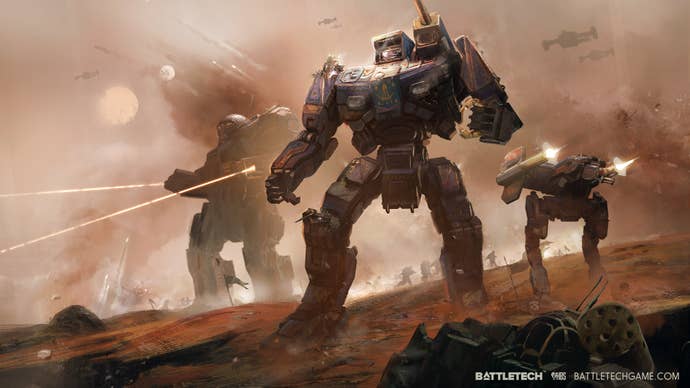 BattleTech
Platforms: PC, Linux, Mac
Mechs are back in a big way thanks to BattleTech. Billed as a new entry by the original creator, it was developed by Harebrained Schemes, the same studio responsible for the well-received Shadowrun. BattleTech is a giant robot tactics game that follows a player-created protagonist who falls in with a mercenary group after a devastating betrayal. It revolves around taking missions, making money, and buying new mechs, but where it shines is its RPG layer, which requires you to make some tough decisions while placating your crew and the banks. Its missions tend a little too much toward simplistic kill 'em all affairs, but its in-depth customization and well-realized universe make it a winner for tactics fans. If its inevitable expansion builds on the core game in the same way as Shadowrun: Hong Kong did, BattleTech could truly be something special. —Kat Bailey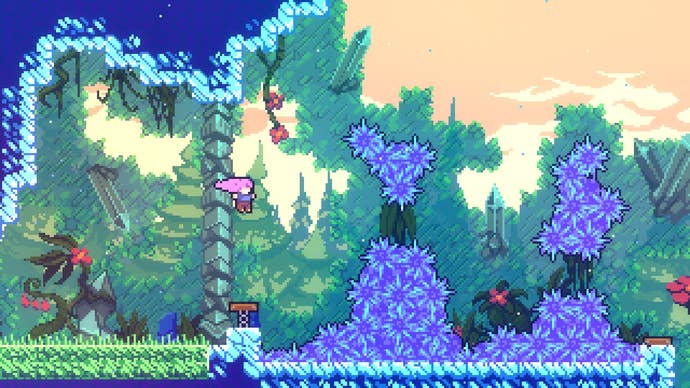 Celeste
Platforms: PS4, Xbox One, Nintendo Switch, PC, Linux, Mac
Celeste is a powerful reminder of how video game mechanics, I'm talking pure gameplay, can translate into emotion. Celeste is a Super Meat Boy-like platformer where you climb up a mountain. Celeste's themes are conveyed primarily through its difficulty and the simple act of mountaineering. In doing so the player learns that defeat and endurance can pave the way to courage and self-acceptance. It's not so dissimilar to last year's Getting Over it With Bennett Foddy in that regard. But combined with a charming visual style and an amazing soundtrack, and Celeste is already in the running for one of the best games of the year. —Matt Kim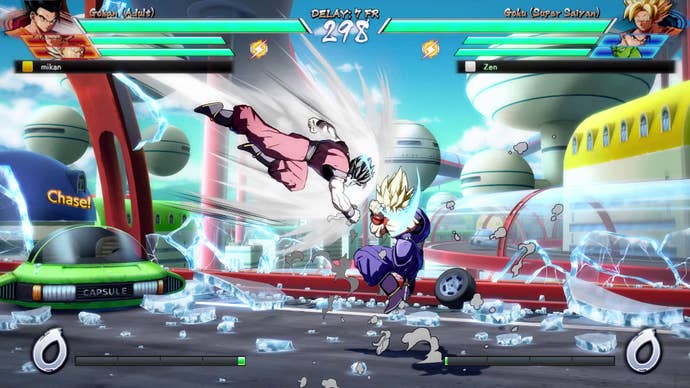 Dragon Ball FighterZ
Platforms: PS4, Xbox One, PC
Arc System Works put its considerable expertise to bear and came screaming out of the gate with the new king of the ring. Dragon Ball FighterZ uses everything the developer learned on Guilty Gear Xrd, BlazBlue, and Persona 4 Arena to make the best Dragon Ball fighting game to date. Not only is it an aggressive and competitive fighter, but it's also a wonderful love letter to the series, with callbacks to specific scenes in the anime and manga. There's a reason that Dragon Ball FighterZ is topping registrations at the world's biggest fighting game tournament, Evo 2018, and I can't wait to see how the pro scene is going to shake out there. —Mike Williams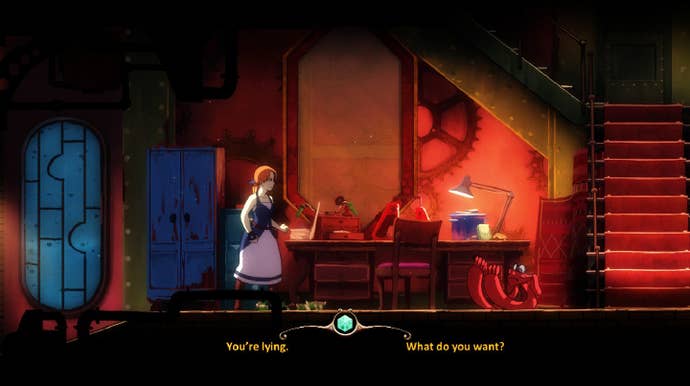 Forgotton Anne
Platforms: PS4, Xbox One, PC
Whimsical puzzle-platformers aren't a new idea, but Forgotton Anne's well-excecuted dark streak combined with its Ghibli-inspired whimsy makes it a real stand-out. It's a game filled with tough choices and saddening consequences. I never thought I'd find myself thinking back fondly on a bunch of old boots and pots, but here we are. Forgotton Anne should keep puzzle-platformer fans engaged for a solid weekend they won't soon forget once the credits roll. —Nadia Oxford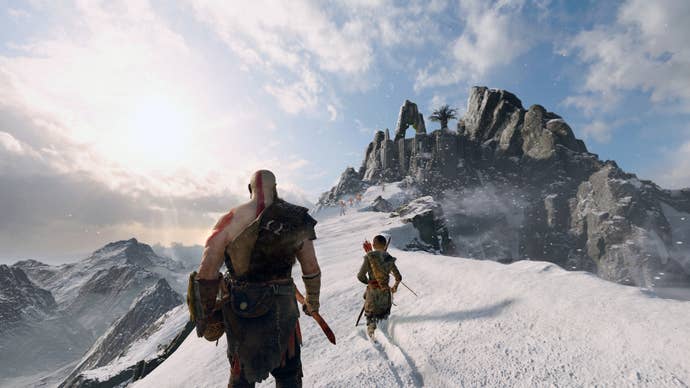 God of War
Platforms: PS4
The story of Kratos started to drag after God of War 2, but it was clear Sony had no clue what to do with his ongoing journey. Apparently, the answer was giving him a break, a beard, and a son. The new God of War is a journey through Midgard, with Kratos teaching his son how to be a man and a god. God of War is an absolutely gorgeous adventure across the Nine Realms of Norse mythology, while still holding onto some solidly technical combat. Kratos' new Leviathan Axe allows fights to feel meaty and powerful, while there are still some hooks to the series' past. In terms of reboots, Sony Santa Monica pulled this one off in grand style, so it's just a matter of having an actual vision for the next one. Fingers crossed. —Mike Williams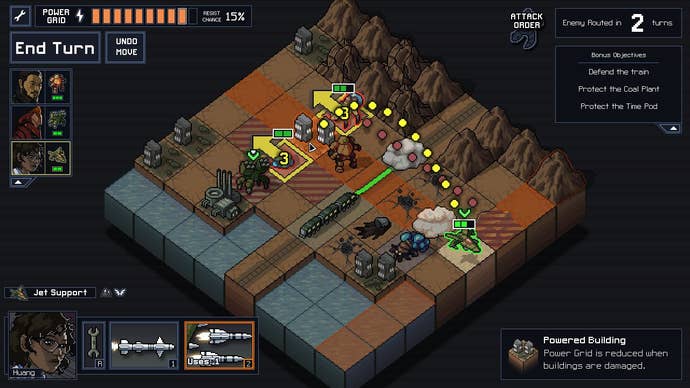 Into the Breach
Platforms: PC
The follow-up to FTL does for turn-based tactics what the first game did for roguelikes. It takes a well-worn genre and makes it leaner, smarter, and ultimately more interesting. Its maps are comparatively tiny, featuring only three controllable units at any given time, but it nevertheless manages to pack a ton of nuance into the strategy. Using attachable power-ups, special abilities, and pure mobility, you have to find a way to keep kaiju-like bug monsters from knocking out critical buildings. Death and failure are both permanent, but Into the Breach lets you keep one precious pilot for your next run, making it far more forgiving than FTL. It ultimately doesn't have FTL's challenge or longevity, but it's nevertheless an excellent strategy game that deserves to be played at least once. It certainly deserves to be counted as one of 2018's best games. —Kat Bailey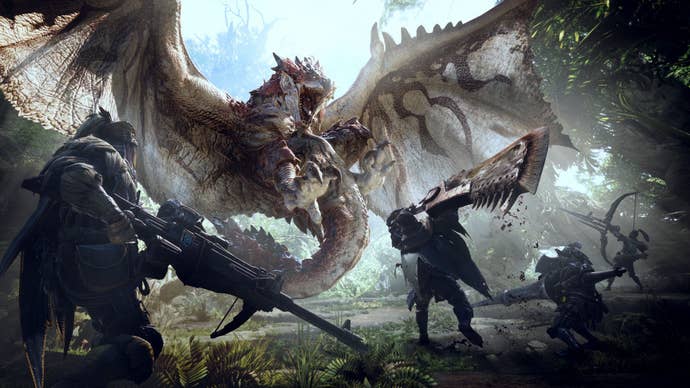 Monster Hunter: World
Platforms: PS4, Xbox One
Turning Monster Hunter into a global success has long been an elusive goal for Capcom. Trapped on a series of handheld systems with often arcane systems, Monster Hunter struggled to find itself a mainstream audience in the more console-centric west. Monster Hunter: World has changed all of that, smartly slimming down its hoariest features without sacrificing the in-depth combat the series is known for.
Capcom's reward is the best-selling game in its history and a legion of new fans who are discovering the joys of monster hunting for the first time. It's fueled by incredible setpieces, a solid schedule of regular updates, and the pure satisfaction of taking down a Nergigante with your friends. Capcom has spent a decade cultivating Monster Hunter's success in Japan, and now the series is finally enjoying its well-deserved coming out party. It has a strong argument for being the best game of 2018 so far. —Kat Bailey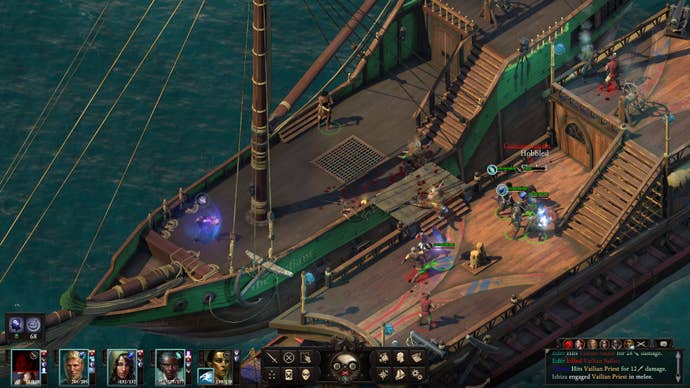 Pillars of Eternity 2: Deadfire
Platforms: PC, Linux, Mac
Pillars of Eternity 2: Deadfire is the first true sequel to an Obsidian-proper game that the developers have ever tackled. For the occasion, the isometric RPG is more ambitious than the first one was. It blends a pirate setting with the same classic isometric perspective you know and love. It mixes enough fresh, interesting ideas (you even have your own ship to command) with genre staples (the same strategic choice-driven dialogue and combat) to make for a familiar yet refreshingly new feeling experience. Out of all the RPGs that have released in 2018 so far, Pillars of Eternity 2: Deadfire stands out as one of the best. —Caty McCarthy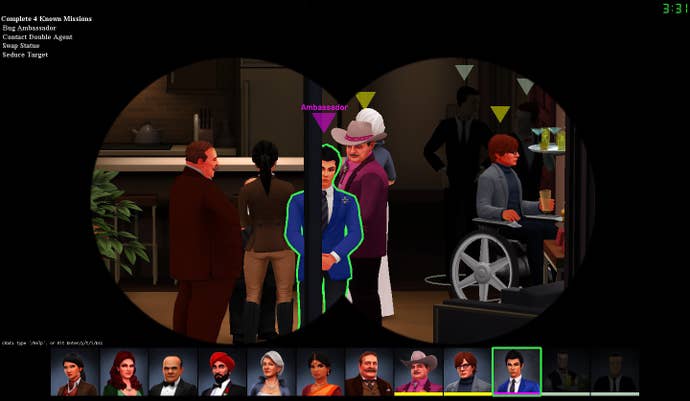 SpyParty
Platforms: PC
SpyParty may still be in Steam Early Access (and it's been in beta for years before that), but this year saw its biggest leap yet. SpyParty launched on Steam, added 10 new maps, and refined its rougher edges. Matchmaking in the lobby is still a tad convoluted, but other than that, SpyParty in 2018 feels like its finally reaching its full, final form. There's no word on if SpyParty will exit Early Access this year (and I doubt it will), but as for multiplayer games in 2018, there's no experience more unique and creative.
As for SpyParty itself, you play as a spy or a sniper. The spy's infiltrated a party, while the sniper watches the party from afar, trying to spot the spy. It's a thrilling experience, because as the spy you're essentially trying to fool a living combatant into thinking you're a NPC. As the sniper, it's harder to spot the spy than it looks, especially if your competitor is good at accomplishing their set missions without raising suspicion. In an era of battle royales and hero shooters and MOBAs, it's rare to have a truly surprising multiplayer experience come along. I imagine SpyParty's first appearance at an Evo years ago won't be its last either. —Caty McCarthy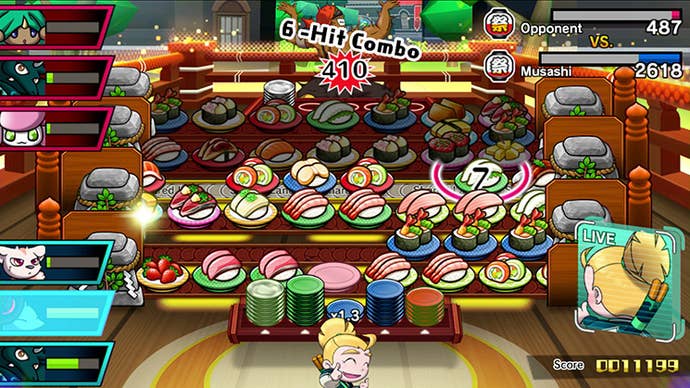 Sushi Striker
Platforms: Nintendo Switch, Nintendo 3DS
There's no surprise in life that's better than falling head over heels for a bonkers-ass game you had no intention of enjoying. Sushi Striker: The Way of Sushido is a puzzle-RPG that might not get much recognition as the Switch gets older, but I intend to evangelize about it whenever I can. It's a trip.
Sushi Striker takes place in a world where environmental disaster has made fish (and therefore sushi) an extinct animal. That's weird enough, but then the game breaks out the "Sushi Sprites" who supply true believers with the divine, nearly-forgotten taste of fish on rice. You go on a pilgrimage with the main character to return the joy of sushi to children around the world. OK. Sure. Point is, Sushi Striker has you link up frankly delicious-looking plates of sushi, which you then stuff down your gob before lobbing the plates at your foes.
I'm a sucker for a good matching game (give me a decent match-three title over Tetris any day), so I fell for Sushi Striker like a stack of soy sauce dishes in an earthquake. Some critics have a hard time linking plates without a stylus, so you might want to try the 3DS version of the game—though I ultimately preferred playing with the Switch's Joy Cons as soon as I tooled around with the game's options and found a track speed that worked well for my playstyle. If you're in the mood for a good meal, give Sushi Striker a try. —Nadia Oxford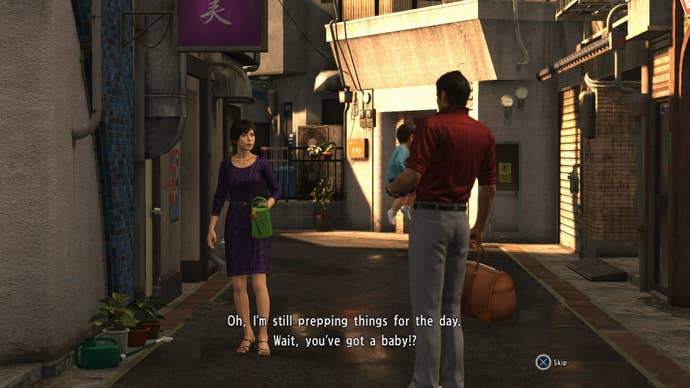 Yakuza 6
Platforms: PS4
Yakuza 6: The Song of Life has been over a decade in the making. Not literally, but in terms of anti-hero Kiryu Kazuma's story beginning in 2005, it basically has. Kiryu's grown old in his time. His surrogate daughter Haruka has grown up and had a child; he's retired from the yakuza lifestyle practically a dozen times; the series itself has gotten a prequel and a few spin-offs too. Kiryu deserves some peace and quiet, and Yakuza 6 gives it to him in the sweet port town of Onomichi.
Of course, he has some business to take care of too. Yakuza 6 feels muted in comparison to the recent releases of Yakuza 0 and Yakuza 5, which both juggle more than just Kiryu as a playable character. But much like the remake of the first game (Yakuza Kiwami) which released stateside last year, Yakuza 6 is focused on the big man alone. It's on a new engine, with new activities like managing a cat cafe to partake in. While it's not as lively as Yakuza 0, it's a fitting end to Kiryu's saga as a man aging out of his profession, and it's the perfect point towards a new direction for the Yakuza series as a whole. —Caty McCarthy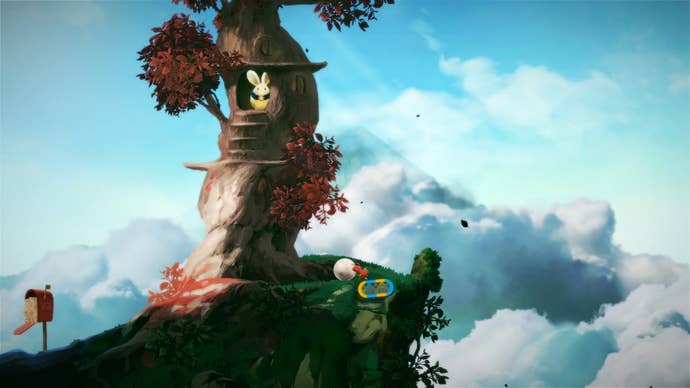 Yoku's Island Express
Platforms: PS4, Xbox One, Nintendo Switch, PC
Most games I play are for work purposes. Sometimes for review, other times for post-review impressions or analyses. Yet with Yoku's Island Express, I played it of my own accord. It was weeks after release, with sheer word of mouth carrying it to me. At its barest description, it's a pinball-metroidvania game, if that hybrid sounds at all enticing to you. But that ridiculous concept is not exactly as wild as it sounds.
In Yoku's Island Express, you play as a beetle mailman tasked with saving an entire island. You meet all sorts of creatures along the way, unlocking new abilities as you travel across the vast area that twists and turns and folds onto itself all along the way. You're doing more than just delivering mail as new abilities, typical for metroidvania-likes, give you the ability to explore other areas and secrets. In its charming world, the ball attached to your hip is how you roll around the island, with pinball bumpers propelling you to new heights and crevices. Yoku's Island Express proves that any genres can be meshed together, and all you need is a clever idea and an endearing world to make it work. —Caty McCarthy