Super Smash Bros. Wii U/3DS - multiplayer tips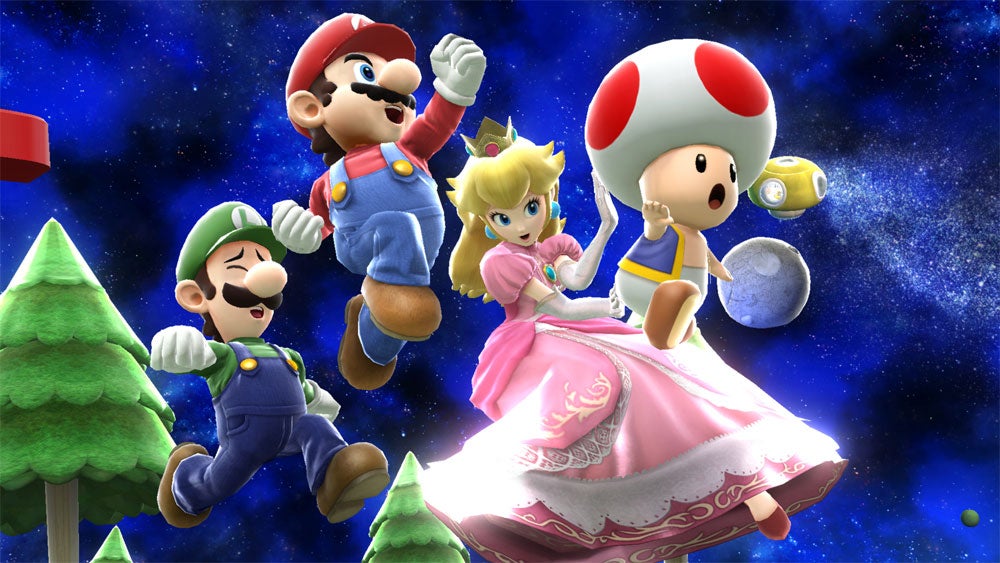 Bought Super Smash Bros. 3DS over the weekend? Get ahead with these multiplayer tips.
Super Smash Bros. Wii U/3DS multiplayer tips
Super Smash Bros. 3DS comes packed with Smash Run, Classic Mode, and various other single-player bits, so multiplayer isn't a requirement to enjoy the game. That said, Smash is a serious party game designed to be enjoyed by four players simultaneously. And seeing as the new version brings significantly improved netcode over Super Smash Bros. Brawl, there's never been a better time to beat up other humans.
Everyone wants to win. Here's a few easy multiplayer tips to put you in the lead.
Pick the right character
The characters in Super Smash Bros. 3DS vary greatly, so it's vital to select the right one to suit your play style. Donkey Kong may be your favorite all-time Nintendo character, but he's no good to you in Smash Bros if you like quick attacks and movement.
Check out our guide to picking a decent starting character to get you going.
If you like constant movement, Falco or Fox might work for you. If you're into projectiles, try Link, Toon Link or Villager. And if none of these work out for you, don't despair: there are 49 characters in the game, so there's sure to be one that suits the way you work.
Anticipation is key: watch your opponent
Super Smash Bros. isn't what you probably consider to be a traditional fighting game. Reading your opponent's moves is a valuable skill in any fighter, but Smash Bros. is more instinctive than similar games. In Tekken or Street Fighter, for instance, you'll know which attack your opponent will want to land to start a combo, but there are so many ways to begin offensive moves in Smash Bros. that it's difficult to anticipate the enemy's moves.
To make things worse, you also need to anticipate which way an opponent will "tech" after you've hit them (check out our general Super Smash Bros. 3DS tips for term definitions). If you get it wrong, your combo's going to end.
The best way to improve your anticipatory skills is by watching what your opponents does and how they react to certain scenarios. Super Smash Bros.'s schoolboy error is to focus on yourself and what your own character is doing. Look closely at your opponents. Do they shield when you get close, or do they roll away? Do they aim for a throw? Do they jump or just attack? The more you watch, the better your counter-game will become.
All items are good
You probably have a few favorite items, but there are some that you may not like so much. Just remember: most items can be thrown at the opponent. This means every item has value, even if it isn't the one you particularly wanted.
Each item has its use, and they all have advantages and disadvantages. Even the Smash Ball, generally regarded as the most powerful item in the game, has downsides. Players will scramble to hit the Smash Ball, ignoring other players and exposing themselves to attack. You'll also see a player hit the Smash Ball twice before a second sneaky player lands the crucial third hit and claims the prize.
Whether you're using an item the way it was intended to be used, baiting an attacker or simply throwing it at an opponent, there are no bad items. There's nearly always something to be gained when an item pops up.
Don't be scared: be adventurous
Good Super Smash Bros. players are risk-takers. You have to be able to anticipate your opponents' moves, but you can really next-level your game by being adventurous. Most players naturally get cautious when both combatants are down to the last stock (life), but this is precisely the time you should turn up the heat, especially when edgeguarding.
If you get an enemy off of the stage on its last life, all you need is for them to KO before you do. If you follow them off the platform and continue to land attacks, you can push them further away from any chance of recovery. Keep trying, and you'll soon learn which attacks work best when chasing off the stage. Once you feel comfortable with it, use it all the time instead of waiting for the opponent's last life.
Chase down as often as possible. Double jump after landing an Up Smash to see if you can find another hit before they recover. Run after your opponent and attempt a throw if they roll away, or try any attack that may land at the end of the roll. Take risks. Learn what works and what doesn't. Push yourself.
Always think one word: defense
Beginner fighter players love to be offensive, and inexperienced Super Smash Bros. players don't often reach for shielding. There are ways to beat shielding, but it not your only defensive option: you can roll, dodge, jump, or simply get out of the way. Remember this: defense wins matches. It's very hard for an opponent to score a KO if you hardly ever get hit.
That's obviously not to say that offense is irrelevant (you can hardly succeed in a fighting game without it), but you can bring the best offense and still find it tough to land hits against good defensive players. The stronger your defense, the more frustrated your opponent will become and the more likel;y they'll be to make mistakes on which you can capitalize. Defense can sometimes create all the offense you need.
Get loads for info from our Super Smash Bros. Wii U/3DS guide.