Far From Home suits added to Spider-Man on PS4 in new patch [Update]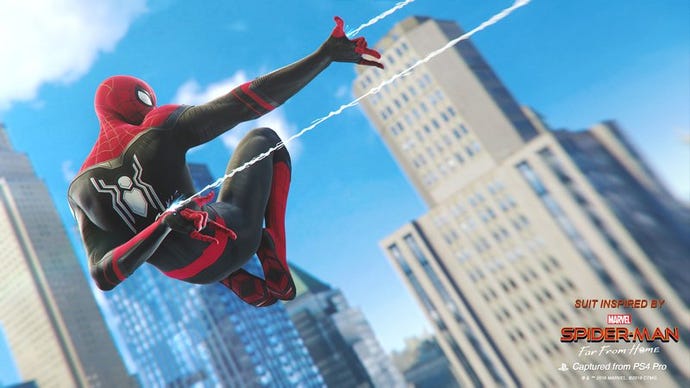 After tweeting about it ahead of schedule, Sony has now officially confirmed the news.
more
Update:
Spider-Man on PS4 has received a new update today that brings the two new suits seen in Spider-Man: Far From Home to the game. The patch, version 1.16, and the suits themselves are completely free.
You can see the original story below.
Original story: Spider-Man: Far From Home opens this week in many parts of the world, and Sony is unsurprisingly looking to setup a bit of cross-promotion with Insomniac's Spider-Man game on PS4.
The Japanese Twitter account for PlayStation revealed the news earlier today, though seemingly ahead of time. The tweet has since been deleted, but it remained there for over an hour.
Just like Homecoming's Stark and homemade suits ended up in the game, so too will the two new suits spidey wears in the movie. Those being the all-black Stealth Suit, and the red-and-black upgraded suit - based on the first movie's Stark design.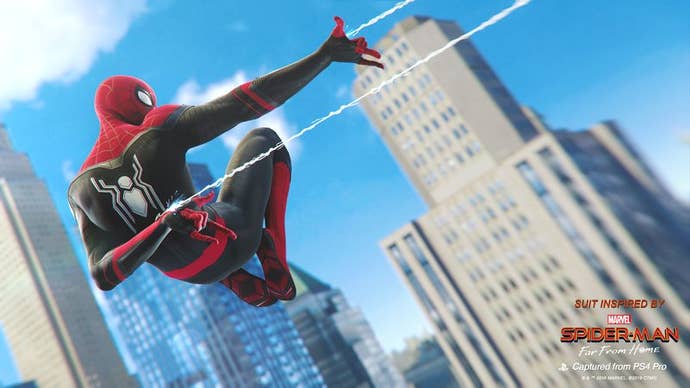 We managed to grab the screenshots (above) featured in the tweet before it was pulled. The tweet also confirmed they'll be available as part of a free update. It did not, however, reveal a release date.
Spider-Man's Iron Spider suit from the Infinity War/Endgame is also in the game, having release at launch as part of a pre-order bonus.