Shakedown: Hawaii Developer Brian Provinciano Still Loves Making Oddball Ports, Even If It Makes His Life More Complicated
From MS-DOS to PSP, we look back on Retro City Rampage and Shakedown: Hawaii's peculiar port history with developer Brian Provinciano.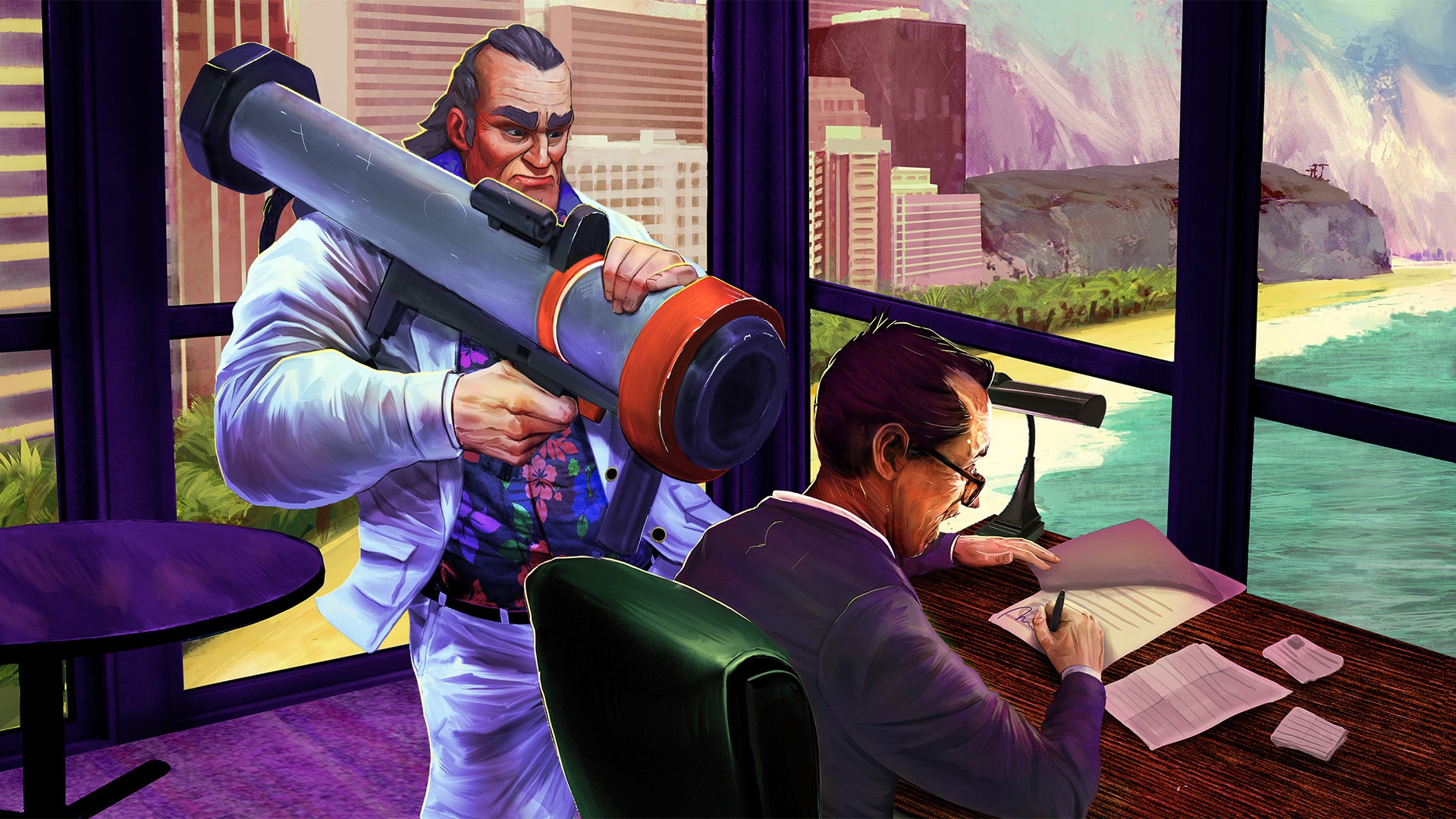 This article first appeared on USgamer, a partner publication of VG247. Some content, such as this article, has been migrated to VG247 for posterity after USgamer's closure - but it has not been edited or further vetted by the VG247 team.
To understand where the priorities and curiosities of developer Brian Provinciano lie, perhaps all you need to hear is what he told me over Skype just last week: "My biggest regret in all of [Retro City Rampage's] entire life was that I wasn't able to get UMDs made for the PSP version."
UMDs, of course, were the plastic-encased, itty-bitty discs that for some baffling reason Sony thought were a sound lookalike for the cartridges used by Nintendo's consoles. It was the best of both worlds; half cartridge, half disc, all strange. When I got a PSP as a teenager, I tried to break the disc of Kingdom Hearts Birth By Sleep out of its plastic prison, thinking that wasn't where it belonged. I was wrong, of course. But the peculiar design ethos of UMDs was still enough to inspire Provinciano.
"I had done a partial PSP port of RCR way back in 2009, but the Vita came along, it was a much healthier platform and so I scrapped that and went with Vita," says Provinciano. Then he got word that UMDs were ending production, which kicked his desire to develop for the dead platform back into gear. "I was like, 'You know what, I really would like to finish that PSP one.' So I was working on it and the hope was to release these UMDs, but then Shakedown [Hawaii] took priority. So I did take a little bit of time away from Shakedown to work on this PSP port of RCR, but then I just kind of had to smack myself and just say, 'hey, hold on, I got to stop dawdling away with this PSP port. I need to finish the new game.'"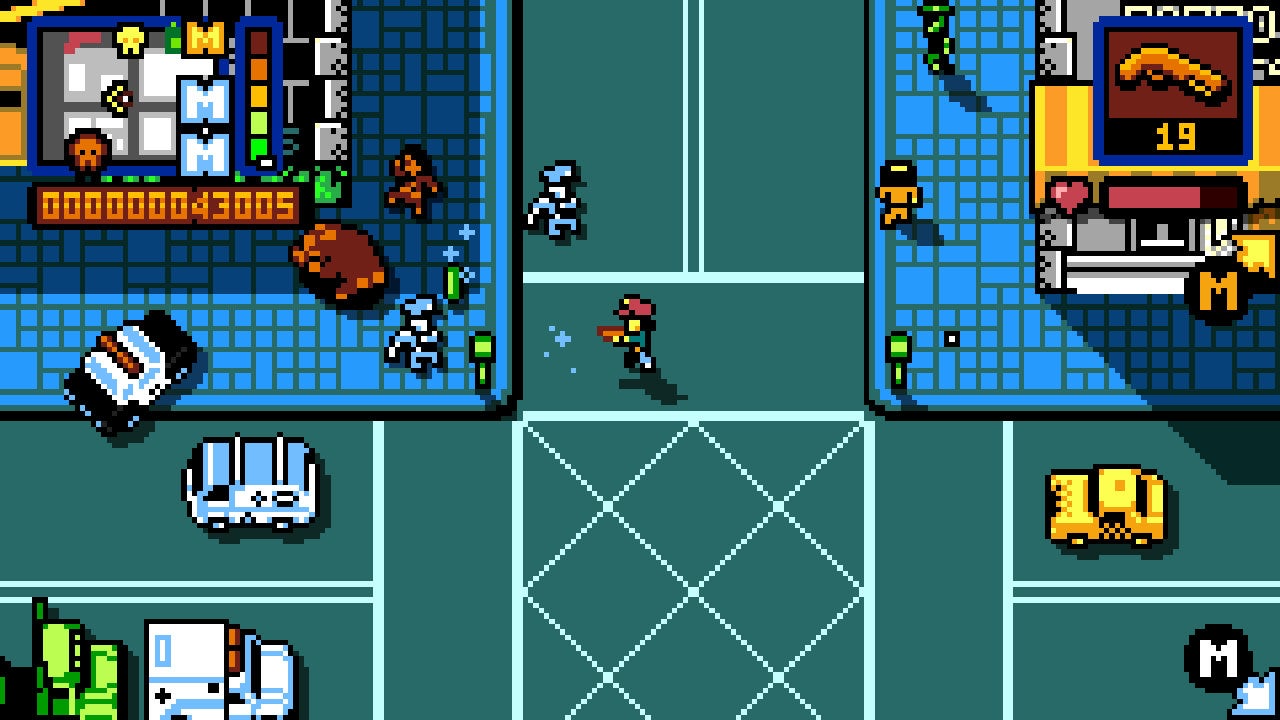 Developing for defunct platforms is Provinciano's thing. He famously made a MS-DOS port of Retro City Rampage. "The DOS one to me is really cool because it fits on a floppy disk," he says proudly. The PSP port that almost didn't get finished for Retro City Rampage actually released digital-only in 2016, four years after the game's debut on PS3, PS Vita, and PC.
It's been a long journey from tinkering with Klik and Play in the 90s to leaving his larger studio job to become a self-sufficient indie developer. Provinciano's professional career in games started at Digital Eclipse in 2004, where he worked on emulation-focused projects such as Midway Arcade Treasures. After working for some other studios, like Propaganda Games, he got "the courage" to go full indie, debut his one-man studio Vblank Entertainment, and focus on the development of Retro City Rampage full-time—that project, in particular, starting in the early 2000s as just a Grand Theft Auto demake.
Developed as a sendup of the 1980s, pop culture, and then-modern Grand Theft Auto, Retro City Rampage was an early hit when indie games didn't conceivably have a crazy amount of competition like today. It released in 2012, when indie games were still in what Provinciano calls their "15 minutes of fame." It may have been harder to get console licenses back then, but it was a landmark year for the scene. The likes of Fez, Hotline Miami, Journey, FTL, Spelunky's Xbox 360 remake, and more saw release; some of those from lone developers, others from tiny teams.
"The whole idea of being an indie was exciting. I was getting so many opportunities for 'Hey we want to show your game at this show; hey we want you to come down and do a talk. We want you to come down and be on a panel.' And it was really fun, it was like this crazy ride," he says. "It was so neat, but now it's harder to necessarily get the coverage and get the attention. I still get all the emails and stuff [...], but back then I was almost embarrassed by how much coverage I got sometimes, where every time I put out a tweet there'd be a news article like, 'Check out this new image from the game.' I'd be like, wow, that's so humbling."
Those times have changed. The market is oversaturated; it's harder to get noticed. It's at once easier than ever to be an indie developer, but much harder to be a successful one.
Provinciano doesn't seem to let the doom and gloom of modern game development cast too much of a shadow over his work though. After all, his games have been uplifted by fellow developers, DOS hobbyists, retro-minded gamers, and comedy fans. It might actually be too much of a good thing.
"With Shakedown I am in a bit of a tricky spot because now a lot of people are expecting it to be ported to so many platforms and so I'm kind of in a corner here where I think some people are probably just saying well, I'm not going to pick it up for this that or the other, because I'll wait for whatever else that I want to play it on," Provinciano says. "But we'll see. I think that I do have a few more ports that I do want to get out there, but I don't know. I think that I may eventually have to just start hiring people to do some of these ports eventually because my time may be better spent making new games than porting."
The Xbox 360 version of RCR was memorably bumpy. In 2013, Provinciano spoke to Wired about his experience with Microsoft, saying that his game was canceled for Xbox Live Arcade after Provinciano spoke out about their process' inefficiencies. By the time it launched on Xbox 360 a year after its initial release, it was published at $10 rather than the designated $15. He lost money, to put it lightly. Curiously, I noticed that Shakedown: Hawaii was also skipping Microsoft's console at launch. But the reasoning isn't some seven-year-old grudge on one half or the other. It's a productive one.
"With the Xbox One port, I'd have to read all those long forms, sign them, get the devkits, do the porting from scratch, implement leaderboards and all that stuff," he says. "So it was just one of those things that was a lower priority, like I do want to have a good relationship with Microsoft and I want to make sure that the fans don't miss out and stuff, but it's just one of those things where my passion with porting to a platform like DOS is really high because it's a technical challenge of how can I optimize the game to fit within these tight specs.
"Whereas if you're porting to a new platform, a lot of the work comes with dealing with these things like, okay, you've got to make sure that it displays this specific message when it's saving a game, and then it's gotta have the menu items in this specific order. And all of that stuff is just not fun. So even though it's a better business decision to prioritize Xbox over DOS, so far it hasn't been the priority, but I do get a lot of requests so it's definitely something that's on the table."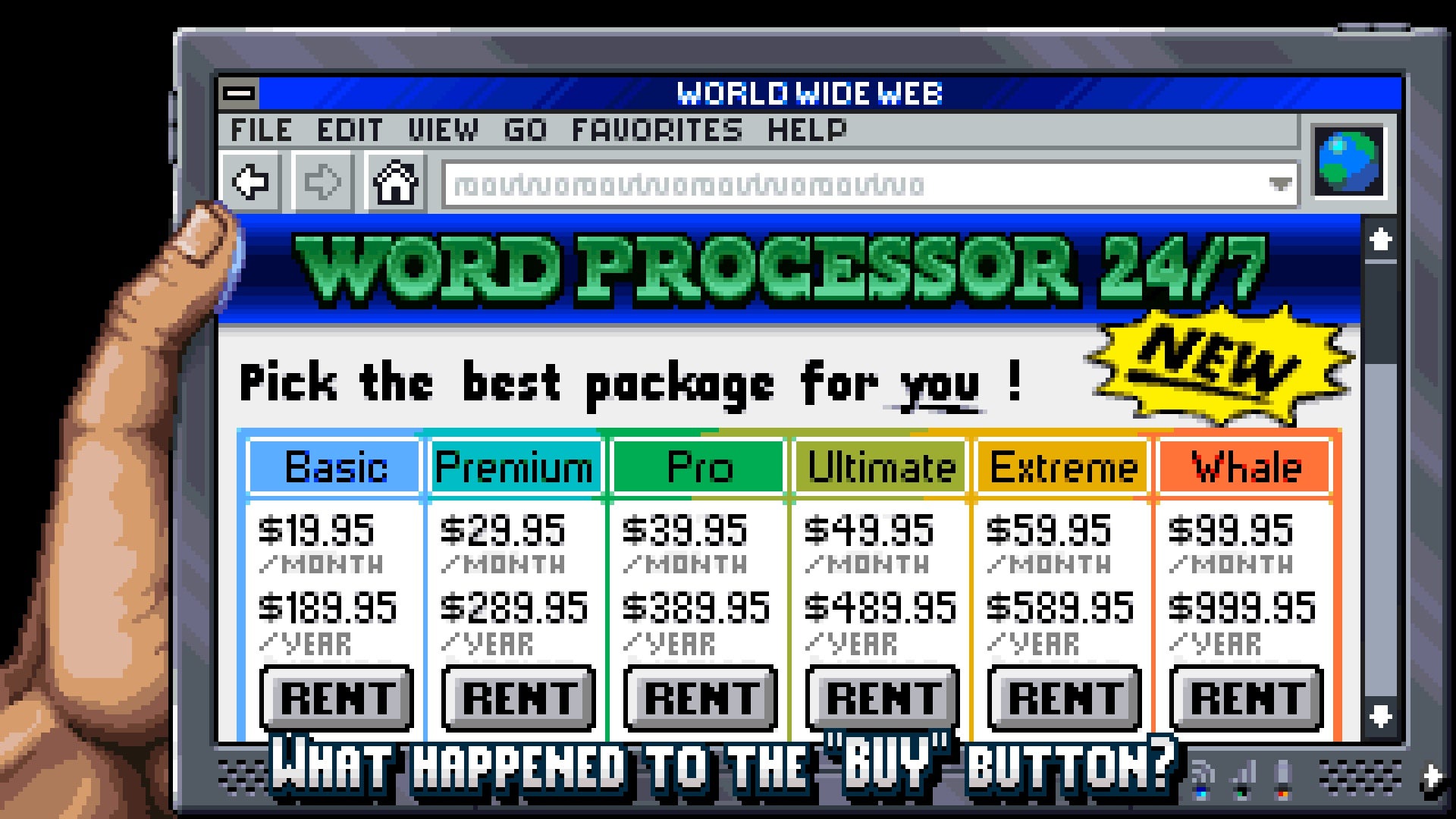 Shakedown: Hawaii's ease of being on a lot of platforms comes from the core engine it shares with Retro City Rampage already being ported to them. Going through all that again for the Xbox One, the rare platform Retro City Rampage didn't release on, is a time sink not worth taking. At least not during ongoing development.
Vblank's new game, the open-world GTA-like Shakedown: Hawaii, is a different beast entirely. It's a soft-sequel to Retro City Rampage, only its aims are a lot higher than making a PS2-esque open-world game in 8-bit. Shakedown: Hawaii stars three protagonists: a waning CEO, his mohawk-sporting son, and his right-hand man who doesn't mind getting his hands dirty. It's a fully-destructible open-world in flexible 16-bit, with more to do, more to destroy, and now a corporate empire to build. Rather than be a sendup of retro games with a comedic edge, which Provinciano admits is very common now, Shakedown is going beyond that with its tongue-in-cheek satirization of issues of today. Oh, and reckoning with getting older and out of touch.
Provinciano lays out a number of the types of scenarios you'll find in Shakedown: Hawaii for me. In one, he tells me about a time his phone's battery was busted. He called his cell provider, who proceeded to tell him that if he got a new phone, his cell phone bill would be raised. The problem was: this had happened to him many times before.
"There's always one thing that just happens that makes me shake my fist," he says, almost channeling Larry David in Curb Your Enthusiasm. "I said, this is literally the fourth phone in a row that's required a fourth monthly plan increase, how many tiers are there? And I immediately hung up the phone and wrote a mission in the game that made fun of that.
"I wanted people to play the game and come out of it just with a smile on their face and not kind of riled up about how frustrating these things are, just like laugh at ourselves at how crazy things have gotten. And hitting that mark was one of the biggest challenges in the project."
Every line of dialogue has gone through about a dozen rewrites, he tells me. A couple hundred real-life day-to-day annoyances have stacked up over the years too, for use as potential mission fodder: from the grams of fat that are actually in cereal, to knowing when to dial it back so nothing comes off as a rant.
"Even though it's a better business decision to prioritize Xbox over DOS, so far it hasn't been the priority."
Shakedown: Hawaii started development in 2015, with a self-initiated ASAP release date. Before Provinciano knew it, thanks to all the "connective tissue" like cutscenes and mission variety added, the game ballooned in size. That uncertain deadline, he tells me, was the first error. On that loose schedule, he generally worked seven days a week. His work-life balance has been, to put it in his own words, a struggle.
"It's something I'm definitely hoping to try and come out of a bit, y'know," he says. "I think after this game I need to try and figure out a way to just get my social life back again, because I used to spend more time with friends and family and stuff. And while with this game I just tried to squeeze everything into it and hit the mark that I was going for, I haven't left the house as much as I used to."
Even with the sorta-end now in sight, he's still directed toward his passions: challenges by way of ports. In the rare free time he has now, he's working on a Game Boy Advance port for Retro City Rampage that's about "85%" done. It's impressive looking too, using actual GBA hardware sprites and tiles. And judging from a video he showed me, it's coming along rather nicely. "I don't want to just release a ROM, like I want to do things with Nintendo's permission, so I've been kind of subtly mentioning to them like, 'Hey, I have this thing, can I kind of get a stamp of approval or something?'"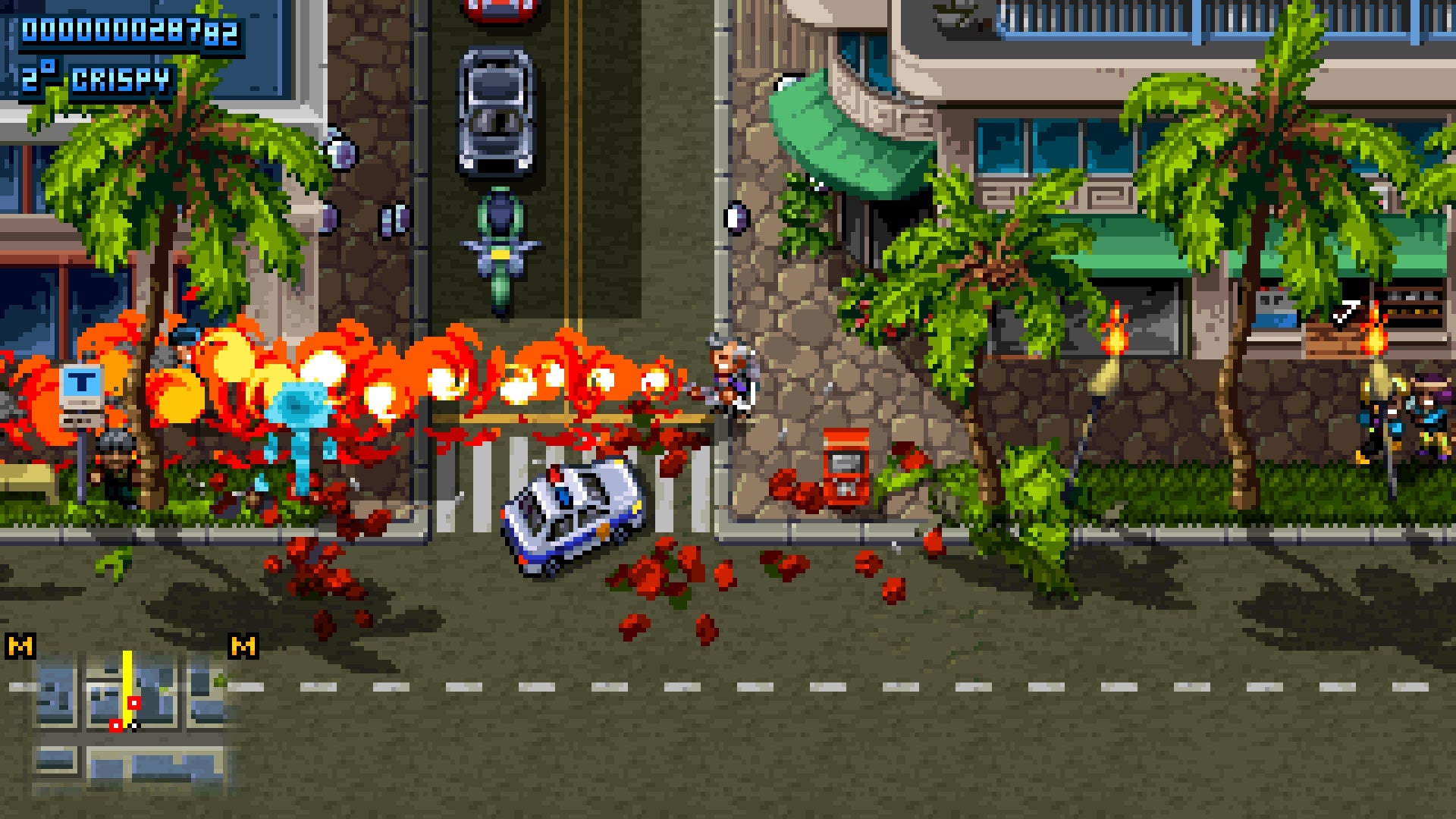 Beyond that, he has his sights set on developing something with the original PlayStation's specs in mind too. "When it comes to PS1, for example, you've got a small amount of RAM and you have a slow disk access, so you can't just access disk data from the CD anytime you want," he explains, adding that by the end of the PS1's life cycle, games were taking full advantage of the hardware and actually looked pretty great. He theorizes a project that has bridges you would cross to take advantage of it, rather than it being one single big space that loads altogether like in Retro City Rampage.
Shakedown: Hawaii's long development process somehow still feels short when standing shoulder-to-shoulder with Retro City Rampage. For the better part of the 21st century, Retro City Rampage and now its sequel Shakedown: Hawaii have consumed Provinciano's life and body of work. Perhaps to observe all the ways the indie side of the industry has changed, all one has to do is look at the journey from the platform-hopping Retro City Rampage to the ambitious Shakedown: Hawaii. It's a game representative of how a developer grows out of pure nostalgia and how one's methodology behind game development evolves over a career—and at the same time, steadfastly doesn't.
In 2019, Provinciano shows no signs of winding down, with a GBA port, PS1 ideas, and a Nintendo 3DS version of Shakedown: Hawaii in the pipeline. But now with the wide launch of Shakedown: Hawaii officially in the rearview, it's time for the seasoned developer to take a well-deserved weekend, and then some. At least, until the next technical curiosity catches his attention.