"He's just too strong" - How One Punch Man: A Hero Nobody Knows subverts expectations with Saitama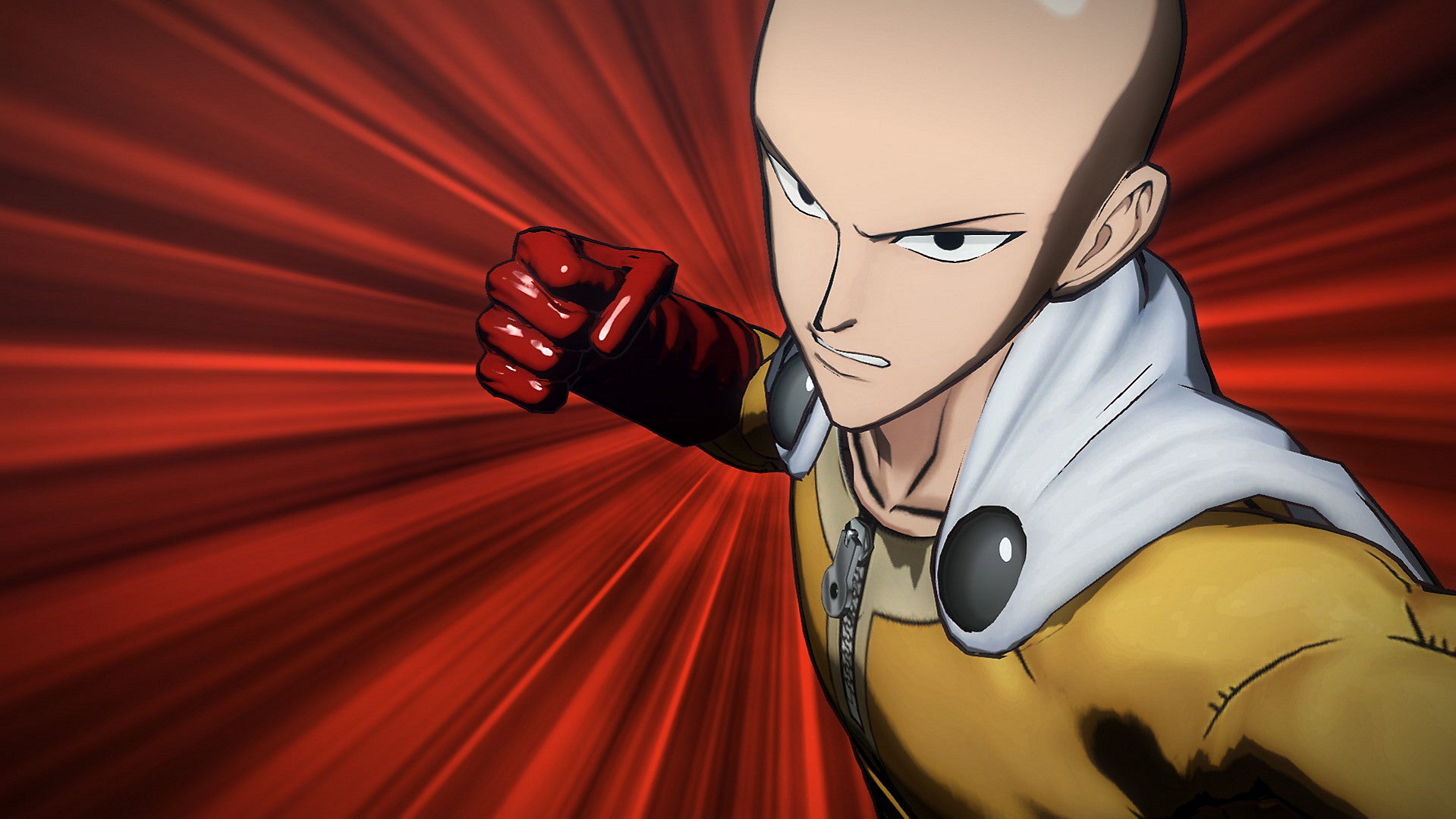 How do you balance a fighting game where the main character can knock out anyone in one punch? The answer: you don't. The first game based on the popular manga and anime, One Punch Man: A Hero Nobody Knows throws out the traditional anime fighting game formula - a perfectly pitched move for a series which parodies so many manga tropes.
Saitama, the One Punch Man, can defeat any opponent with a single blow. But rather than neuter the show's central running gag, if you select him in A Hero Nobody Knows, he'll arrive late to the battle, meaning you have to survive with a character less than your normal three-person team until he shows up.
Once he finally shows up, the invulnerable hero does what he does best: beats anyone with one punch.
"One Punch Man is not your average hero anime - it's an anti-hero anime," Yasuhiro Yahata, producer on One Punch Man: A Hero Nobody Knows, explains. "While you do have certain rules, we like to overturn them and have those unexpected elements.
"It was quite fun to develop those aspects - things you're expected to do in a normal game, but because this is One Punch Man you don't have to. Or things you're not allowed to do.
"I think the first example and one that I was very happy with, was when we announced we were going to make a One Punch Man fighting game, people assumed or worried that were going to make Saitama weaker, which is what would generally happen in a game.
"But when we released the trailer last summer and they saw that nope, Saitama is still just as strong, can still knock out an enemy in a single punch, people reacted really well to that."
In the game's story mode you create your own hero who progresses through the ranks by fighting crime and rescuing people from the super-powered creeps terrorizing the city.
"The story is based on the first season of the anime, so you're experiencing that but from the point of view of your avatar hero," Yahata says.
"We did think at the beginning of Saitama being the protagonist, but he was just too strong and it wasn't working as a game. In the world of One Punch Man, you have cool characters, but also unique and crazy heroes. We thought that it'd be fun for the player to become one of those heroes and to be part of the world."
With Saitama's power level in relation to the rest of the roster, this change allows the player to interact with the rest of the series' cast throughout the story without every fight repeating the same joke over and over.
This also lets A Hero Nobody Knows have a more fleshed out combat system that you'd anticipate, with combos linked to directional inputs rather than just a single button as in many anime games. Characters charge up a super meter with regular attacks, before utilizing their unique special moves, which drain more or less of the bar depending on their power.
"Saitama isn't the only one who arrives late," Yahata laughs. "It's not just a straight up battle, but there's also a bit of drama involved.
"We needed to make sure that we got those cool characters into the game, but also that humourous edge of Saitama showing up to recreate this unique world of One Punch Man.
"The game was developed by Spike Chunsoft, who's really good at this kind of game. They did Dragon Ball Sparking [called Budokai Tenkachi in the West], they did Jump Force, and so they've developed it in a way that you can enjoy the battles whether you're an experienced at this kind of game or not."
While One Punch Man is a relatively new series in the anime landscape, it's shot to widespread popularity. Spike Chunsoft and Bandai Namco plan to support A Hero Nobody Knows post-launch, with what could become a new flagship property.
"The launch won't be the end of the story," Yahata says. "We're planning on having continuous updates, online events, downloadable content, it won't be the end of the IP.
"We're really grateful for what we've received from fans so far, and we hope that this game will be everything you're hoping it will be. It will continue to evolve going forward, so watch this space."
One Punch Man: A Hero Nobody Knows releases on February 28, for PC, Xbox One, and PS4.