New Super Mario Odyssey footage shows more hats, more worlds, photo mode, and amiibo support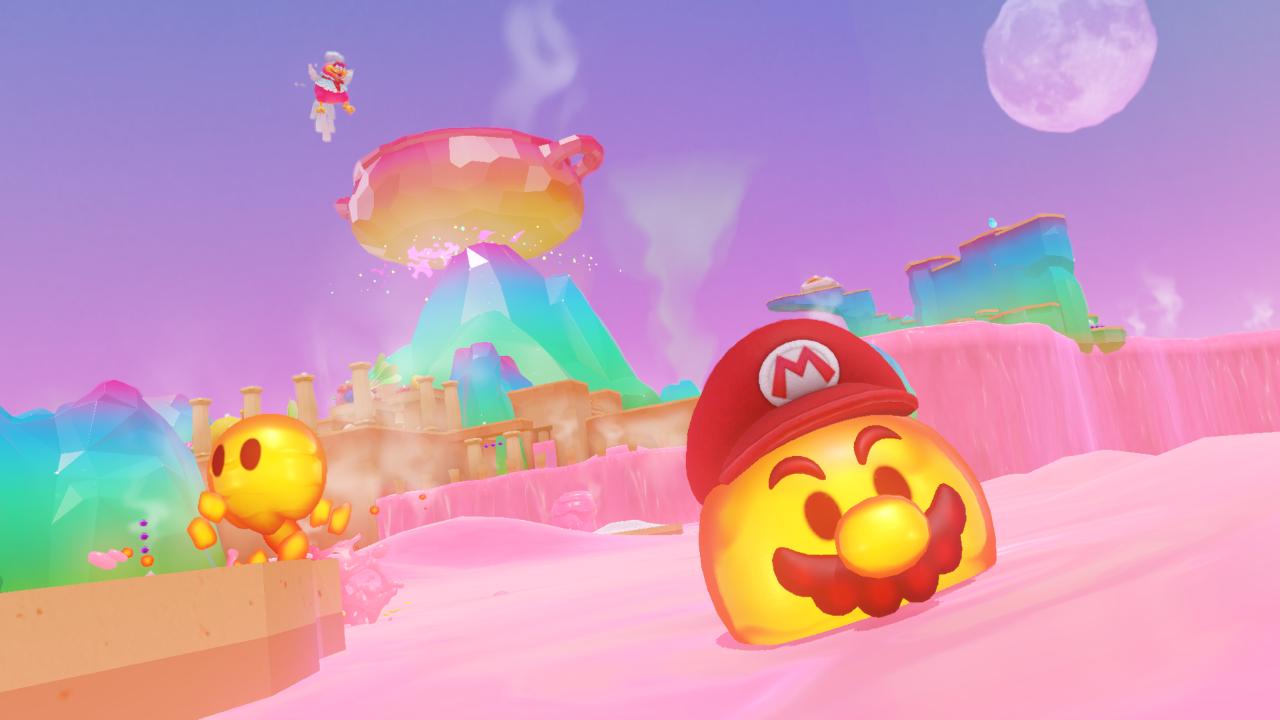 Super Mario Odyssey has been showcased as a part of the latest Nintendo Direct, and wow is it looking good.
Super Mario Odyssey, the latest 3D Mario platformer, is coming to the Switch next month. Today, we learned a bit more about it.
Cappy, the sentient cap atop Mario's head, comes from the 'Cap Kingdom', and teams up with Mario to rescue Peach from Bowser because his sister, Tiara, is sat atop her head. There will be plenty of outfits in the game, some location specific, some based on Mario's past - in the trailer above you can see him in his Mario Maker costume and his Dr Mario costume, for instance. You can even see him shirtless, if you've ever wondered what Mario's nipples look like.
Two new levels were revealed too: Shiveria, in the Snow Kingdom (it wouldn't be a platformer without an ice world, right?) and Bubblaine, in the Seaside Kingdom, a watery land where the water tastes like it has been carbonated. There will be plenty more, apparently, and they'll each be packed with Power Moons, the game's primary collectible - we're briefly shown a menu that indicates more than 50 moons within a single level. "If you collect them all", we're told, "something neat may happen".
If you're having trouble finding them, there are at least three hint-droppers in the game - Talkatoo the bird, the money-hungry 'Hint Toad', and Uncle Amiibo, who looks like a roomba but apparently responses to any amiibo you might tap down.
Speaking of amiibo, three of the figures being released for the game had their abilities revealed today. Wedding Mario, Wedding Peach, and Wedding Bowser will all grant 'wedding outfits' based on their characters, and in addition Mario grants temporary invincibility, Peach awards a life-up heart, and Bowser reveals coin locations within the current world. Apparently "all" other amiibo are supported outside of this.
We also get to see in-world minigames, such as Koopa Freerunning (a race event), Jump Rope Challenge, and RC Car Challenge, all of them with online leaderboards, and 'Snapshot' mode, a photo editing mode that lets you move the camera around and apply filters.
There's a lot of little details in these seven minutes of footage, and it looks wild.
Super Mario Odyssey launches for the Nintendo Switch on October 27. On the same day a new hardware bundle will drop, containing a pair of themed Joy Con and a Mario carry case.