GTA Online: Rockstar's fixed it, and you should be playing right now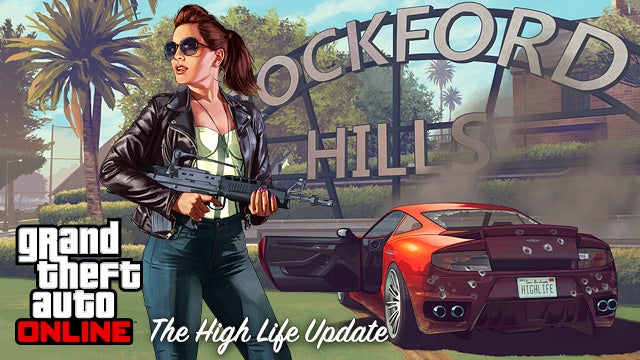 GTA Online launched a broken mess. Eight months and a ton of free DLC has made everything good. Here's why you should get involved.
Rockstar released GTA Online's High Life Update this week, causing virtual street parties everywhere. I tried to play it at launch, and, like practically everyone else, couldn't because everything was broken.
Never more. High Life dropped in tons of new vehicles, jobs and guns, but that's all in the future for me. I just wanted to see if it worked. And it does. This all happened to me within an hour of turning it on.
These are the reasons you should be getting into GTA Online right now.
1 - Because you could look as awesome as me. Actually, I doubt it. But you could try.
2 - Because all these guys were playing it at 9am on a Thursday morning.
3 - Because you go to heaven when you're dead. Straight up.
4 - Because you get a free sawed-off shotgun. And we all know life is better with free sawed-off shotguns.
5 - Because the radio tells you to go fuck yourself (toggle the sound).
6 - Because there are winners. And losers.
7 - Because the game takes the piss out of you if you're playing like a donkey.
8 - Because you can play Team Deathmatch in an abandoned hotel with actual children (toggle the sound).
9 - Because even random crews look like this.
10 - Because, as in the main game, there's never a shortage of things to do. I was getting constant calls through my phone to races and shooting matches. Those things popping up in the bottom left are invites from random players. GTA Online is very much alive.
See? I might even create a crew, because I'm so hip on the kids. Seriously, you should play. Get to it.