Log in to GTA Online for your GTA$250,000 stimulus bonus, plus a 10% rebate on every GTA$ dollar spent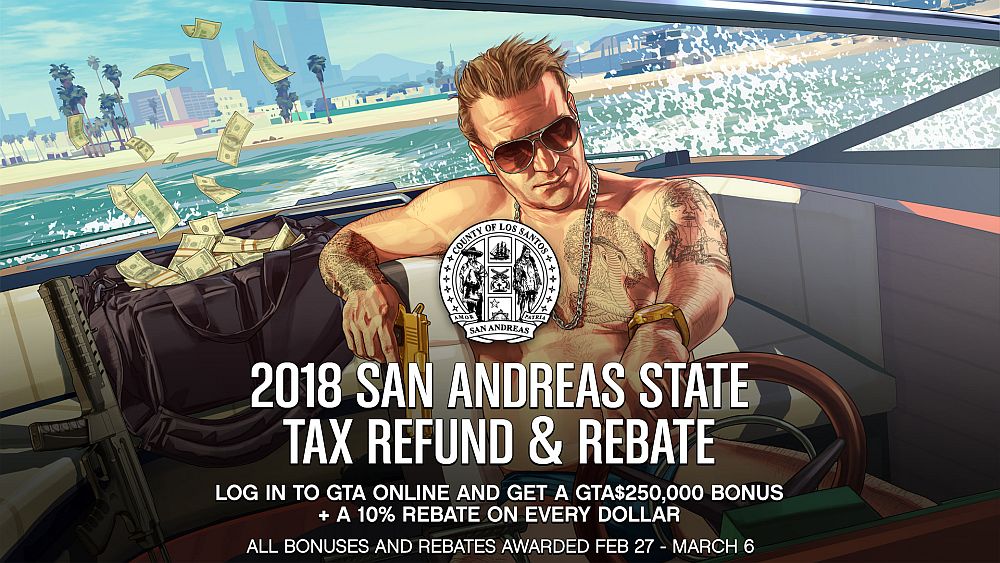 GTA Online players who log into the game between now and February 26 will be handed some extra cash.
Rockstar has announced the 2018 San Andreas State Tax Refund and Rebate event, which kicked off in GTA Online yesterday.
The studio said earlier this week it planned to hand out GTA$ to players in March. The news was mentioned alongside details on the game's Valentine's Event which is currently running.
GTA Online players who log in before February 26 will qualify for a GTA$250,000 "stimulus bonus."
Also, all GTA$ spent in GTA Online by the cutoff date will award players with a 10% rebate - up to GTA$1 million cash back.
Players who logged in during this time will find the GTA$ stimulus bonus and GTA$ rebate in their Maze Bank starting February 27.
Be sure to hop online and claim your tax break by March 6.
Log in to GTA Online and get a GTA$250,000 stimulus bonus and a 10% rebate on every GTA$ dollar spent