GDC: Split/Second gets first impressions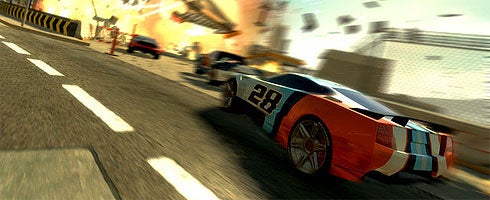 Kotaku and EG have both gone live with GDC-timed play impressions of Black Rock's Split/Second.
EG snip:
The game already makes a lot of sense in snapshot form. The controls are simple (triggers to stop and go, analogue to steer), and the selection process for explosions is automatic. Whenever you can set something off, it's highlighted for you, and the only overlap should be the two different types of powerplay, each of which has its own button. There are also plenty of nice touches, like the HUD, where your power-bar, lap counter and race position are all stamped to your back bumper rather than spread around the screen.

That said, there's a long way to go - all the way to early 2010 - so things like multiplayer are still question marks, although online and local options are very likely. I suggest that one person could set off explosions while others try to avoid them, and get a deadpanned "yes, I suppose you could do that", too, with a smile. It sounds like it might be fun; interesting, but uncomplicated, and that seems to be Split/Second all over, except, as with Pure, it's a deliberate simplicity that hides depth and consideration. In the same way that Pure was considerably more than an ATV game with trick jumps, Split/Second looks to be more than an arcade racing game with explosions.
GDC!