Final Fantasy IV: Complete Collection dated, priced for Japan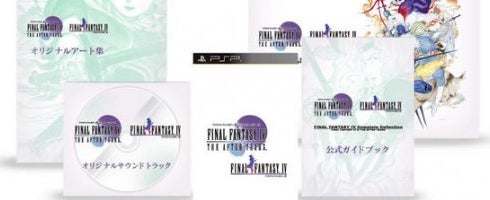 Square's to release the Final Fantasy IV Complete Collection in Japan on March 24.
The pack includes FFIV itself as well as spin-off The After Years in one PSP title, improved graphics included.
The standard UMD version will launch at ¥5,980, with the downloadable version at ¥4,980.
A collector's edition featuring a guide book, book, soundtrack and artwork from Yoshitaka Amano will retail for ¥9,445.
This is the eighth time FFIV has been released released on a different platform. It's been published on SNES, Wonderswan, Virtual Console, GBA, DS, PS1, Japanese phones and now PSP.
You can watch a trailer of it here.
Thanks, RPG Site.