Fallout 76 battle royale mode Nuclear Winter announced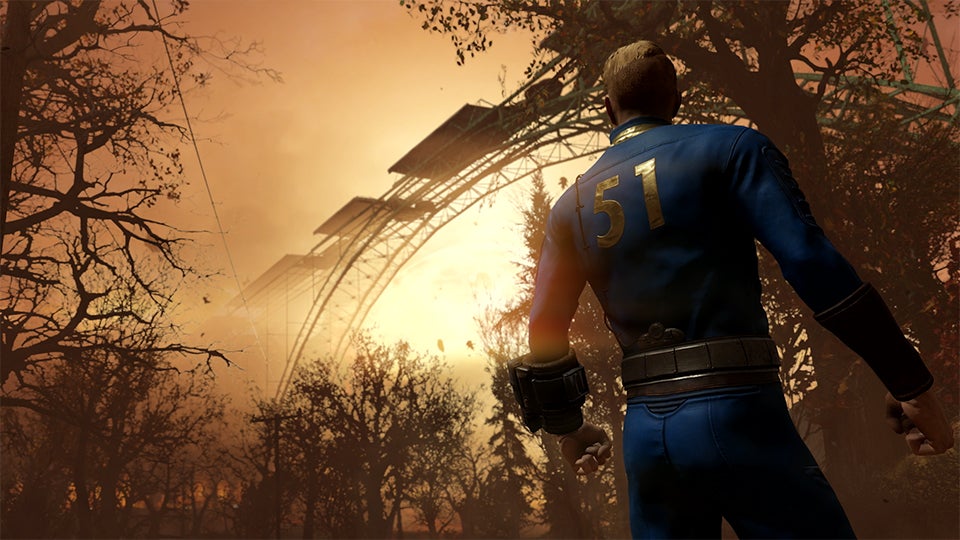 Fallout 76: Nuclear Winter is a battle royale mode coming to the game which pits 52 players against each other for control of Vault 51.
Bethesda announced the news during its E3 2019 showcase. Nuclear Winter is a 52-player battle royale mode that pits you against your fellow players as you battle for the role of Vault 51's Overseer.
In Nuclear Winter, you'll take part in a 52-player fight to the death. Rank up, unlock new and exclusive Perks, deploy a C.A.M.P. and even launch nukes. As the ring of fire closes in, hopefully you will be the last one standing.
Here's more straight from Bethesda:
C.A.M.P.S and Nukes
The C.A.M.P. setup is simplified in Nuclear Winter. You no longer need resources to build and the mode preserves your Blueprints from Adventure Mode. This does not affect your C.A.M.P. in Adventure Mode. But be careful where you set up camp, because the ring of fire is still closing in and will make quick work of your settlement. In Nuclear Winter, turrets are actually lootable items that can be found in boxes around the map or on defeated players.
Nukes have also been reworked for Nuclear Winter. With the reduced map size, they now have a smaller effect and area, though the effect of the nuke drop is persistent and will remain for the rest of the match. In order to launch a nuke, you'll need to find four nuclear codes and one launch briefcase in a single match.
Perks and Vats
Nuclear Winter has a grand total of 73 Perk cards for you to unlock and equip. Ten are for this mode only and cannot be carried over to Adventure or Survival Mode. These include Walking Arsenal (combines all the weight reduction benefits for ranged weapons into one card); Frog Legs (increases jump height); and Briefcase Bloodhound (helps you track down nuke briefcases). Each of these Nuclear Winter-exclusive cards is built to better suit the faster pace of this new mode.
Unlike in Adventure Mode and Survival Mode, VATS only works on AI and will not target other players in Nuclear Winter.
Here's what carries over
You can start with a new character, or you can bring a chosen character from Adventure or Survival Mode. Appearance will carry over from Adventure/Survival, but none of your weapons or Perk cards will. You'll be dropped into Nuclear Winter clad in only a Vault 51 jumpsuit with your Pip-Boy. You can wear your unlocked outfits, which can be equipped from the start in the staging area. All your base game S.P.E.C.I.A.L. stats will be brought into Nuclear Winter, but you won't have any of your Perk cards. Those will be unlocked as you play through the new mode. You also won't have any of your S.P.E.C.I.A.L. passive bonuses, as those would provide some players with an unfair advantage.
If you have previously purchased any cosmetic items in the Atomic Shop, you'll be able to mark those items as a "Nuclear Winter Favorite" in the Atomic Shop. This includes outfit cosmetics, profile icons, and Power Armor and weapon skins. But you won't be able to immediately equip your Power Armor skin, because you don't start Nuclear Winter with Power Armor. You'll have to find Power Armor in the map, and then you'll be able to use that skin. When you go back to Adventure Mode or Survival Mode, you'll bring any XP or Caps you earned in your Nuclear Winter matches and those will go to the character you were playing as.
Players will also complete Challenges in Nuclear Winter, and any rewards from those, such as new cosmetics, workshop items, can be used in any mode for any character. As you rise in the ranks you will earn more bonuses, like profile icons, C.A.M.P. plans, Power Armor skins and more. You will also earn Perk cards by increasing your Overseer rank.
Any Perks unlocked in Nuclear Winter are exclusive to that mode and do not carry over, it was said.
Fallout 76 is also free to play from June 10 through June 17, on all platforms, including a sneak peek at Nuclear Winter.