Erica review: PlayStation's Bandersnatch owes more to Agatha Christie than Brooker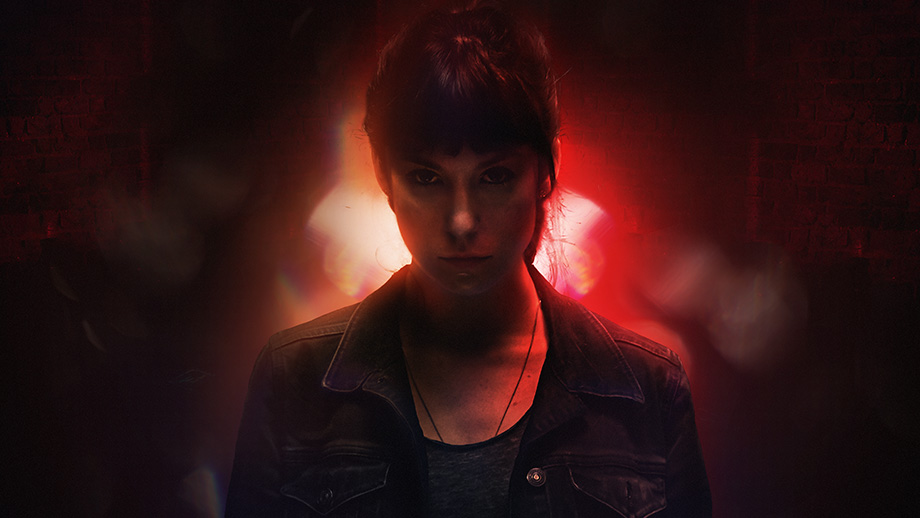 To understand Erica, it helps to know a bit about the landscape of UK telly.
Bandersnatch, last year's interactive experiment from Black Mirror, might have been hosted on Netflix - but it bore the self-consciously provocative character of the show's original broadcaster, Channel 4. Playing Erica is like turning over to ITV, the cozy home of Agatha Christie reruns. This is the Sunday night murder mystery as interactive fiction: a series of grisly discoveries at stately homes. To the British psyche, it's oddly comforting, to be paired with a crumpet and followed by a long bath. It's just a shame all those twists don't wind up taking the genre anywhere new.
Sony surprise-released Erica at Gamescom this week, and it's easy to see where it fits into the roster of PlayStation exclusives. Although live-action, Erica pulls plenty from the more intimate moments of control in David Cage's games. Using either the DualShock 4's touchpad or the recommended companion app for phones - both of which function equally well - you're swiping down to open a dusty drawer, or wiping the condensation from a bathroom mirror, or splaying your fingers to tease apart the ribbon on a present. This constant focus on the tactile works to ground you in a film that could otherwise have felt only sporadically interactive.
It finds a strong match in lead actress Holly Earl, who plays her role of a traumatised teen caught up in a string of killings with wide-eyed quiet. It's an approach that can be plausibly steered towards curiosity or passivity depending on the choices you make for her in conversation, either seeking out answers for yourself or accepting the stories of the characters who seek to manipulate you.
As the game begins, Erica finds a parcel outside her front door. That's bad enough if you've been told by the private delivery service that something you were waiting for would be left in a safe place, but it gets worse: the box contains a severed hand grasping a pendant bearing a strange mark. The symbol is the same as that carved into the chest of Erica's father after his own murder, years before.
Fearing for Erica's safety, a policeman puts her under protection detail at Delphi House, a sprawling and understaffed psychiatric hospital with more entry points than a Dishonored level. It's a murderer's playground, but at least affords Erica a front row seat to the investigation - Delphi House was her father's creation, and every victim has been somehow related to its mysterious work.
Once Erica disappears into the hospital, it's impossible to tell what year it is. This is a suspended realm where the corridors are coated with calming olive paint and Georgian panelling, where mahogany desks are opened with huge brass keys. While the creepiness of mental health institutions and their managers is a tired trope in this kind of fiction, Delphi House makes for a potently atmospheric backdrop - only helped by the primal strangeness of Austin Wintory's soundtrack, which hints at ancient malevolence lurking beneath the veneer of wellness. Given the brevity of Erica's two-hour running time, there are a surprising number of nooks to explore behind thick wooden doors.
It's a deft production where the seams of branching narrative are rarely visible. Actors dither believably as they wait for you to respond to their questions, picking up the conversation in awkwardly British fashion on the occasions where you stay mute - one of the ways Erica can pull back power in a situation where she's often at the mercy of strangers. While Bandersnatch delighted in recreating the dead ends of choose-your-own-adventure books, Erica always folds back in on itself, ensuring you reach the finish line with something resembling a three-arc story, fourth wall intact.
Perhaps it's too effective in this regard. Not for no reason did Quantic Dream, after two decades making interactive fiction, finally reveal all the possible paths of Detroit: Become Human to the player. Without that context, it can be hard to appreciate how divergent a game like Erica is. On first completing it, you're left with a TV movie that wouldn't stand out without its participatory element. It's only on the second playthrough that - knowing the revelations waiting in Delphi House - you're able to turn the ship towards your own goals, directing Erica's attention and line of questioning to fill in the blanks in your understanding, or simply to insult a hated character as much as possible.
No matter what you do, the story remains punctuated by the same key events - but for me, a couple of significant discoveries on the second run flipped my perspective, so that somebody I'd viewed as a villain became a martyr. Erica is a game designed such that you can't possibly see everything, nor befriend everyone, in one sitting, and that's to its credit. I just wish it did more to shout about that fact, and to explicitly reward you for digging up its secrets.
In a genre where developers can't resist trying to capture the very nature of choice in their stories, there's something refreshing about how ordinary Erica is. It's a suspense thriller that could've been written at any point in the last century, were it not for the gripping addition of player choice. In a month that's seen Man of Medan push interactive fiction into multiplayer, and Telling Lies build on the investigative purpose of Her Story, there's no comparable innovation here beyond those tactile controls that feel like you're manipulating scenes in real-time. But there are shocking truths buried at Delphi House, and maybe that's enough to soothe the soul on a long Sunday.