Cliff Bleszinksi to debut new game next week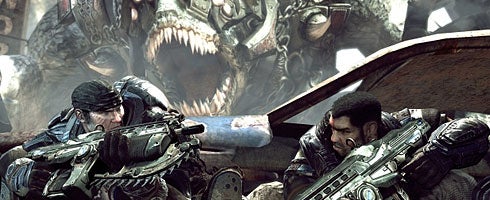 But there's a catch: you'll have to watch Jimmy Fallon's Late Night show to find out about it.
Not so excited now, are you?
"Game designer Cliff Bleszinski debuts his new game on Late Night next Thur. Set your TiVos! And your Xboxes," tweeted Jimmy Fallon, presumably before turning to stare at some imaginary camera and laughing at his own joke out of reflex.
That's April 8, for those of you who don't believe in calendars. So, to quote Eurogamer's Ellie Gibson: "Gears of War 3 Gears of War 3 Gears of War 3?" [Bang on cue, then - JC].

Well, to answer your... that's sort of a question, we guess, signs point to yes. What signs? Well, try the cover of the newly resucissitated EGM, for one. See that block of text that Ryu's getting ready to punch? Now direct your eyes toward the top of it. "Gears of War 3," it says.
Magazine covers don't lie. Ever. Gears of War 3's gonna be announced next week.
Also, bigfoot is real, Lady GaGa's a man, and Elvis is still alive. Huh. Could Lady GaGa be Elvis in disguise? Only one way to find out for sure. To the magazine rack!
Thanks, Shacknews.
(It could also be People Can Fly's Bulletstorm. But we highly, highly doubt it.)