Biomutant is a kung-fu fable from THQ Nordic starring a furry bionic critter and his robot sidekick
THQ Nordic's new game has been officially announced and I'm already sold.
Hold onto your butts because THQ Nordic's new game looks fantastic.
Developed by the newly formed Experiment 101 - a team made up of former Mad Max and Just Cause developers - Biomutant is an open-world action RPG and the premise already has me hooked.
"Set in an imaginative post-apocalyptic universe, Biomutant is a kung fu fable filled with fantastic creatures to discover, dangerous factions to navigate, and colorful worlds to explore with mechs, paragliders, balloons, mounts, jet skis and more."
The story and its ending are both described as "unusual". A plague is ravaging the land and "the Tree-of-Life is bleeding death from its roots. The Tribes stand divided, in need of someone strong enough to unite them or bring them all down."
Trees of life aren't that unusual in video games, but adorable furry critters that don't spout catchphrases are, so I'll take their word on it for now.
The game leaked prior to the official announcement thanks to an ad in a German magazine that was posted to Twitter, so it took the wind out of THQ's sails somewhat, but the trailer more than makes up for it.
It's not a gameplay trailer, so if you want to temper your hype levels, I'll understand.
If you thought your character couldn't get any cuter, you're in for a treat. You can customise their abilities and appearance depending on the prosthetics and mutations you opt to use.
"Grow claws, sprout wings, or attach a robotic leg - each choice will impact the way your hero plays in real-time combat that blends melee martial arts and firearms."
Interestingly it sounds like your choices can lead you down the path of a hero or a troublesome git out to make the world a hell of a lot more worse off.
Biomutant's fancy Collector's Edition is up on Amazon already, and treats us to a few screenshots from the game.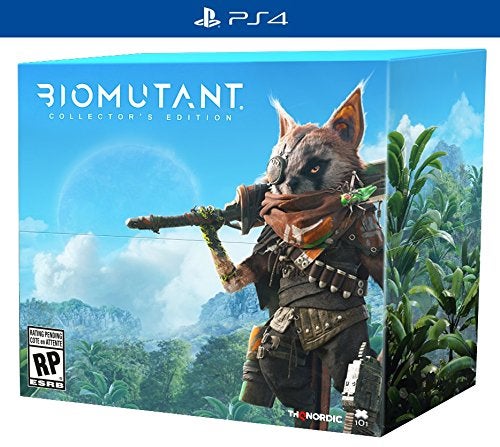 The Collector's Edition includes the game, official soundtrack, a fabric poster, a figurine that you should sell your first-born for, and a "premium box" which appears to be a bit of folded cardboard with the game artwork printed on it.
But perhaps I'm missing something. The world of cardboard isn't my forte.
The whole thing will set you back $120.
Biomutant is set for release in 2018 on PC, PS4 and Xbox One. It's playable at Gamescom so hopefully we'll get to see some gameplay soon.