Bayonetta Switch Collection review: an excellent package with some decent little improvements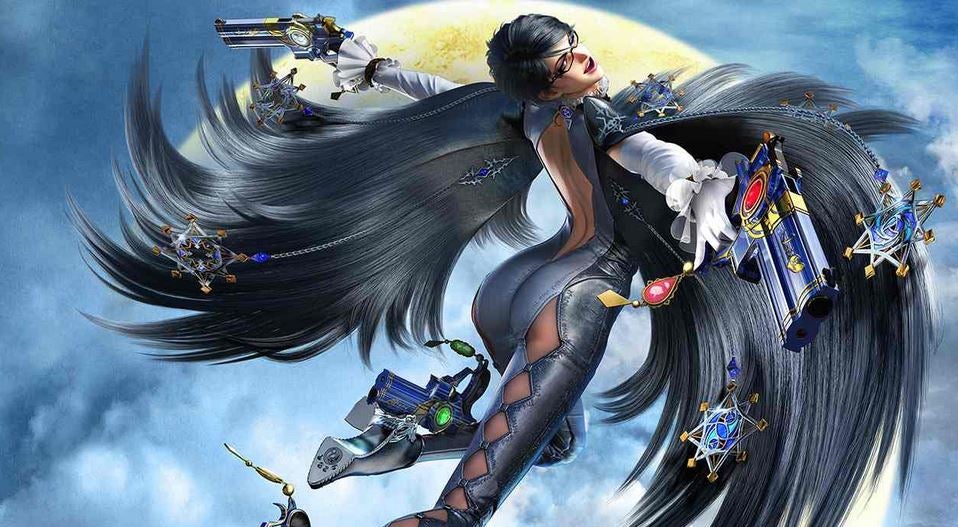 If you missed Bayonetta's Wii U outing, this is the perfect time to catch up.
It still feels a little strange to me that Bayonetta ended up with Nintendo. Third person character action games aren't a genre you typically associate with the company, but Bayonetta's deliberately racy, PEGI 18-rated antics also feel an unexpected fit, especially when you then see Bayonetta alongside Mario, Link and Pikachu in Smash Bros.
The important thing is that she does fit, however. She gives Nintendo's stable of first-party titles a much needed adult-focused boot in the rear, and it's an enormous relief to see Nintendo sticking with the character and renewing their partnership with rights holder Sega and developer PlatinumGames for both a sequel and this repacked port of the first two games on the Nintendo Switch.
There's an enormous depth to Bayonetta 2's combat system and huge combo potential. The truth is that you've only just begun to scratch the surface once you see the credits roll.
If you don't know much about Bayonetta, the primer is pretty simple: they're third person hack, slash and combo-driven action games from the mind of Hideki Kamiya, notably the director of the first Devil May Cry. There's a lot of similarity to that series with an angels and demons theme, though Bayonetta's world is more inherently over-the-top and packed with endearing, funny and often ridiculous supporting characters. Then there's the titular heroine herself, a character who dominates every second of screen time in gameplay and cutscenes in equal measure.
The games aren't just charming in narrative but are also an absolute joy to play, full of mind-boggling action of both the scripted and user-controlled variety. There's an enormous depth to its combat system and huge combo potential. The truth is that you've only just begun to scratch the surface once you see the credits roll. It's an action game masterclass, the sort of game that could easily convert a newcomer into a fan quickly.
This package includes both games, though it's primarily being sold as a port of Bayonetta 2, the previously Wii U exclusive sequel. This is now essentially the best version of that game available, and in for the bargain you'll also get a quality port of Bayonetta that can't quite stand up to the 4K/60fps PC release for obvious reasons but is more than serviceable for on-the-go play.
In performance terms, Bayonetta 2 in particular is much improved. It's an ambitious, barn-storming sequel that turns just about every aspect of the original game up to eleven, something the Wii U version often struggled with. It was without doubt a brilliant game with smart tweaks and additions over the first, but uneven and sometimes outright rough performance served to drag it down. Mercifully, that's not nearly so much the case here.
On Switch, Bayonetta 2 runs at 720p in both docked and handheld modes, but that's a sacrifice made in order to target 60 frames per second. The original release of the game proved just how vital to performance 60fps can be, and this Switch version thus fixes those problems. Docked, the game gets much closer to maintaining its 60fps target, the result more crisp and immediate feeling combat. There's a sacrifice, obviously, which is that the 720p presentation can look muddy on larger screens.
Performance is marginally worse in handheld mode, but it's in this mode that the 720p resolution of the game looks its best. It's an upgrade either way: either improved performance at the same resolution or a general better look depending on if you're docked or handheld.
Textures display in a cleaner-looking manner too, resulting in some scenes looking significantly better, albeit in a subtle way. The game still stumbles here and there, but broadly speaking it's a significant, pleasing upgrade on the Wii U version.
Actual additions are thin on the ground, but the Wii U content has been re-purposed well. The excellent, accessible Touchscreen mode from that game is available in handheld mode, for instance, and there's now local wireless co-op functionality.
It's an action game masterclass, the sort of game that could easily convert a newcomer into a fan quickly.
The newly released Bayonetta amiibo from the Smash Bros range are compatible, but you can also use a range of Nintendo character figures like Princess Peach and Samus Aran. Tapping them will unlock new costumes for Bayonetta to wear as you blast and smash your way through the demon hoards. These costumes are also unlockable through normal gameplay, so as is the amiibo norm they merely act as a shortcut, nothing more sinister.
It's the same great games with the same great action, then, but the improvements add up to make for a more worthwhile package. This is the definitive version of Bayonetta 2, and though the excellent PC version of the original game will always hold the crown there, this version can be played on the go, a unique selling point in and of itself.
The Switch continues to be a great place for ports of fantastic games, and my feelings around Bayonetta's Switch Collection are much the same as they were for Skyrim and DOOM; this is the perfect excuse to either replay these games or to experience them for the first time if you missed them the first time around. Bayonetta might be a strange outlier in Nintendo's game library, but she deserves her place: her games are absolutely modern classics in the action genre.
Bayonetta 1 & 2 are out on Switch on Friday. Game copy provided for review by the Publisher.