ARK: Survival Evolved adds huge new Official Mod map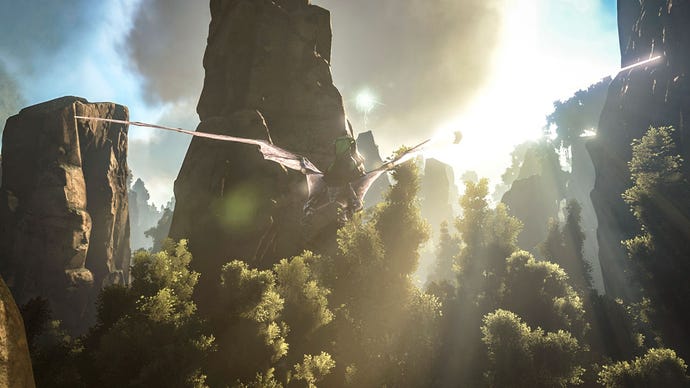 Transform your ARK: Survival Evolved experience with a map so good its creator landed a job at Studio Wildcard.
ARK: Survival Evolved adds huge new Official Mod map
The latest ARK: Survival Evolved update adds support for The Center, an enormous new map free to all players.
"The massive map doubles the in-game playable geography of the already enormous ARK landscape making it roughly 70 sq. kilometers," Studio Wildcard said.
"The Center is filled with stunning lighting effects, lava rivers, giant picturesque mountains, misty floating islands, ancient underground ruins, enormous ice caves, and of course beyond the breathtaking sights there lay dangerous threats and mysterious secrets to unravel with you and your tribe mates."
It's so big that there are unique ecosystems to be found within its cave systems, apparently. Download it from Steam; Studio Wildcard has opened a number of 100 player servers in support of the mod.
The map was created by modder Ben Burkart, and is the first to be made into an Official Mod as part of a scheme announced in late April. Although Studio Wildcard will be paying modders for their work through competitions and the Official Mod program, Kotaku reports it was so impressed with this one in particular that it offered Burkart a job.
Visit Steam for the full patch notes for today's update, although the most important non-The Center news is that "you can now pickup and toss Dodos & Dung Beetles". Nice.