Animals with game controllers: how I failed trying to emulate the Internet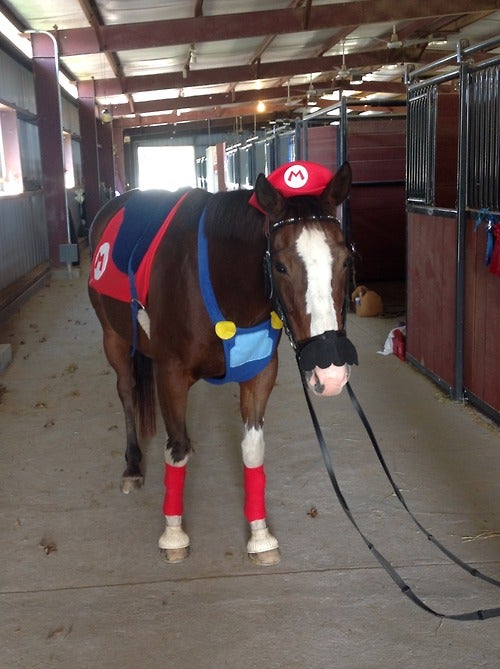 VG247's resident animal lover Stephany Nunneley decided to try to "be like the Internet" and take pictures of her menagerie holding video game controllers. It didn't work out too well.
People love taking pictures of their animals holding game controllers. For proof, all you have to do is Google "animals playing video games" and you are bombarded with all kinds of awesome, dogs who couldn't care less, or some very, very pissed off cats. I've posted a few I personally found amusing.
There were so many, I found it overwhelming to be honest so it was hard to draw much inspiration.
Bunny holding an Xbox 360 controller - Seriously. Look at those feet. He is adorable. My rabbit would never have let me do that. She would have bitten me. Hard.
Pit Bull and Pomeranian playing with controllers - It isn't hard in the slightest to get your dog(s) to hold still long enough to take a shot like this, because they are highly trainable animals. Still, the Pitty's posturing suggests it's borderline humiliated.
Guinea Pig with Xbox controller - This is one of the cutest things ever. Piggies are adorable, and I always wanted one as a pet, but I will probably never have one. I have many cats running around the place.
Hamster holding NES Controller - He looks all into it. I imagine he's playing The Legend of Zelda and trying to get around the Blue Wizzrobes. Bastards.
Cat in lap holding Xbox 360 controller - What is it with everyone's pet holding a 360 controller? Do people with pets prefer the Xbox 360 over PlayStation 3? It sure looks that way. Still, the cat looks interested, and relaxed at the same time. It must be playing Viva Pinata.
Humiliated cat with Xbox 360 controller - You can tell this cat is embarrassed. The owner has humiliated her, thus ruining all street cred gained with the cat next door.
Pissed off cat with Xbox 360 controller - I wonder if she's pissed because she's holding a 360 controller instead of a DualShock, or just pissed off that her owner has done this, period.
Cat with tons of shit on him holding a PS3 controller - Finally we have a picture of a cat with a PS3 controller. However, his owner has also decided to stack a bunch of extra crap on him. There is a whole website devoted to this called Stuffonmycat. I had no idea it existed, and I can't stop looking at it.
For more media of animals playing computer games, specifically of my own critters, head to page 2.
Okay, now we get to the pictures I took trying to emulate what other people do on the Internet. A couple worked out alright, but most of my grand ideas didn't pan out.
The first idea I had was trying to get my barn cat, Mrs. Doyle, to pose on a bale of hay or the tractor with a controller. She wasn't around at the time. Lucky for her, I guess.
My second, and worst, idea involved my horse Annabel Lee and our miniature donkey Bongo. They weren't cooperative. I knew posing them with a game controller would be some work, well, except for Annabel: she's a Percheron and 10 Xbox consoles would fit along her back. No joke. She's massive, and the one in the middle you see above.
Bongo, on the other hand, I thought, would be easier. He's tiny, and lets my mother do anything to him whether it's a bath, putting a blanket or Santa hat on him, or trimming his feet. I thought, if I couldn't get a decent picture of him with a controller maybe I could put my Mafia or Burger Town t-shirt on him.
WRONG. WRONG. WRONG. He kicked the living shit out of my shins and ran off bucking, lead rope in tow and my mother laughing her ass off.
The lesson? There's two, actually: one - always adhere to your own principles regarding animals wearing clothes (I hate it); two - never, ever, EVER try to put a t-shirt on a jackass. Period.
Bella the kitten and her Xbox 360 experience - I decided to use my Xbox 360 controller because the console no longer reads discs; therefore, if "Miss Destructive" chewed on it, no biggie. I still use my PS3 so the DualShock 3 was not an option. To get her interested in posing, because at her age she has ADD, I resorted to sprinkling catnip around the kitchen floor. It's not dirt: I promise. I'm like Cinderella, always cleaning the house whether I want to or not. Damn it.
Tink only cares about cat food boxes, not Xboxes - I tried to get Tink, Bella's sister, in on the action. Sadly, the only time she showed interest was when the controller was placed outside her play box. And next to a string from the cat food bag.
Tom-Tom couldn't care less - Tom-Tom is an old man. Old as in 15. He's not interested in newfangled technology. He'd rather fall asleep on the couch after reading one of Sartre's books on existentialism. You know, because Camus can do, but Sartre is smartre. What a snob.
Dougal's introduction to Xbox 360 - Dougal's name fits him. He's a bit slow, always happy, and puts up with just about anything. I should have put the Mafia shirt on him instead. He wouldn't have cared. He wears a "jacket" when it's cold out anyway.
Tess thinks she's in trouble - My poor, sweet, sensitive Tess. She's looking up at me as though she's in trouble. Or it could be one of her "what the hell are you doing to me now, woman" looks. Maybe I shouldn't have put the headset on her. Then again, maybe it was because I took her Milkbone away. It laid there for three hours. If she wanted it, she should have eaten it.
If you have pictures of your pet with a controller, or ever decide to humiliate them in such a manner, please - by all means - send us the picture. You know I have a penchant for silly header images, so if you send me one, I will use it at some point. Promise.
Bunny
Cat Xbox 360
Humiliated cat
Guinea pig
Pissed off cat
Cat full of stuff
Hamster NES
Mario Horse
Header