Activision E3 extravaganza had star-studded line up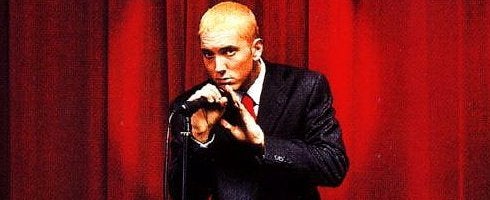 Actvision's E3 show tonight, which can only really be described as a party, was full of famous people. Literally.
There were also about 5,000 attendees at the Staple Center in LA to participate in the festivities.
Usher performed, DJ Z-Trip threw some mixes into the joint, Dead Mau5 played some fucking loud house, Jane's Addiction performed Mountain Song, Been Caught Stealing, Rihanna performed, and then with Eminem, and David Guetta was there as well.
There was a stripper with a new True Crime: Hong Kong trailer in the backdrop doing her "thang". We saw that trailer this week already. The game's out this year.
Christ Cornell (Soundgarden, Audioslave) was there too. Played Black Hole Sun with the LA Philharmonic. We died inside when we heard about that.
Maynard from Tool sang Bohemian Rhapsody. We died again.
There were more strippers. They danced to No One Ever Really Dies by N.E.R.D.,with Travis Barker on drums.

There were fireworks, flames, explosions, stuff blowing up and then Eminem closing the show with a BANG!. Shouting at the crowd, getting them riled up. He did three songs. Last one was with Rihanna - who came back out on stage.
Tons of singing, dancing, a giant cock thing, the whole nine yards. What a show.Apparently.
Games shown while the musicians played were: DJ Hero 2, Guitar Hero: Megadeth, Tony Hawk: Shred.
Speaking of Hawk, Tony himself was there, and confirmed there would be a hanging ramp in the game "but we had technical issues" - the game looked more old school skater with players skating on roofs, buildings etc.
Pat was there. Blogging it. In a private box. We were watching him type.
Estimated cost for the show, according to a very senior PR rep with Pat at the show: $5-6 million.
He reckons Eminem would be paid "something like a quarter of a million." About the cost of a really big booth at E3.
Find out what else happened through the link.