Pokemon Let's Go, Pikachu and Let's Go, Eevee release date confirmed, coming November 16
This morning two brand-new Pokemon game versions were announced for Nintendo Switch: Pokemon Let's Go, Pikachu and Pokemon Let's Go, Eevee. They will be available from November 16, 2018 – so not too long to wait.

The games seem to be spiritual remakes of the classic Pokemon Yellow – where the protagonist is given Pikachu as their starter Pokemon and their rival an Eevee – and also incorporate aspects of the wildly popular mobile game, Pokemon Go.
In Pokemon Let's Go, players can see wild Pokemon wandering about the world and encounter them in a Pokemon Go-style throwing mini-game – where you have to move in time with a circle to make a capture.
Pokemon Let's Go, Pikachu and Let's Go, Eevee gameplay:
The trailer that accompanied the announcement contained more nuggets than the bridge in Cerulean City, showing off tons of small details and features. It looks like you can ride Pokemon that we haven't been able to before – like Onyx – although we don't know whether this will turn out to be more like Pokemon Sun and Moon where you could ride Pokemon to traverse obstacles. And judging by the cute little hats and outfits we see Eevee and Pikachu wearing towards the end of the trailer, there looks to be a Pokemon dress-up feature as well.
Pokémon: Let's Go, Pikachu!, Pokémon: Let's Go, Eevee!, and the #PokeBallPlus will be released on November 16, 2018 worldwide! https://t.co/kXLdxUMjjA #PokemonLetsGo pic.twitter.com/bUU3ZcnApi

— Pokémon (@Pokemon) May 30, 2018
Also towards the end of the trailer, we see trainers being followed by a Nidoqueen and Nidoking, as well as an Electrode and Gengar. This hints towards the return of being able to choose a Pokemon to follow you while you go about your business – an exceptionally cute and fan-favourite feature from Pokemon Heart Gold and Soul Silver. Nintendo has said that "Pikachu or Eevee will be with you wherever you go, either hanging on your shoulder or riding on your head," so they'll be there at least.
One of the main differences from previous Pokemon games seems to be the battle system. It looks like you don't battle wild Pokemon any more, since the battle prompt in the menu has been replaced with "Get Ready". This would make sense, and bring the games closer to Pokemon Go, but mean that battling trainers would be the only way to level up your Pokes; it'll be interesting to see if you can actually grind.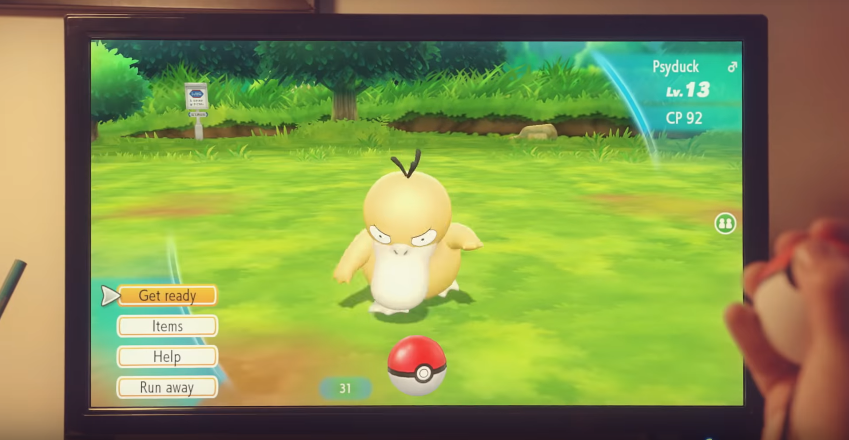 The trailer also showed off numerous integrations with the Pokemon Go app itself, with players able to transfer caught Pokemon from the Kanto region to the "GO PARK", and send presents to themselves and friends on the app. Nintendo said "something special" will also be coming to the world of Pokemon Go, "making the connection between both games even more appealing for Trainers." Details for this will be revealed in the near future.
Finally, Nintendo also announced a new peripheral to go with the games: Pokeball Plus. It's a little Pokeball that functions a bit like the Pokemon Go Plus wristband. You can use it like a Joy Con to control your Switch, or use it to search for Pokemon on the go without opening your phone. It looks the part, but only has three hours of battery life which could be a hassle. No price has been announced either, but since the Go Plus was around £35, this will probably be similar.
Pokemon Let's Go, Pikachu and Let's Go Eevee version differences:
Rather than choosing between a set of three, your starter Pokemon in Let's Go will be determined by the version of the game you're playing.
As well, Nintendo has said that there will be "some differences in the species of Pokemon that you encounter" and "the rate at which you encounter them" will be diferent based on whether you choose Pokemon Let's Go, Pikachu or Pokemon Let's Go, Eevee.