Dragon's Dogma is amazing, so get off your ass and play the new PS4 and Xbox One version
Look, here's the thing: Dragon's Dogma is one of the best games of the last generation. Now you've got a new chance to play it, because not enough people did.
There's a catch, of course. In fact, there's a few. For one, the original release of Dragon's Dogma was fairly lacking in content and actually went so far as to feel a little bit unfinished. That part got fixed with a second release, Dragon's Dogma: Dark Arisen, a game packed with post-game content to the point where the real Dragon's Dogma only begins once you've finished the main story.
Then there was the performance. It ran poorly. That got fixed with the PC release, a slick, solid port that ran wonderfully. Now that version of the game is coming to PlayStation 4 and Xbox One, and that means it's time for you to play Dragon's Dogma. Seriously.
"By all accounts Dragon's Dogma is absolutely is a bit of a mess – but it's also the very definition of something being more than the sum of its parts."
It's a little hard to explain why I love this game so much – by all accounts Dragon's Dogma is absolutely a bit of a mess – but it's also the very definition of something being more than the sum of its parts. A mad combination of Western RPG trappings and Eastern RPG ideas but from Capcom, a studio that at the time wasn't really into the RPG-making business, it's weird, wonderful and clever.
Most people who've played it will mention first the pawn system – a method by which you custom-create a party member to join you on your adventure. Everything about this character – name, look, abilities – is fired off into the internet, and other players can then recruit that character to join their four-character party. You do the same, journeying with your pawn, your player character and two other online-based AI recruits.
The clever thing is that pawns learn from their adventures – so yours will bring back quest, enemy and world knowledge from their online adventures and the ones you recruit will do the same. Recruits that die will be lost to you, giving death some permanence. Best of all is how this all eventually ties into the story of the game, but I won't get into that here.
Sure, there's some cheesiness to that system. Pawns are so chatty that it gave birth to a bunch of memes of their most-common phrases, and the online system means that, yeah, you can end up with a pawn that has a phallic name pretty easily. It's good, though, and the character development system is some good, open-ended RPG stuff.
The other thing that remains a stand-out is the monster-mantling system where with a pull of the trigger you can hop on and grab hold of larger enemies. These large-scale enemy encounters are the tent-pole of Dragon's Dogma, battles against massive beasts that are accompanied by pumping orchestra themes that are largely unique to each creature.
While the smaller moment-to-moment combat of Dragon's Dogma is a little more by-the-numbers, these battles are exhilarating and will leave you feeling like a bad-ass. This is also why Dragon's Dogma gets better after the credits roll – suddenly you're served up brilliant raid-style battles against high-end enemies.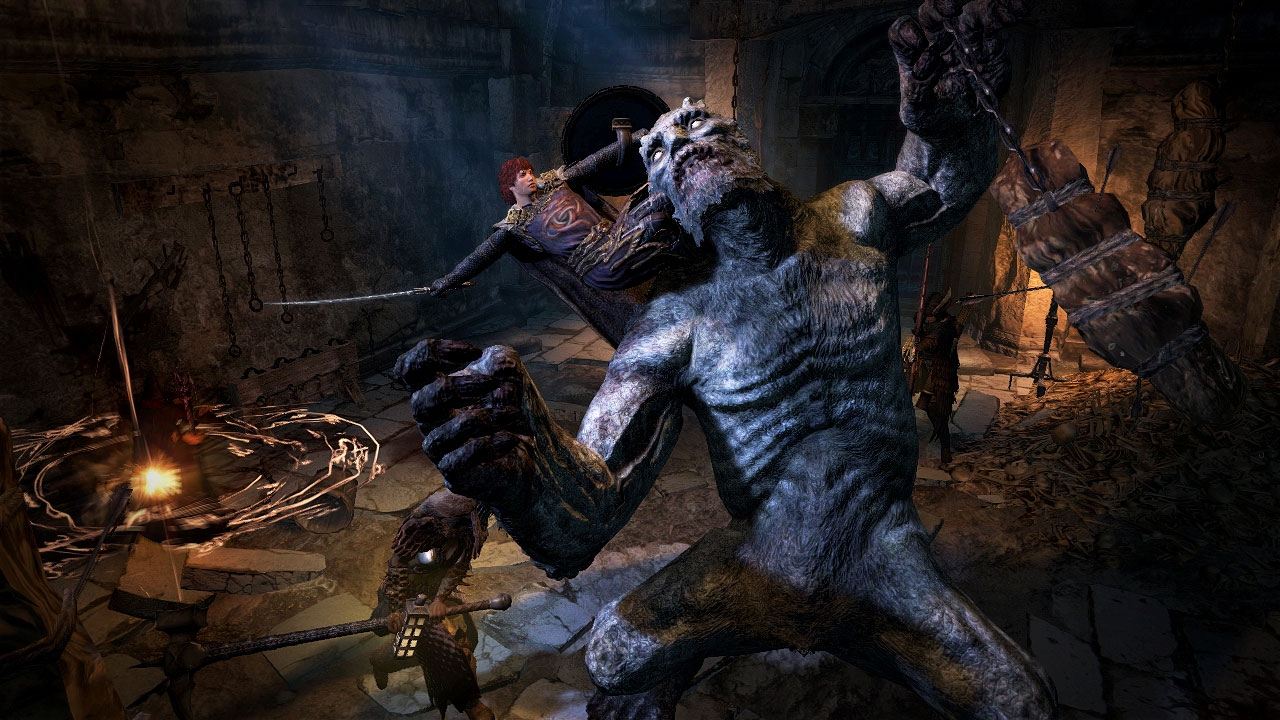 " final, enormous hurdle the original version had with performance has now been largely obliterated."
The large open world is more easily traversed with the changes made in Dark Arisen, and this version seems to run pretty well, as the above video of the first ten minutes of the PS4 Pro version of the game shows. It's a good port of a great game – that's my point.
So, yeah – Dragon's Dogma: Dark Arisen is now on PS4 and Xbox One in the form of a very competent take on the game. The final, enormous hurdle the original version had with performance has now been largely obliterated – at first with that original PC release, but then with this version, based on that build.This version takes up the mantle from that well enough, but more important is that absolutely everybody should at least give Dragon's Dogma a try.
Dragon's Dogma is still one of the most fresh-feeling, interesting RPGs to come out of Japan in years. Even now, five years on from its original release, it still feels that way. It's aged well, and it's a cult classic for a reason. Give it a go. You might just find yourself joining the same club I have, latecomers to the Dragon's Dogma train who are now left begging and pleading Capcom for a sequel.