Youngblood's Producer On Telling a Coming-of-Age Story in the World of Wolfenstein
How a few hand signals and two young leads shifted MachineGames' view on the series.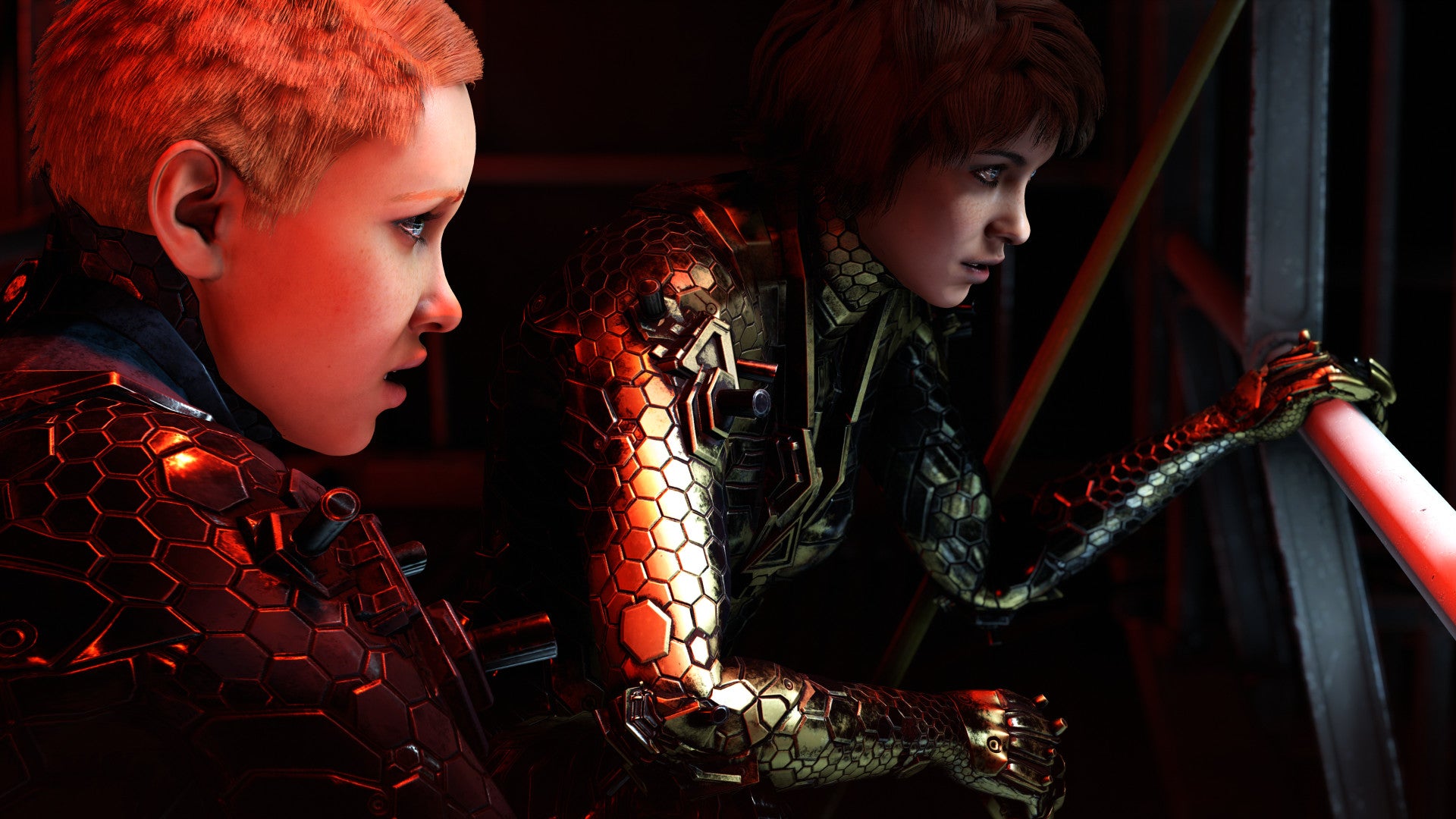 This article first appeared on USgamer, a partner publication of VG247. Some content, such as this article, has been migrated to VG247 for posterity after USgamer's closure - but it has not been edited or further vetted by the VG247 team.
Youngblood is a departure for the Wolfenstein series, which since its 2010 reboot has centered squarely on William Joseph "B.J." Blazkowicz and his quest to take down the Third Reich. In this new co-op offshoot, you take on the role of B.J.'s twin daughters Jess and Soph on a search for their missing father through Nazi-occupied Paris, France.
We sat down with Jerk Gustafsson, executive producer at MachineGames, at E3 2019 to talk about all the ways Youngblood is changing Wolfenstein, and what it could mean for the series moving forward. There's a lot of heart and soul that sounds like it'll make this entry a little lighter than The New Colossus, as well as introducing some cool twists on all the ways you get to pummel Nazis. It really feels like moving the lens from B.J. to his daughters helped give the studio some new perspective on its own universe.
USG: The biggest thing about Youngblood is that you've got co-op. How did that change your approach to the game?
Jerk Gustafsson, executive producer: It changed the approach quite a lot, actually. We have always felt very comfortable when it comes to the single-player experiences as we have done them for so many years now. I mean, almost 20 years. And we also feel very comfortable with the gun experience and the combat. So the decision to go co-op, we've thought about it for quite some time. You know, just the idea of adding another player into that combat. We thought it would be very fun.
But it did change our approach a lot since we didn't have the experience, of course. So we had to learn a lot during the development. Also another reason for it was that we decided to do this together with Arkane, so it's not only the co-op aspect for us as well, it's also trying to broaden ourselves a little bit to VR, which was also very interesting for us, starting with the VR project.
How the co-op changed was that it forced us to think in a lot more non-linear fashion. Not only in gameplay, but also in terms of story, because all of a sudden we have two players that we need to consider, not only one. That's been quite a bit different for us.
When you look at level design, you want to have those good arenas built up and that suddenly changes when you have two players, so how did you adapt that Wolfenstein approach to having two players moving around at the same time?
That is one of the big, big changes as well, and that's part of why it was so good to work with Arkane, because even though they also have focused mainly on single-player experiences, they do have a lot of good level design experience. And so, the levels are a bit more open and a little bit bigger now. And we also focused a lot, of course, to have different entry points and different routes within the combat area so that you can you split up when you play co-op and be tactical in terms of taking different entry points, and compliment each other during combat. That changed it quite a lot.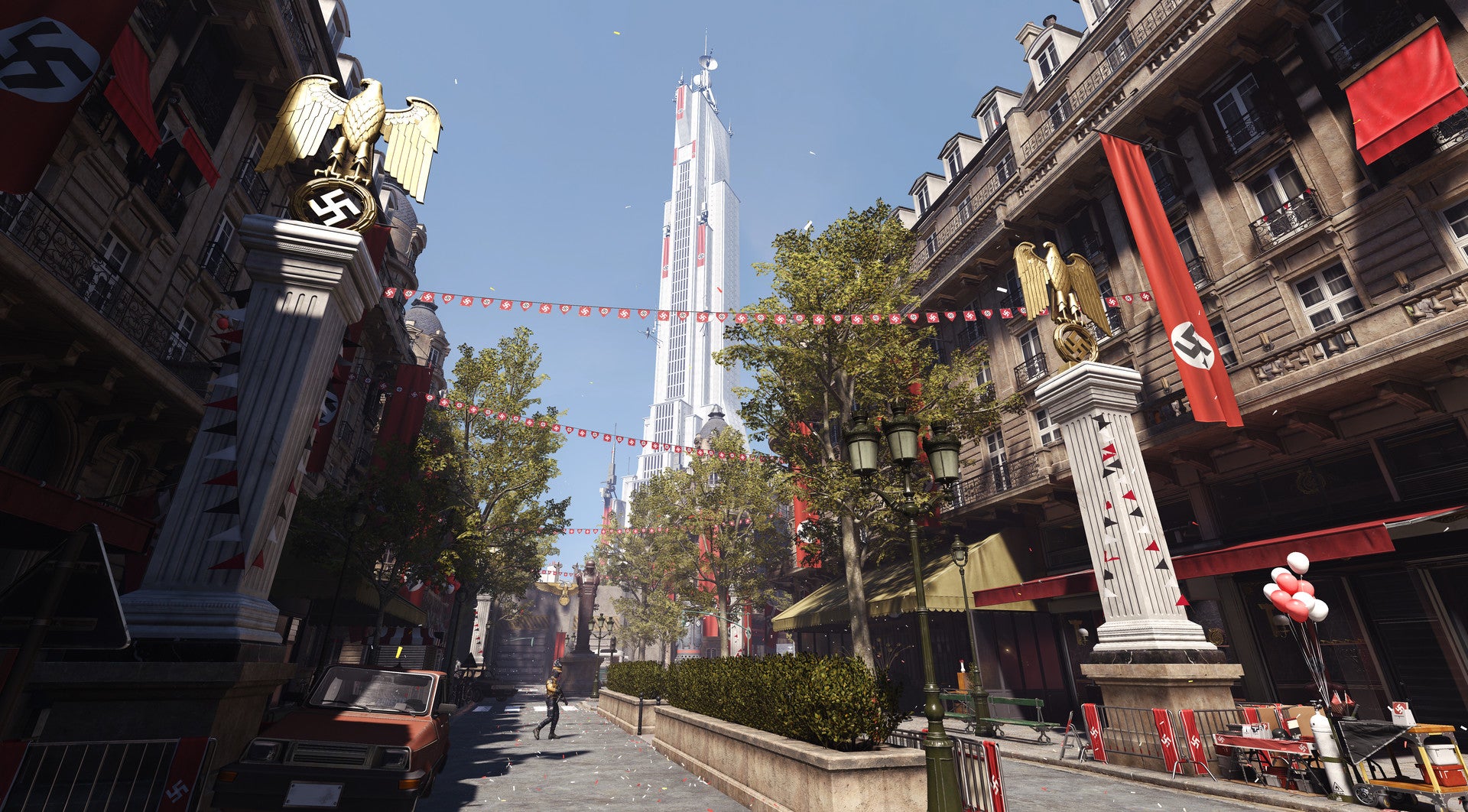 You're able to play this single-player as well, right?
Yes.
What was it like, trying to design an AI companion that's going to feel good for this sort of game, where it's high octane, there's a lot of action going on, and you want that other partner to not be dead weight?
It's been really, really hard. But it's something that we... We knew it was gonna be tough, of course, but we decided to do it. We just had to do it, because we also want to tell this story. We want to have this. And that's part of what I said, we really need to rethink the approach to storytelling as well, with two players.
Since it's this relationship between the sisters throughout the story, talking to each other and the banter they have, and the communication they have, and that sisterly bond they build throughout the story is so important. So, obviously, we just had to have an AI companion if you play solo, because you need to have your sister there with you when you play. But the idea from the very beginning was to try to mirror the experience as good as possible between solo and co-op. So whatever you can do as a player, the AI companion can do the same thing. We do, of course, a lot of things behind this. How you switch weapons as an AI companion, that's controlled by certain requirements, depending on which enemy you face and what weapons they use on the player. But there are also some ways you can customize your AI companion and you can choose which pep signal you do.
Pep signals?
Basically in the beginning, we just set out to do some emotes, like regular emotes. But I also wanted to add some gameplay functionality to that. And that's a big part of the core loop now. So the sisters encourage each other through these pep signals, and that gives you a boost of health or armor, whatever it may be, and you give it to yourself and your sister during combat. And that is also something the AI companion can do as well.
I've asked you about a lot of challenges, but what were some of the opportunities you found in branching Wolfenstein out into this co-op experience? Anything on your wishlist that you've wanted to do in Wolfenstein for a while, that you now had a chance to do?
Yes, to some extent. I mean for us, the great opportunity is just to be able to play with a friend, right? But there are things that have come out of that that we didn't plan from start. The pep signals are a part of that, as an example. So that was not something that we had planned from the beginning. It was something that over time, you see, you'll probably need something more that encouraged collaboration, and those things have been added.
One other thing has also a lot more focus than we initially planned to do: on customization. Especially how you can customize your weapons with various upgrades, and how you can customize your characters, to make sure that you have a lot of opportunities to customize your characters in different ways so you can compliment each other in combat. That's also something that came about and built more and more over time, just to encourage that collaboration in the co-op play. Those have been opportunities that really benefited us.
It's a very different tone, having all those pep signals and two girls who are energetic and excited, compared to like… I love B.J., but he's always like, "ugh, everything's bad."
Yeah, I mean, the story is a bit lighter in tone. It is quite a lot lighter, to be honest, but I think that it's a good contrast because that's also intentional. In The New Colossus, we put the focus on the backstory and how B.J. was brought up by his abusive father. It was a lot of darkness to that, right? While this is, you know, B.J. ignited the revolution at the end of The New Colossus. The Nazis are being pushed out of America. B.J. and Anya are settling down in Texas, they are giving birth to their twin daughters, they raised them with a lot of love. That is a huge contrast to how he was brought up.
And that's also something that this story is built on, from the ground up. It's a lot more about this fatherhood, and the bond between the sisters. It's much more built from love rather than just, you know, fighting Nazis and the evil of the world. So in that sense, it has become a lot lighter just due to that ground as well.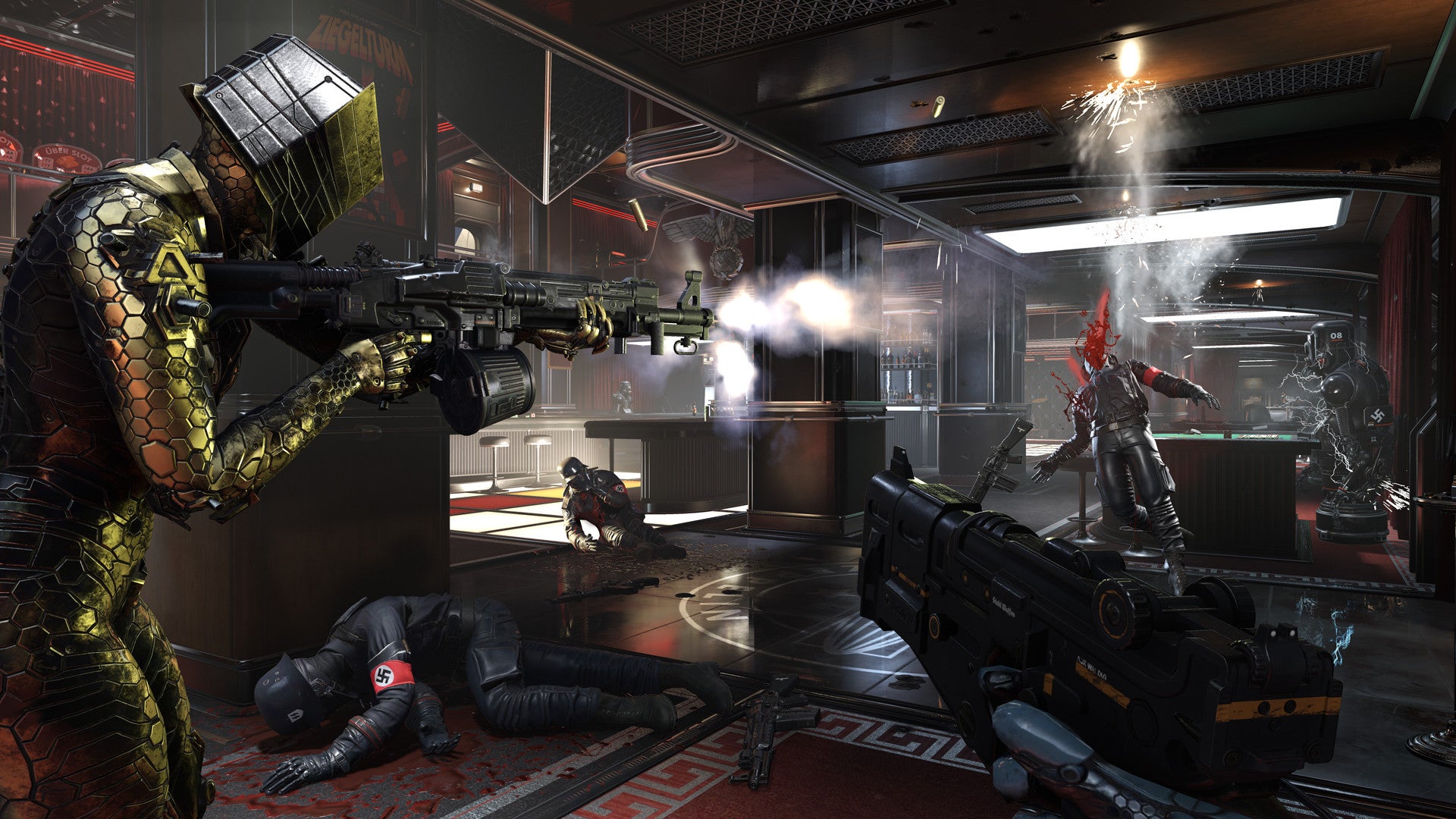 You mention the father thing, especially now that B.J.'s getting older and there's a new generation coming, is there a Wolfenstein without B.J. Blazkowicz? Is there a future of Wolfenstein you can envision that does not involve B.J. Blazkowicz?
Not that we ever have planned or thought about. You know, even in Youngblood, he is an important part of the story, even if you don't play as B.J.. And we also have this very strict timeline and lore that we are always very keen to stick to, just to be true to the IP, and B.J. has always been a part of that. Whatever we do in the future, if we do something, but whatever we do I'm sure B.J. would be a part of that if we do something with Wolfenstein.
But this gives you an opportunity to explore areas that aren't necessarily centered around B.J., not just with Youngblood but with Cyberpilot as well, you can kind of explore the broader universe. Is that something that was really fun for your team?
Absolutely. It's also something, you know, we have been working with Wolfenstein since 2010. So it's like, 10 years, almost. It's good that you mentioned the next generation because that's what the title refers to, the daughters and the next generation.
So I think it's been very fresh for us as a studio as well, to have fun, first and foremost. To work with not only the core but also with female characters. We have been working with these male heroes and anti-heroes in Cyrillic days for 20 years now. So it's been super fun. Like I said in the beginning, of course it's been a lot of challenges as well based on our expertise, but it's been a really good learning and very fun. I'm very happy with the results.
Yeah, this isn't just that it's a co-op Wolfenstein game and not B.J., but the people taking his place are two energetic teenage girls. It's a huge leap for y'all. So that tone felt enabling, in a way?
Yes, I think so. I mean, we always put a lot of effort into building our characters, and give some personality to our characters. And of course, even though these young women are only 18 years old, and they are still in that transition between adolescence and adulthood, and this story is very much about growing up. They are still badass Nazi killers as well, like their father. So you still play as a Blazkowicz. [laughs]
Do you have any post-game content planned or things that you'll be able to do that will either be coming out with the game or later on?
Currently we don't really have any. Of course we have ideas and things that we are processing, but what we release now on July 26 is a lot of content, a lot of game. And part of that release is also missions that you can do even after you have completed the campaign. There are a lot of challenges in there. We have put a lot of focus actually to be able to replay many of the main missions as well, so you can get more rewards and level up a little bit faster. So there's a lot of things you can do even after you have finished the campaign.
So we have put a lot of focus on that, but we haven't really any big plans for future updates. I guess that also depends a little bit on how the game performs, of course. But it's built for supporting that, it's built for allowing us to add content to it, so hopefully we can do it.