Why I'm Still Playing Gradius 35 Years After Its Original Release
On its 35th anniversary, the Vic Viper lives on.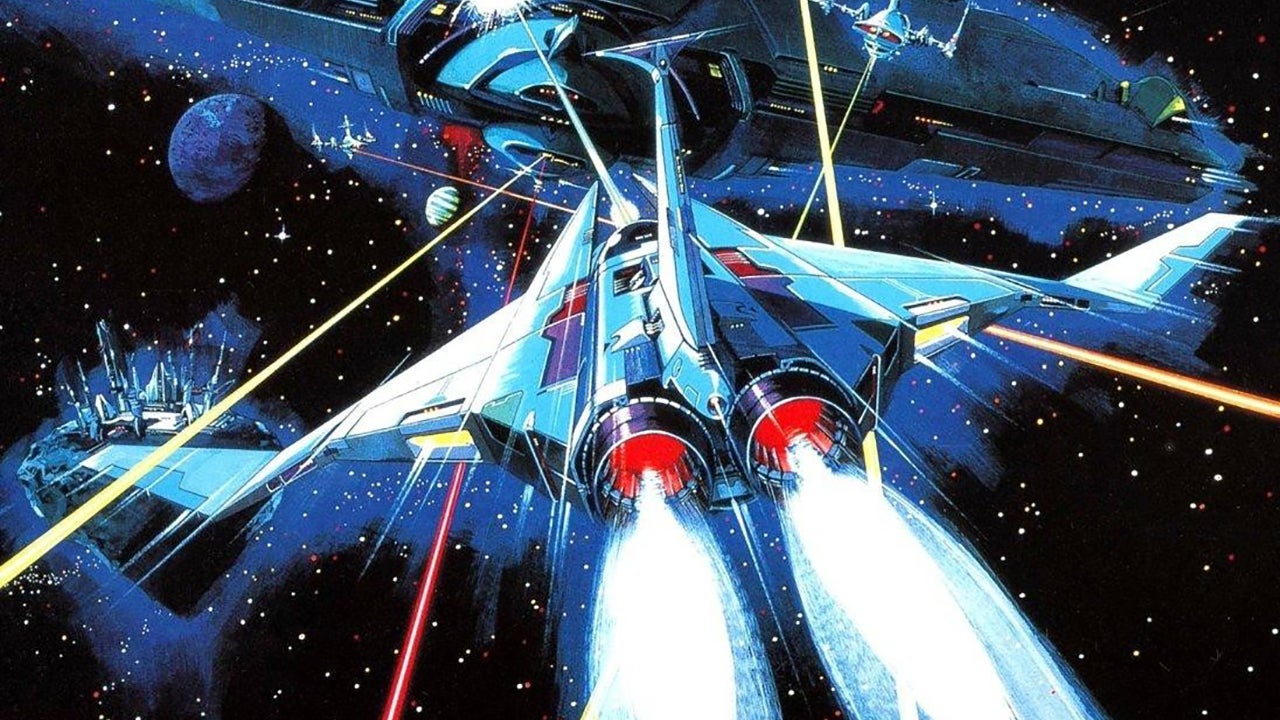 This article first appeared on USgamer, a partner publication of VG247. Some content, such as this article, has been migrated to VG247 for posterity after USgamer's closure - but it has not been edited or further vetted by the VG247 team.
In a 2006 interview with 1UP, PlatinumGames co-founder Hideki Kamiya talked about the effect Gradius, Konami's legendary shoot 'em up series, had on him growing up. Like the rest of his generation, Kamiya grew up in the arcade, and Gradius had a profound impact on the man who would go on to design action classics like Bayonetta and Devil May Cry.
"When you saw Gradius, and you'd hear the music, and the sounds, even though they were old-school synthesizer sounds, it was still just amazing—the world, the options. You'd have tons of lasers flying all at once. During summer, whenever I'd find the 50 yen I needed to play a game, I'd hop on my bike and race down to the arcade to play Gradius," he remembered.
Gradius had that kind of effect on people. It was one of the most influential games of its day; a shoot 'em up considered to be among the giants of the genre. For a long time, it was practically unavoidable. Even if you didn't care about shoot 'em ups, you probably recognized the Konami Code, or the familiar silhouette of the Vic Viper, or those omnipresent Moai statues.
It's now been 35 years since the original release of Gradius, and like the genre it helped to evolve, Gradius has largely receded into the mists of history. The last true Gradius release was Gradius ReBirth, which was released on WiiWare way back in 2008 to middling reviews.
The shoot 'em up genre died for a number of reasons. Among other things, the genre fell out of fashion right around the time that players stopped pursuing high scores. While platformers and other retro genres have managed to persist thanks to complex level design and beautiful graphics, shoot 'em ups tend to be seen as too simple and straightforward—relics of an era where games were designed around the number of quarters they could munch.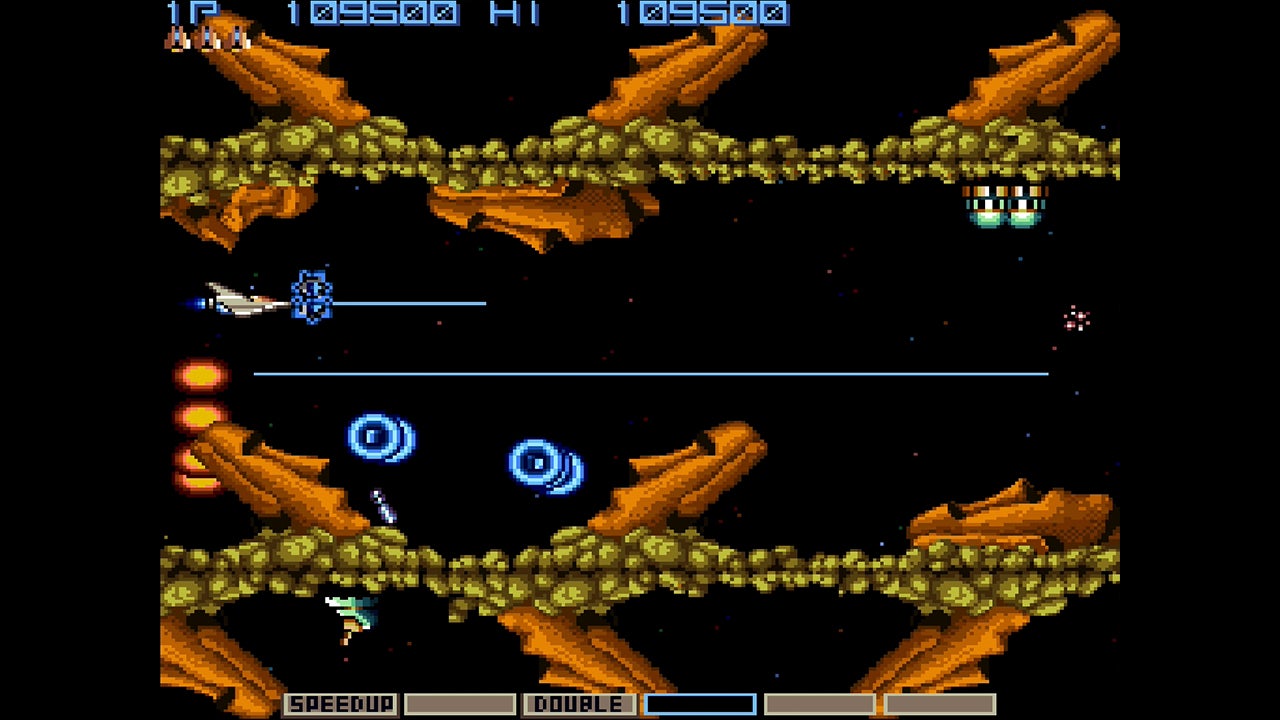 Nevertheless, I have a soft spot in my heart for arcade shoot 'em ups, and for Gradius in particular. They're the graphical showcases of a bygone age, home to often spectacular 2D artwork and thumping electronic soundtracks. Their unforgiving difficulty is frustrating—I rarely make it more than a few levels before hitting that all-too-familiar game over screen—but also exhilarating. I've passed more than a few tranquil plane rides (remember those?) with my headphones on, patiently zapping red-colored enemies and carefully navigating around raging volcanoes.
Gradius is built around a few simple concepts, the most important of them being customization. In every Gradius game, you acquire capsules that can be used to power up your Vic Viper. You can spend them immediately for a speed boost, but if you wait and acquire a few more, you can start to unlock powerful lasers and shields. "Options" are the most powerful of these upgrades, effectively doubling the Vic Viper's firepower with a small orb that fires in tandem with the fighter. It's possible to get several of these orbs, making the Viper effectively unstoppable—assuming you don't run into a wall.
In its day, Gradius' unique customization made it one of the most popular shoot 'em ups around, even if it didn't actually make much money if this interview with team lead Machiguchi Hiroyasu translated by Shmuplations is to be believed. It was also a technical showcase. As former USgamer editor Jeremy Parish explains in his NES Works showcase, the 1986 NES port of Gradius was an impressive early feat for the platform, successfully translating the large number of on-screen enemies with only a few compromises.
It's this version of Gradius that's perhaps best-known in the U.S. Aside from being the progenitor of the Konami Code, it's the version that's easiest to access these days, as it's available on both the NES Classic and the Nintendo Switch. The Switch version is the one that I tend to play the most, and it's left me with a lasting fondness for the series. I would even go as far as to say that the NES port of Gradius is my favorite entry; moreso even than the more famous Gradius 3 for the Super Nintendo, or the fan-favorite Gradius Gaiden, which is generally lauded for having the best levels and graphics in the series.
The simplicity is what always gets me with the original Gradius. It sits perfectly astride two eras, with classic 1980s shoot 'em ups like Galaga and Defender on one side, and more modern games like R-Type and Raiden on the other. There's a weight to the Vic Viper that is difficult to find in 16-bit shooters, which often look spectacular, but feel oddly floaty. When I reviewed the Turbografx-16 Mini a few weeks ago, I played a ton of beautiful shooters—from Super Star Soldier to the ultra rare Ginga Fukei Densetsu Sapphire—but it was to the familiar comforts of Gradius that I most frequently returned.
---
Today, Gradius is largely forgotten, but it's still widely available across multiple platforms. Aside from the NES Classic, Nintendo Switch, and Turbografx-16 Mini, Gradius is available as an Arcade Classics release on PlayStation 4. Additionally, Konami released the Arcade Classics Anniversary Collection for Nintendo Switch in 2019, which includes Gradius, Gradius 2, Salamander, and Scramble, the last of which is an early shooter that laid the groundwork for Gradius' later innovations.
Alas, many of the later Gradius games are much harder to find. Gradius 5—developed by master shooter studio Treasure—is trapped on the PlayStation 2, and Gradius Gaiden is an import-only PlayStation 1 game. Even Gradius 3 is surprisingly hard to find outside of the PlayStation 2 and PlayStation Portable.
With Konami mainly choosing to focus on soccer and its various gambling ventures, I don't expect to ever see another Gradius release in my lifetime. Sad as that makes me though, it gives me comfort to know that the original NES port still holds up just fine on my Nintendo Switch.