PS Move software line up revealed, packshots released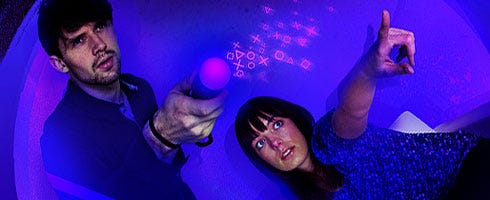 SCEA has released the software line up for PlayStation Move, along with the first packshots of the device and the charge station.
There are some pretty big name titles in the lists such as LittleBigPlanet 2, which was dated in the list for November, Killzone 3 and Singstar Dance from Sony, just to name a few. Third-party developers, meanwhile, are bringing out support for games such as Tiger Woods, Resident Evil and Time Crisis.
Here is the full list.
First Party PlayStation Move Titles:
Beat Sketcher (Fall 2010)
SOCOM 4: U.S. Navy SEALs (Fall 2010)
EyePet (Sept. 2010)
Kung Fu Rider (Sept. 2010)
Sports Champions (Sept. 2010)
Start The Party! (Sept. 2010)
echochrome ii (Sept. 2010)
Tumble (Sept. 2010)
Hustle Kings (Oct. 2010)
The Fight: Lights Out (Oct. 2010)
The Shoot (Oct. 2010)
TV Superstars (Oct. 2010)
High Velocity Bowling (Oct. 2010)
PAIN (Oct. 2010)
Heavy Rain (Oct. 2010)
SingStar Dance (Nov. 2010)
Little Big Planet 2 (Nov. 2010)
Sly Collection (Nov. 2010)
Heroes On The Move (Working Title) (2011)
Killzone 3 (2011)
Sorcery (2011)
Publishing Partners PlayStation Move Titles:
John Daly's ProStroke Golf (OG International) (Fall 2010)
Racquet Sports (Ubisoft) (Fall 2010)
The Lord of the Rings: Aragorn's Quest (WB Games Inc.) (Sept. 2010)
Brunswick Pro Bowling (Crave) (Sept. 2010)
Resident EviL 5 Gold Edition (Capcom) (Sept. 2010)
RUSE (Ubisoft) (Sept. 2010)
Tiger Woods PGA Tour 2010 (Electronic Arts) (Sept. 2010)
Time Crisis: Razing Storm (Bandai Namco) (Sept. 2010)
Toy Story 3 (Disney) (Sept. 2010)
Kung Fu Live (Virtual Air Guitar Company) (Oct. 2010)
NBA 2K11 (2K Sports) (Oct. 2010)
Deadliest Catch: Sea of Chaos (Crave) (Nov. 2010)
Disney Tron Evolution the Video Game (Disney) (Nov. 2010)