Lashing Out: A Chibi-Robo Zip Lash Q&A
Assistant producer Risa Tabata fields our questions about the tiniest robot's latest escapades.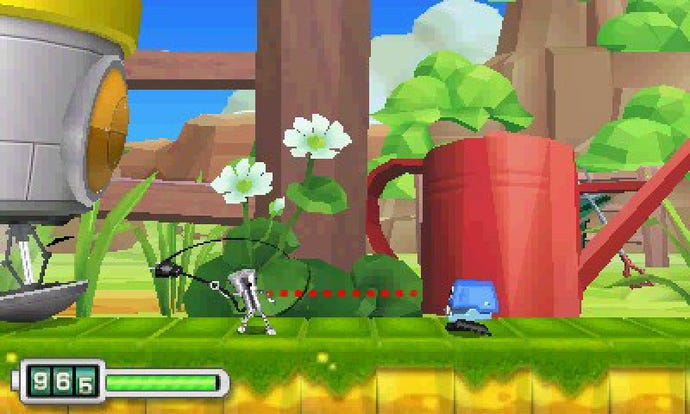 This article first appeared on USgamer, a partner publication of VG247. Some content, such as this article, has been migrated to VG247 for posterity after USgamer's closure - but it has not been edited or further vetted by the VG247 team.
When it launches on Oct. 9, Chibi-Robo: Zip Lash will be the fourth entry in the series to make its way to the U.S. Although the series is one of Nintendo's more obscure properties, it evidently does well enough here to merit continued localization of the games.
Those expecting a reprise of standard Chibi-Robo fare in Zip Lash will be disappointed, however. Rather than reprise the open-ended 3D style of the GameCube and DS titles, this 3DS game takes the form of a 2D platformer — one that makes use of the holiest of 2D platformer conventions, wire grappling (as in Bionic Commando). This time around, Chibi uses his electrical cord as a tool for navigating stages, collecting power-ups and poking around for secrets by swinging and climbing to new heights. While the action lacks the fluidity of the greatest grappling platformers, what I played of the game at E3 seemed solid. It did leave me with plenty of questions, however, and assistant producer Risa Tabata (who participated in our E3 2013 Donkey Kong: Tropical Freeze interview) was kind enough to field them by email.
USgamer: This Chibi-Robo plays quite differently from its predecessors. Why a 2D platformer rather than a more free-form 3D action game?
Risa Tabata, assistant producer/chief director from Nintendo: Up to now, the Chibi-Robo! series has primarily involved story-based adventure titles. I personally really like those kinds of games, and we're lucky enough that we have fans that have a deep love for them. On the other hand, though, we haven't been able to fully reach out to a wider audience. Chibi-Robo himself is a really charming character and we'd like for him to be enjoyed somehow by lots of people, so this time we went ahead and tried a completely different challenge.
We chose the 2D scrolling perspective since it was a good match for the swinging and whipping gameplay. A 3D landscape would allow you to do more, but would also make controls and aiming more complex and the game harder overall. Chibi-Robo is a character who's beloved by a lot of small children as well, so I wanted this game to be accessible to that audience too.
USG: What inspired you to emphasize grappling? I love grappling games like Bionic Commando, Umihara Kawase, etc., but it's a surprising direction for Chibi-Robo since these mechanics usually go hand-in-hand with a higher difficulty level than I associate with this series.
Tabata: Development of the "spin and throw your plug and cord" idea started when Skip, the developer, provided the idea to us. The plug is one of the most unique aspects of the Chibi-Robo character, so I thought it was a pretty neat concept. The action genre, and a 2D scroller in particular, was the best way to take the most advantage of that play style, and since we also wanted to challenge ourselves (as I mentioned), it wound up looking like this.
Along the way, we thought about what kind of things this "whip and swing" mechanic would accomplish for you, coming up with ideas like plugging into panels and jumping from there or tossing your cord out and reflecting it off of things. We also paid close attention to make sure nothing pushed the difficulty level too high, while adding lots of unique tricks and gameplay aspects to each stage. I think there's always something neat to discover as you play. This was a co-op effort between Nintendo, Skip, and Vanpool, and it's packed with ideas from all three companies.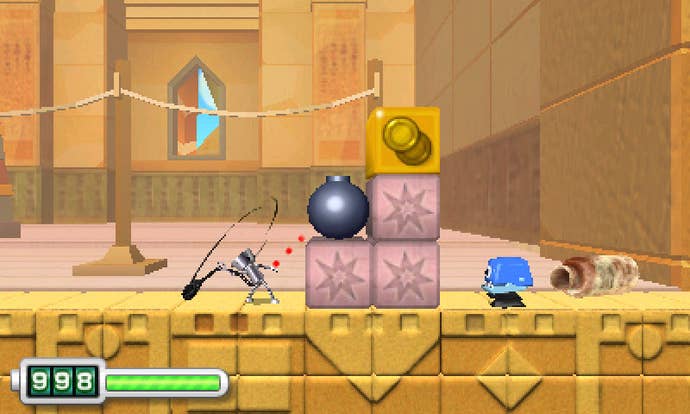 USG: The demo I played at E3 seemed to have at least one optional side goal. Can you talk about what players will be expected to accomplish beyond simply completing the levels?
Tabata: We've implemented a lot of collection elements so gamers can enjoy repeated play. That's part of why there are a lot of real-life sweets and candy that appear in the game, as well as some gameplay aspects that appear only when you play through a stage a second time. I'm hoping that'll provide the inspiration gamers need to keep playing, since there's going to be a lot of new things for them to discover.
USG: The most recent Chibi-Robo prior to this (Photo Finder) made heavy use of the 3DS cameras — will we see other hardware-specific features this time, or are you focusing on creating a straightforward platformer?
Tabata: For this game, the focus is on the "whip and swing" gameplay mechanic. However, we're always thinking of fun ways to use the unique aspects of our hardware, not just with this game. Here, for example, you can tilt the game system after plugging into an outlet to rotate the plug in-game. It's Amiibo-compatible as well.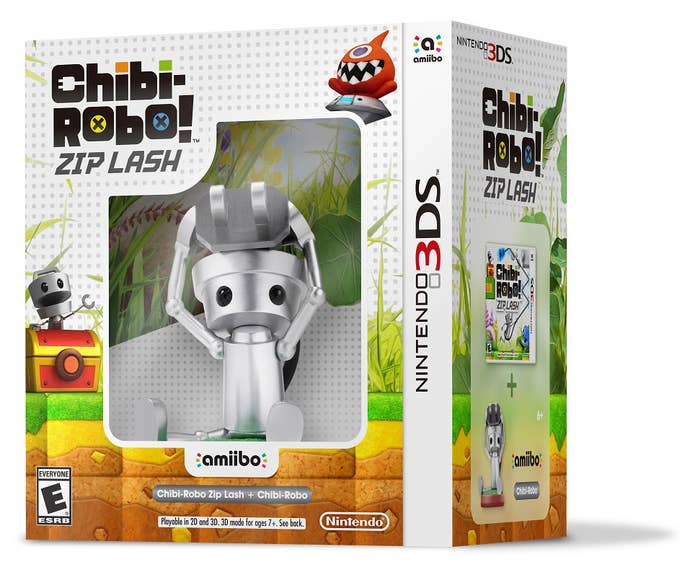 USG: How does Amiibo integration work?
Tabata: If you have the Chibi-Robo Amiibo, that unlocks the following experiences:
Tap the Chibi-Robo Amiibo to the system while playing through a stage to transform into Super Chibi Robo, with boosted speed and energy.
Tap the Chibi-Robo Amiibo inside Chibi-Robo's house to unlock a Toy Capsule Machine that lets you unlock collectible figures, bonus stages, and so on.
You can save your scores to the Chibi-Robo Amiibo once you clear a stage, allowing you to boost its level. The higher your Amiibo's level, the more access you'll have to both Super Chibi-Robo and better items from the Toy Capsule Machine.
Tap the Chibi-Robo Amiibo in the file-select screen, and you'll unlock a daily fortune-telling session.
You can also tap other Amiibo inside Chibi-Robo's house to earn in-game coins once per day.
USG: How did you settle on that particular application for Amiibo? Are there company guidelines that define the extent to which Amiibo can be applied to games, or is it left to the discretion of individual teams?
Tabata: We thought about ways we could use Amiibo that would be the best match for this game. For Zip Lash, we had two focuses: We wanted to be sure the Amiibo you tapped in actually appeared in the game, making it more exciting for gamers, and we wanted gamers to write data into their Amiibo, building it into their very own Chibi-Robo they can be proud of. We also made our decisions based off what would be fun to see happen in the action-game framework.
USG: Do you think there's still a future for full-scale Chibi-Robo titles, or has the series shifted to smaller games like this and Photo Finder?
Tabata: I actually wouldn't call this "smaller" at all, especially in terms of the game's scope. I think a lot of people will be more than satisfied with it. Personally, however, I think it'd be great if we could release another adventure-style Chibi-Robo.