Flip's Twisted World is a topsy-turvy puzzler for Wii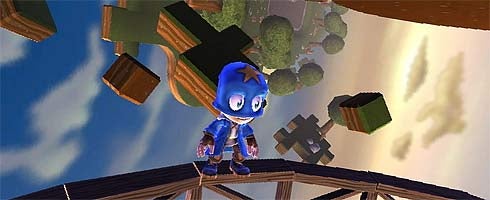 Majesco today announced Flip's Twisted World exclusively for Wii, and it's a puzzler where you rotate the world 90 degrees with the WiiMote.
The premise is kind of like Disney's Fantasia because you are an apprentice who messes with a magical artifact you shouldn't and things go a bit mad for you.
Instead of dancing brooms though, you are sucked into a cubed world that you must rotate to reveal new paths of escape and along the way put things right before Master Fulcrum returns.
Players will traverse through five different puzzle worlds meeting strange characters along the way. Tommy Tallarico provides the background music.
Flip's Twisted World will be on hand at E3 and you can expect it to land at retail sometime in January 2010.
Press release is after the break.

Majesco Entertainment Company (NASDAQ: COOL), an innovative provider of video games for the mass market, today announced Flip's Twisted World exclusively for Wii™. This unique puzzle platformer places the world literally in the palm of players' hands as they navigate topsy-turvy environments where up, down, left and right are only a matter of perspective. Developed by Frozen North Productions, Flip's Twisted World is set to launch in Europe in Q1 2010.
"Flip's Twisted World offers a truly innovative take on the traditional platform game by sidestepping conventional design in favor of a three-dimensional, perspective-altering approach," said Gui Karyo, Executive Vice President of Operations for Majesco. "With a charismatic main character, fantastic puzzle landscapes and a unique gameplay mechanic, Flip's gives platform game fans something to look forward to in the New Year."
In Flip's Twisted World, Master Fulcrum's curious apprentice Flip messes with the wrong magic artifact and gets sucked into a crazy cubed universe. To escape his cube prison, Flip must turn the entire world to reveal new paths and endless possibilities. Adventuring through five bizarre puzzle worlds, Flip must stop the destruction of the universe and restore The Master's home to normal before he returns.
Players help Flip navigate his world by rotating the environment 90 degrees in any direction with a simple twist of the Wii Remote™. Walls become floors and obstacles transform into openings once players change their point of view. As Flip progresses through the game he'll meet many unique characters – some helpful, others hurtful – and collect five magic tools to aid his journey home. Optional side quests let players unlock bonus goodies and alternate costumes, while finding pieces of the Master's lost journal reveals secrets of the magic universe's past.
Flip's Twisted World will also feature original music from prolific video game composer Tommy Tallarico, who has scored over 250 games and won numerous international awards for his work.
Flip's Twisted World is expected to release in Q1 2010. A playable demo will be available in Majesco's meeting room #514 at the E3 2009 Expo at the LA Convention Center from June 2nd until June 4th. Contact Peppermint P to book appointments at E3. To watch an official trailer and find out more, please visit www.FlipsTwistedWorld.com.