Fight Night Champion to have revamped analog stick controls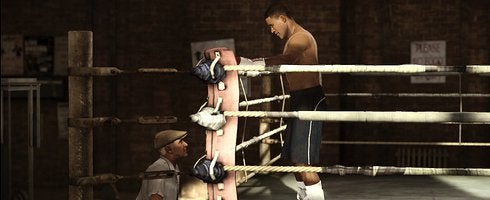 Alain Quinto, one of the community managers at EA Sports, as posted some information regarding the controls for Fight Night Champion over on the US PS Blog.
Apparently, the developers removed "the need for all the quarter-circle or half circle gestures on the analog stick" this time out.
The new control scheme has been dubbed Full Spectrum Punch Control, and according to the game's producer Brian Hayes, the removal of the semi-circle gestures comes from users having a hard time making right-hand punches.
"We went back to the drawing board, literally, with Full Spectrum Punch control," said Hayes. "Based on a lot of user feedback and telemetry, we were finding that the previous implementations of TPC had fundamental ergonomic challenges. Basically, it was a lot easier to extend the thumb outwards and throw left handed punches, than it was to cram the thumb inwards and throw right handed punches. It's just not a good thing to have that kind of obstacle in a boxing game.
"So the first thing we decided to do was remove the need for all the quarter-circle or half circle gestures on the analog stick. Now it's a lot easier to throw punches. It's also gentler on your thumbs and nicer on your controller. A lot of people tell us all the time about how many controllers they have worn out, hopefully that will be a thing of the past too."
Quinto added that Fight Night Champion will not support Move or 3D, as the game was in development long before the tech was finalized.
"It was important for the team to ensure they could implement the features that our community wanted most with working tech," he said. "These are areas the team is investigating for future iterations; however, for FNC they will not be available."
Fight Night Champion is out on March 1 for PS3 and Xbox 360. Check out the latest trailer for it here.