Far Cry 5 Lead Dan Hay: "You're Taking America Back"
Executive producer and creative director Dan Hay talks about Far Cry 5's relation to current politics, Far Cry 2, and setting a game in Montana.

This article first appeared on USgamer, a partner publication of VG247. Some content, such as this article, has been migrated to VG247 for posterity after USgamer's closure - but it has not been edited or further vetted by the VG247 team.
Like everyone else, my mind was on how Ubisoft was going to tackle the very real parallels between Far Cry 5's militant cult and real-life politics as I watched last week's formal reveal. The imagery was so on the nose, the words so loaded, that I had to get creative director Dan Hay's thoughts.
But as I discussed in my news story detailing Far Cry 5, Hay is relucant to draw comparisons with real-life events. He does, however, refer to "freedom, faith, and firearms" as one of Far Cry 5's pillars, and talks about the game's resistance "taking America back." Even for Hay, the pull toward the modern political discourse seems irresistable.

I talked to him a bit about Far Cry 5's premise; its similarities to Far Cry 2, and its setting, which you can find below.
USgamer: Interesting choice in light of current politics. Could you share your thoughts on that?
Dan Hay: It's funny because when we originally conceived of this the landscape was vastly different. And I think that our focus was on building an enemy and building a situation that felt believable. And building our own cult—building this group of people that believed in one thing and were specific about their belief in that one thing. So over the last three years as we've built it... it's been a unique process of learning about cults; understanding what drives them, understanding what they stand for and what they believe, and the whole concept of doomsday. And building a leader who's unique, and interesting, and magnetic, and capable of focusing people in a single direction.
USG: Cults are certainly nothing new in American history. We've got Jonestown, we've got Waco... so you've got a rich history to drawn from. Could you tell me a little bit about how you've drawn from that kind of history.
Hay: I won't be specific who we've drawn from because we definitely want to build our own cult, but I think that it was really interesting to see the structure of leadership and the personalities involved. In Far Cry 3 and Far Cry 4 we focused on building magnetic characters and making it so that when you meet them you know they're bad, but there's almost an element charm to them. When you think about building a cult leader, the name implies that they're bad... that they're wrong... but they have this charm and ability to manipulate. There's something powerful about building that type of character and seeing the effect that they have on the world.
USG: You mentioned "Freedom, Faith, and Firearms." Interesting choice of words. Could you elaborate a little on that?
Hay: I just think that when we were conceiving the game and coming back to it, looking at the frontier mentality, looking at people who choose to live there... People who want to be separate, people who don't want to be tread on, who don't want to be pushed on by the government. They really are passionate about their freedom. They really are passionate about what they believe and what they think of. And in a lot of cases, at least in some of the cases we looked at, they were passionate about their right to be able to protect themselves from anyone. So those things felt very uniquely Far Cry, and it felt relevant to look at those three things as pillars.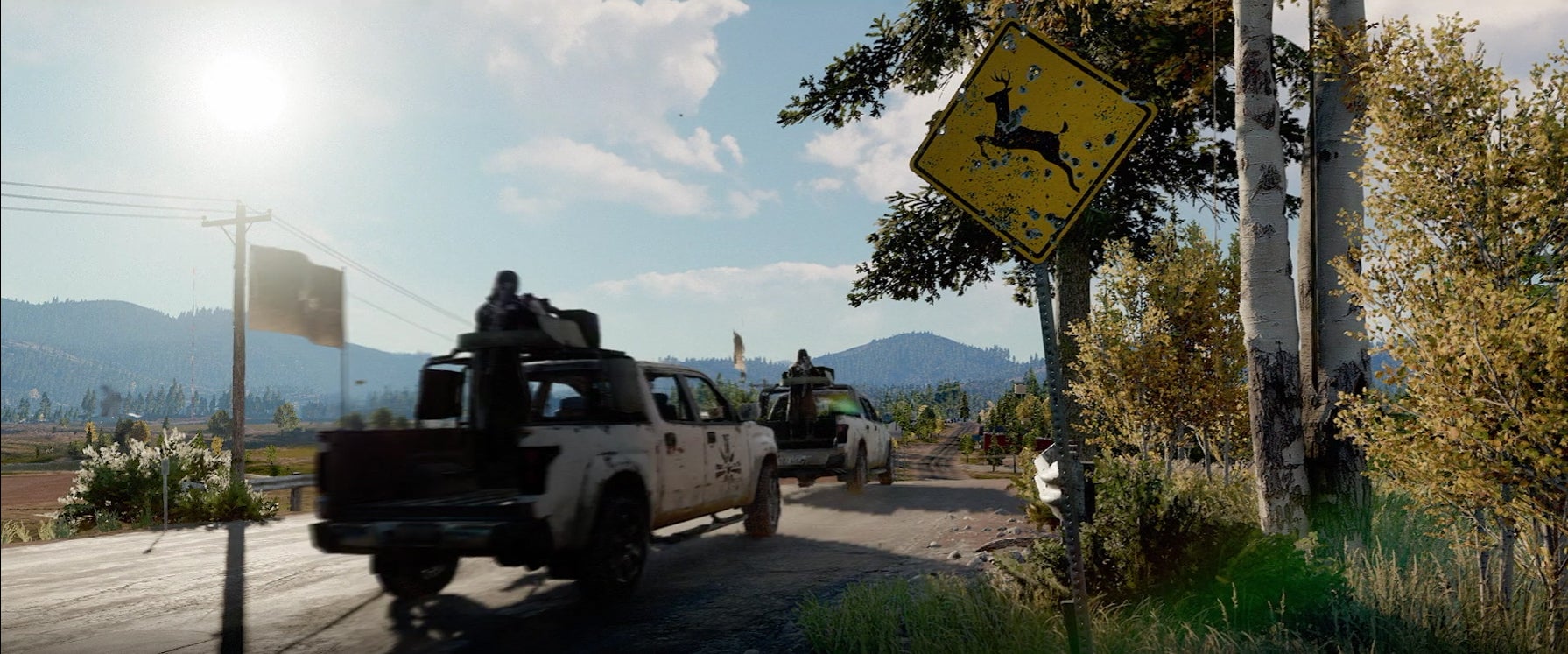 USG: So when we're looking at the three heroes we've seen... the members of the resistance like Father Jerome... they kind of adhere to the "Freedom, Faith, and Firearms" creed?
Hay: In some ways. I think it's more for the larger game in terms of the meta, and how the themes of the game are there. But yeah, there will be people who think about the fact that... I would say that Mary is really focused on freedom and the ability to protect herself and not have anyone push her around. And yeah, I could see where Pastor Jerome would represent faith. And Nick applying to firearms. So in a way, I think we built characters who touch on those themes. But I think the point is that we're trying to build a world where we take a relatively normal America and bring in a cult that believes what it believes. And it's pushing the citizens and the people who live in our world to the brink. And when the player comes in, they have the ability to basically go in and take America back. They go out into the world, they meet real world, they enlist them, and they're able to effectively take America back.
USG: "Take America back" is an interesting choice of words in themselves. Really, everything about this topic feels so loaded. But I'm going to ask you kind of a specific question: Who is the player character?
Hay: A junior deputy.
USG: What I found interesting was that these areas are kind of fiercely independent and resent federal intervention. So I think the question of whether you're a local resident or, like, a federal marshal can really influence the tone of the game.
Hay: I think the key thing is that we really want it to be about normal people going against a cult. And it takes place in America. So the value of the marshal being there, and the sheriff being there, and hearing their competing ideas... which I don't want to go too far into. But the player's going in there and we've created a believable situation that's a tinderbox that's kicked off in the American frontier. And the player has the opportunity to experience that.
USG: Interestingly enough it reminds me a little bit of Far Cry 2. Later games in the series felt less topical, but Far Cry 2 had you fighting warlords and arms dealers. In that light, it feels a little like we've come full circle. Thoughts?
Hay: I think that what's important to understand about the game at a high level is that we're building a cult. We're going to borrow from things we see and here, but that it's our cult. You take normal, rural America, and you create a believable villain and a believable situation, and we make it so that when you put the character in that situation, it feels familiar but fresh. You go toe to toe with that cult, and you understand that some of what they're saying resonates. But we didn't build it to be a specific commentary on what's going on.
We came up with this idea three years ago, and it's just been really interesting to watch as things have kind of aligned. But I think overall that when people play the game, they will realize that the cult is putting a lot of pressure on our world, and as they take America back, they will be real people. Normal people. And as they play, they will enlist those people.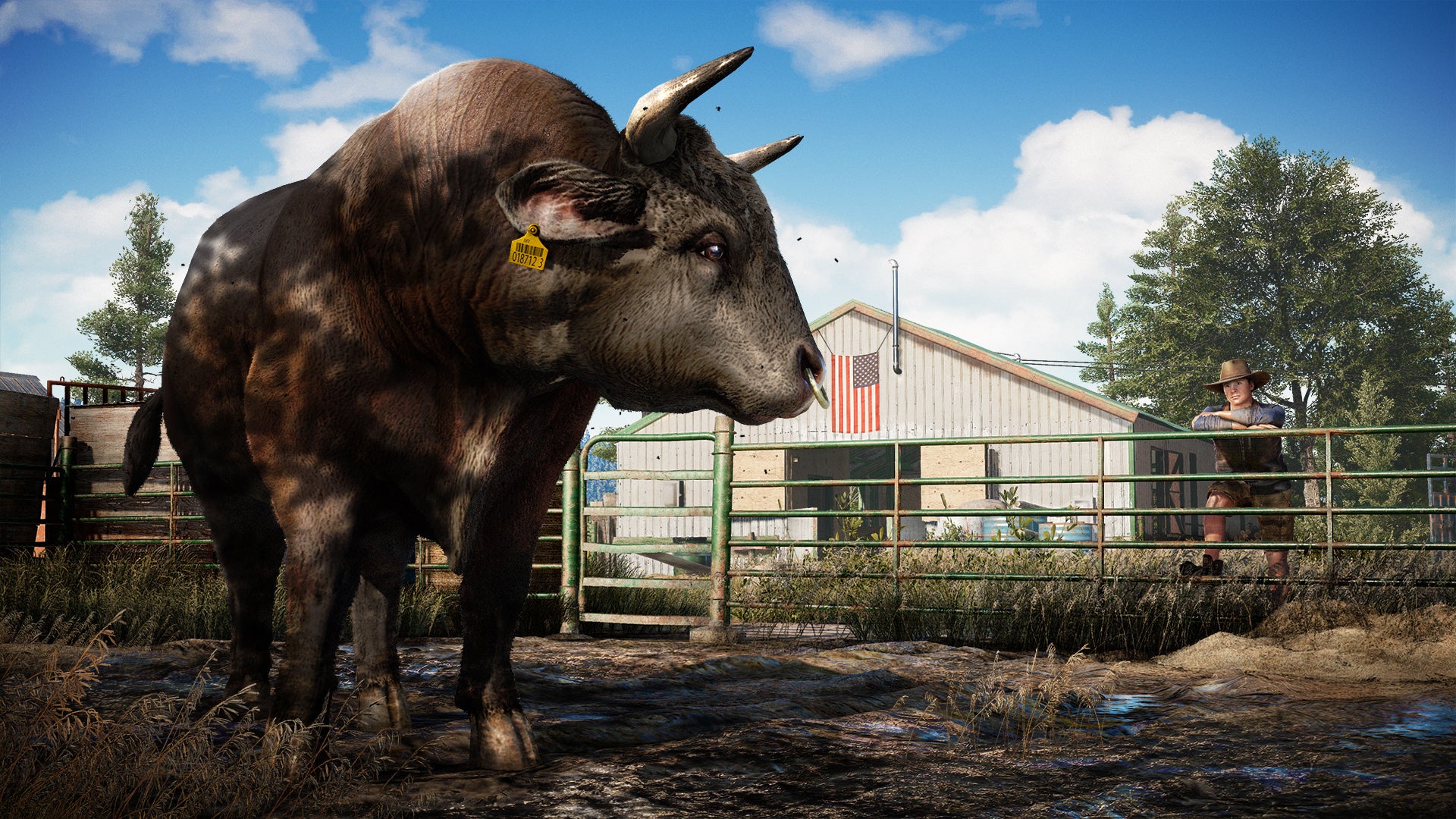 USG: Montana isn't typically a setting you see in gaming. How does that translate to Far Cry?
Hay: You're right, it's not something people typically go to. We had a lot of conversations about different things and different locations, and what I think is most powerful about this location is that it's unexpected. Sometimes there's an opportunity where the thing that happens in your own backyard is more exotic or more unique than what's going on a thousand miles away. And that's what we're going for.
USG: How do you square the subject matter with the crazier aspects of Far Cry?
Hay: When you build a big game and you know you're talking about an experience that's hours and hours, it's possible to have the opportunity to go and drink in the story and snack on it at the rate that you want to, then choose to go into the open world and blow shit up and start trouble. The thing is that we're putting multiple stories in this world. So it's not going to be all one flavor: There's going to be things that are dark, there are things that are going to be light, there are going to be things that are clean, there are going to be things that are dirty. There's going to be an experience that's a palette of colors and experiences. It certainly won't all be one flavor.
Far Cry 5 will be out on PS4, Xbox One, and PC on February 27, 2018. For more info, check out article detailing everything we know so far.