Cut Through the Noise With Our Fuser Tier List
Some songs work in any Fuser mix and some don't. Obviously, we had to rank them.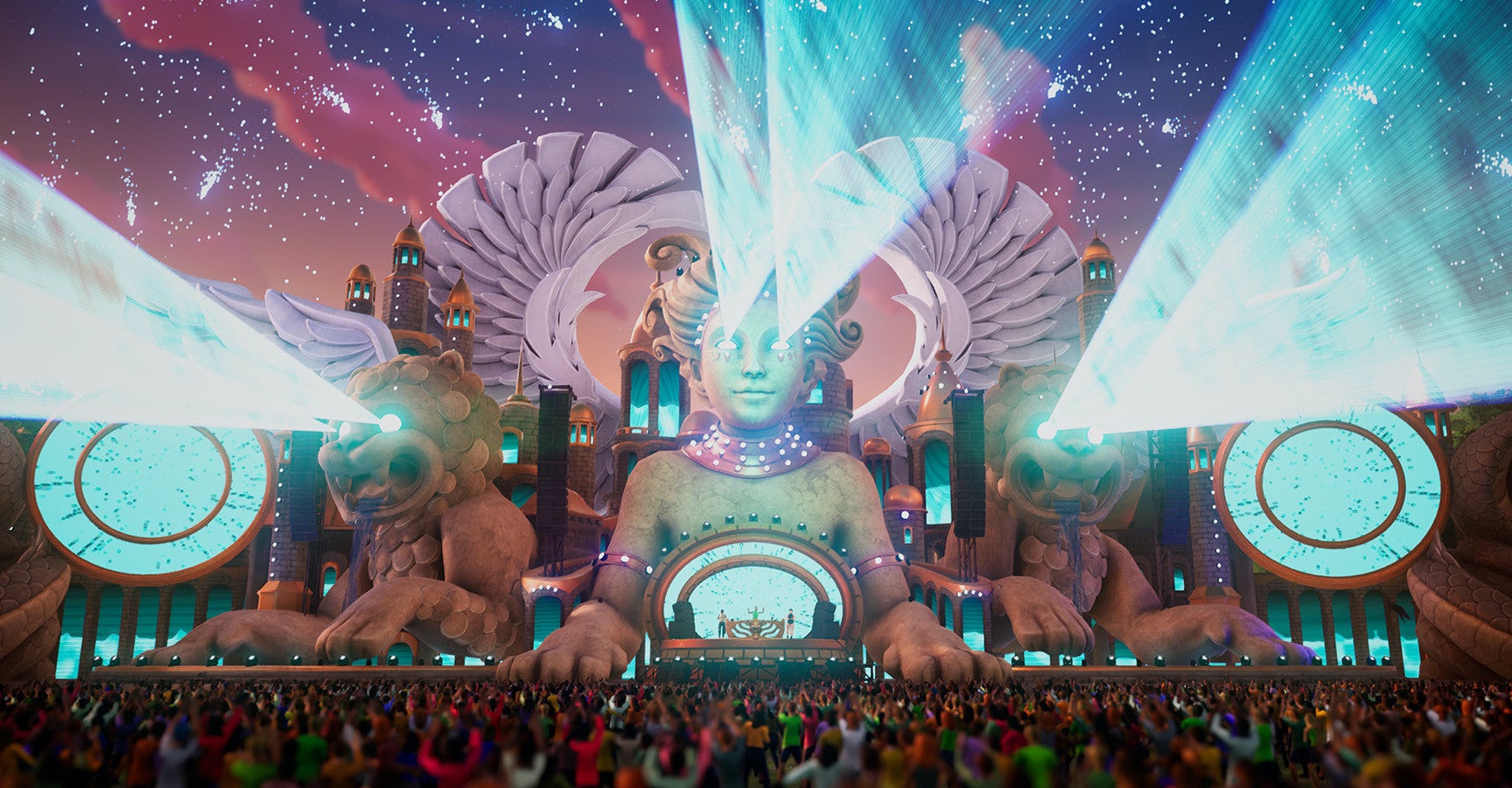 This article first appeared on USgamer, a partner publication of VG247. Some content, such as this article, has been migrated to VG247 for posterity after USgamer's closure - but it has not been edited or further vetted by the VG247 team.
Harmonix's new music game, Fuser, is the mash-up engine of dreams and, sometimes, nightmares. It's an evolution of the Dropmix technology the studio created for its physical card game, now taken into the digital realm and onto the virtual ones and twos.
Playing the headliner set at a never-ending music festival is a blast in itself. But as we've played more and more, we've started to find some tracks fall into our rotation more regularly than others. USgamer's dynamic news duo Eric and Mat teamed up to both offer their favorite selections, but what quickly emerged was a hierarchy: the songs that absolutely slap in any mix, and the ones with more fringe uses. It was, as it became readily apparent, a tier list.
What follows is by no means a comprehensive list, but certainly a general set of guidelines as to what you should be dropping into your crate. Mat and Eric have also written about a few select songs, noting what aspects make them worth using or not.
---
S-Tier
"Temperature" by Sean Paul - Drums
One of Fuser's high points, for me, is its selection of Latin music. There are some really great picks here, and "Temperature" represents some of the best. Sean Paul's song is a severely underrated jam, and this song should just be auto-locked into your crate at all times. I'm calling out the Drums in particular because it has a unique, identifiable cadence to separate it; just enough to make it distinct from other drum tracks, but it won't overwhelm the mix. The 1-2-3 hits synch up naturally with so much.—Eric Van Allen
"Ghosts N Stuff" by Deadmau5 - Bass Keys
Bass is so fickle, because it's frequently complementing other instruments. "Ghosts N Stuff" is a great track to rip stems from, as every piece of it is malleable. I have to give a special nod to the bass though, as it serves to elevate just about any mix I concoct. It's this deep, fat, rippling bass that just accentuates and keeps the sonic mix moving. It's an instant dance mix in one disc.—Eric Van Allen
"Call Me Maybe" by Carly Rae Jepsen - Strings
I am a big Carly fan, and while I'll jam out harder to anything off E-MO-TION or Dedicated, I'll hear no ill words against "Call Me Maybe." It's one of the only pop megahits of my lifetime that I can remember getting absolutely played into ground without becoming hateworthy. Those synth string hits are basically a guaranteed mashup success button; drop them in and you've got a missing Girl Talk track on your hands.—Mathew Olson
"Satisfaction" by Benny Benassi - Vocals
Any part of this electro classic is instantly recognizable, and while those buzzing synths are great, the punch they pack should be used sparingly. Likewise, you only need to inject one refrain of "push me, and then just touch me" or even just drop a quick "satisfaction" on a dance mix in Fuser to go from good to great, and the pickup cues for this song make it ridiculously easy to do.—Mathew Olson
Other S-Tier stems: the keys from A-ha's "Take on Me" and Lady Gaga's "Born This Way" vocals.
A-Tier
"All Star" by Smash Mouth - Vocals
Very, very easy to overdo this one if you're trying to DJ like a wannabe Neil Cicierega, but unlocking the song's true potential as a fantastic (if meme-y) addition to a mix requires understanding Fuser's loops. You don't get a full song in Fuser, just a loop of 32 bars. That means you can't play out the entirety of All Star's vocals, which would be fun to hear over the backing to almost every other song. Instead, keep it simple: wait until the pick up cue for the last 8 bars, which is when the whistle part comes in. Just let that ride until the opening "some-" kicks in, then switch it back out.—Mathew Olson
"New Rules" by Dua Lipa - Vocals
This was a really tough track to split up, because the drums on this track are also fantastic. There's a great drum fill that leads into the chorus, and there are some distinct ups and downs. Dua Lipa's vocals here are really great, though, for similar reasons: the build-up. Frequently I've dropped it in on a pickup to start off the "one, don't pick up the phone" line, and it's a really fun line to mess with in risers, effects, and more. Is one section of a vocal track enough to merit inclusion? In this track's case, absolutely.—Eric Van Allen
"Regulate" by Warren G feat. Nate Dogg - Bass
There are plenty of synth bass lines and other drop-and-rock options for the green track, but if you want some real bass, "Regulate" delivers. If I'm trying to settle back into a groove, to slow the tempo and vibe more than amp everyone up, this is a go-to. Just this track and a solid drum line will net you a really good foundation to build on. We all love the pulsating, loud synths, but this subdued, smooth bass is a secret MVP. —Eric Van Allen
"Don't Sweat the Technique" by Eric B. and Rakim - Bass
Fuser doesn't exist to help you become a master music producer, but it does let you steal samples that have been plucked out by some of the all-time greats. The main bassline in "Don't Sweat the Technique" is a loop lifted from jazz group Young-Holt Unlimited's "Queen of the Nile." Eric B. took those seven notes and built an entire, iconic hip hop track around them. At its best, Fuser makes it feel like you're capable of doing something half as brilliant as that, but hey, at least this bassline sounds great with most anything.—Mathew Olson
Another A-Tier stem: the vocals from "Jolene" by Dolly Parton.
B-Tier
"Starships" by Nicki Minaj - Lead Keys
You want to take this party into the stratosphere? This track has one setting: banger. It works extremely well as a track to drop out or riser up to; I've had some great moments dropping the drums out and letting these keys just carry a moment. Its strength is also a weakness, as it really commands the space of any mix you drop it into, but "Starships" is just infectiously catchy. It's the song you want to build a mix around, rather than the other way around. —Eric Van Allen
"Bodak Yellow" by Cardi B - Lead Keys
The melody from Bodak Yellow kind of works like a magic trick in Fuser. It's recognizable enough to evoke the mood of the trap drums and Cardi's hard verses even when those parts are stripped away. It's great when you want to put some edge on an otherwise bright pop song. Take "The Middle" by Zedd/Maren Morris/Grey, switch to a minor key and then slide the "Bodak" keys, and you'll practically give yourself whiplash veering from one end of the Top 40 spectrum to the other.—Mathew Olson
"All the Stars" by Kendrick Lamar and SZA - Bass
This is one of the lower, deeper synth bass options. It's so low key you might not even notice it at first, but drop the track out and you'll hear its absence. There's something I really enjoy about how the bass of "All the Stars" just accentuates everything around it. It adds a deeper layer to fluffier, high-treble songs, and can really round out a mix without overpowering it. —Eric Van Allen
"Never Gonna Give You Up" by Rick Astley - Drums
Like so many other millennials, the first time I heard Rick Astley was the first time I got Rickrolled, and I understand it's hard to shake that association. By all means, knock yourself out dropping Rick's vocals over Evanescence. If you want to rep the greatness of '80s pop producer trio Stock Aitken Waterman, though, then the excellent drums from "Give You Up" will do the trick without making listeners feel like they're being tricked.—Mathew Olson
Other B-Tier stems: the guitar from "Rock the Casbah" by The Clash and the keys from Naughty By Nature's "OPP."
C-Tier
"Thrift Shop" by Macklemore and Ryan Lewis - DJ Noisebox
This is the best part of the song. Some might argue it's possibly the only good part. But that chippy little saxophone can be a fun snippet to just flip in and build around. Do I wish this was actually "Can't Hold Us" so I could drop those keys into my mixes? Yes, yes I do. But we work with what we have. —Eric Van Allen
"Clocks" by Coldplay - Keys
I'm a Coldplay hater, but I can't deny that "Clocks" is a great song. The problem with trying to work in the piano riff is that it's almost too good, and there's not much you can do to make it not sound like you've walloped the rest of your mix with two tons of Chris Martin. Minor or major, slow or fast, it just sounds like "Clocks," and I find that's a little too distracting for most mixes. Goes well with "Take on Me," though.—Mathew Olson
"The Message" by Grandmaster Flash & The Furious Five - Lead Keys
This isn't the easiest track to drop into any mix, but man, "The Message" has a sound that is so recognizable. It's an era of hip-hop that's really fun to mix around, especially considering its own sampling roots. If you want to create a specific soundscape, "The Message" can deliver it. —Eric Van Allen
"Give Me Everything" by Pitbull feat. Ne-Yo, Afrojack, & Nayer - Vocals
Alright, take what I said about All Star earlier and flip that. You might not need Pitbull in every song, but I do, and that's what makes this vocal stem a must-have for me in my Fuser crates. The problem here is that like All Star's whistle, the actual part of the vocal track featuring Pitbull a.k.a. Mr. 305 a.k.a. Mr. Worldwide is only a small portion of the 32 bar loop. The Ne-Yo lead is also great for dance mixes, but c'mon Harmonix, I need more Pit.—Mathew Olson
D-Tier
"Killing in the Name" by Rage Against the Machine - Guitar
I understand this is fairly controversial, but those who have been playing Fuser can all pretty much understand: this is a really, really good instrumental track that is really, really hard to mesh with any other song. I think over time, "Killing in the Name" will have more songs that it can work with, but the extremely syncopated instrumentals often feel like they're dancing to a different beat. It's great for joke mixes, but harder to make work in any other setting. —Eric Van Allen
"High Hopes" by Panic! At The Disco - Horns
I hated this song the first time I heard it. I nodded in agreement when I saw John Darnielle of The Mountain Goats astutely riff on in its lyrics, then I heard it a million more times on the radio, in ads, and just while going about my day. After that, it became the official anthem for the failed presidential campaign of Pete Buttigieg, complete with a corny dance. On top of that, of all the songs with horns in Fuser, these ones clash most. Just don't bother unlocking it.—Mathew Olson