BioWare Holiday Livestream raises a lot of questions, gives us Mass Effect and Dragon Age feelings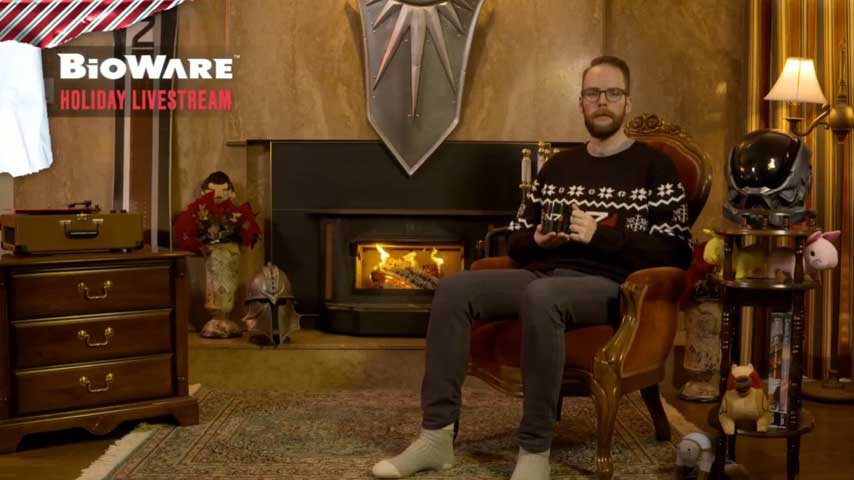 BioWare is livestreaming a man with a mug. You're either into it or you aren't.
Watch live video from BioWare on www.twitch.tv
For the past three hours or more, Dragon Age and Mass Effect developer BioWare has been streaming on Twitch's new IRL channel. Possibly in contravention of the scheme's terms, actually, given that Twitch IRL is supposed to be about interacting with your community and that is not happening.
The stream shows a man in an N7 holiday sweater (I can't find this on the BioWare Store, alas), holding an N7 mug and surrounded by a number of nods to various BioWare characters and games. There's a fire. Music from Dragon Age and Mass Effect plays, and occasionally the man gets up and changes the record to a new track. Otherwise, he mostly just stares into the camera, blinking at long intervals.
Every now and then the action - ah ha - is interrupted: someone brings more wood for the fire, Mug Man will read a book or throw confetti, a remote control vehicle will buzz in and wander off again. Occasionally there's a splicing error demonstrating we're looking at a series of pre-recorded scenes rather than an actual livestream, in case Mug Man's unnatural stillness didn't give that away; three hours is a long time to sit in the same pose.
Is this going anywhere? Maybe it's leading to some sort of reveal or stunt. Mass Effect: Andromeda drops next year and the next Dragon Age seems to be in the early stages of development, so it wouldn't be weird to see and hear something now.
Or maybe it's just a tribute to Nick Offerman's 45 minute ad for whisky distillery Diageo, or even yule log videos in general.
Well, whatever. It's kind of relaxing sitting back and listening to some highlights from the Mass Effect and Dragon Age soundtracks wash over you, remembering your adventures with some of recent gaming's most loveable characters.
Update: Mug Man left the stream, which now shows the empty room, with no music playing. It's been well over 15 minutes.
Update 2: After about an hour of Mug Man's absence, a BioWare representative entered twitch chat to assure viewers that he is fine.
Update 3: The BioWare rep has confirmed Mug Man will be back tomorrow, and the developer is signing off for the day.