Apple: App Store has over 21K games, compared to 607 for PSP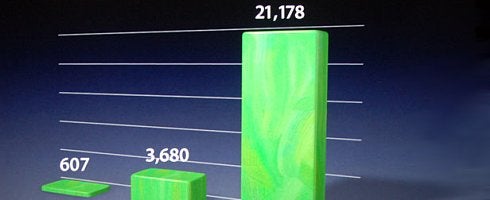 Apple's "It's only rock and roll, but we like it" event is happening now, and MacLife is live blogging the event.
So far, Jobs and co. have not only announced a price cut for iPod Touch, but that Madden NFL 10 is heading to the App Store. Cool if you are an American football and Madden fan.
Here is what you have missed so far:
The gaming category in the App Store currently has 21,178 games available, compared to 607 for PSP and 3,680 for DS.
Price cuts were introduced because iPod mini sales doubled after the drop from $249 to $199. So as of today, the iPod touch drops from $229 to $199, for the 8GB model, $299 for 32GB and $399 for 64GB.
Gameloft has a new title coming called Nova. It's a 12-level single-player FPS.
Madden NFL 10 has all the teams, players, and stadiums from the console/PC game and to work the game, all you do is tap players directly instead of using a D-pad to select. Hot Route feature lets you redraw the play right on the screen with your finger and features the entire playbook.
Ubisoft demoed Assassin's Creed II: Discovery, which allows you to add your own photos to Wanted posters and has Prince of Persia-style acrobatics with touch controls.
Tapulous from Tap Tap Revenge fame, has a new game called Riddim Ribbon, a game combining music and racing. In it you tilt the phone to the beat and control your racer along a track.
Hit the link for the rest.