An Impassioned Defense of Stubbs the Zombie
This misfit, misplaced game from the mid-2000s always deserved better.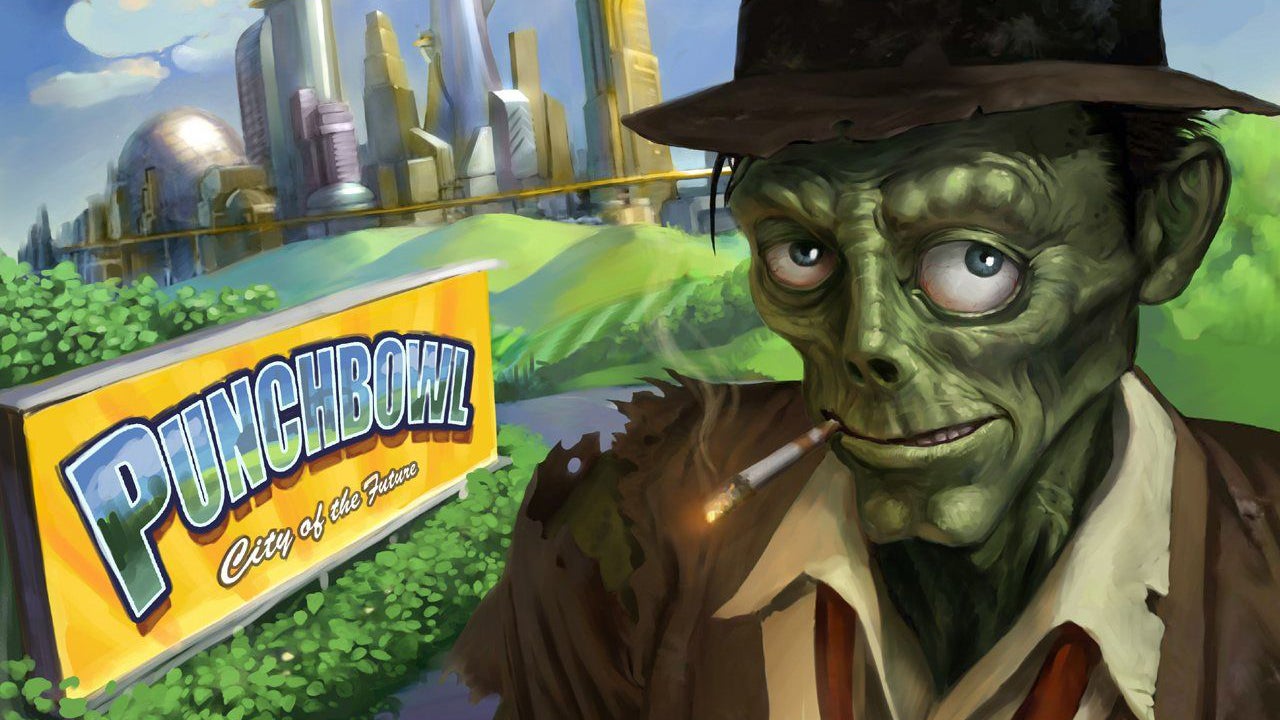 This article first appeared on USgamer, a partner publication of VG247. Some content, such as this article, has been migrated to VG247 for posterity after USgamer's closure - but it has not been edited or further vetted by the VG247 team.
You probably haven't heard of this game. If you have, you probably didn't care about it when it came out. If you did care, you likely don't anymore. If you still care, you're a thin minority at best.
Screw it anyway. This is my impassioned defense of Stubbs the Zombie in Rebel Without a Pulse, the game nobody asked for and that nobody remembers. Fifteen years later, I'll still stand alongside it.
A little context for most readers: Stubbs the Zombie would've been a bizarre creation in any era, an action-adventure/platformer/driving/strategy/horror/comedy/musical/romance/sci-fi knockabout released in 2005 and the debut creation of its developer, Wideload. In it, the titular Stubbs reawakens in the city of Punchbowl, America (which has a campy, sixties-era retrofuturist aesthetic), created when the hidden body of a murdered salesman gets unexpectedly revived by an experimental plant fertilizer. He then decides to turn the whole world into zombies, because… well, because the format demands it.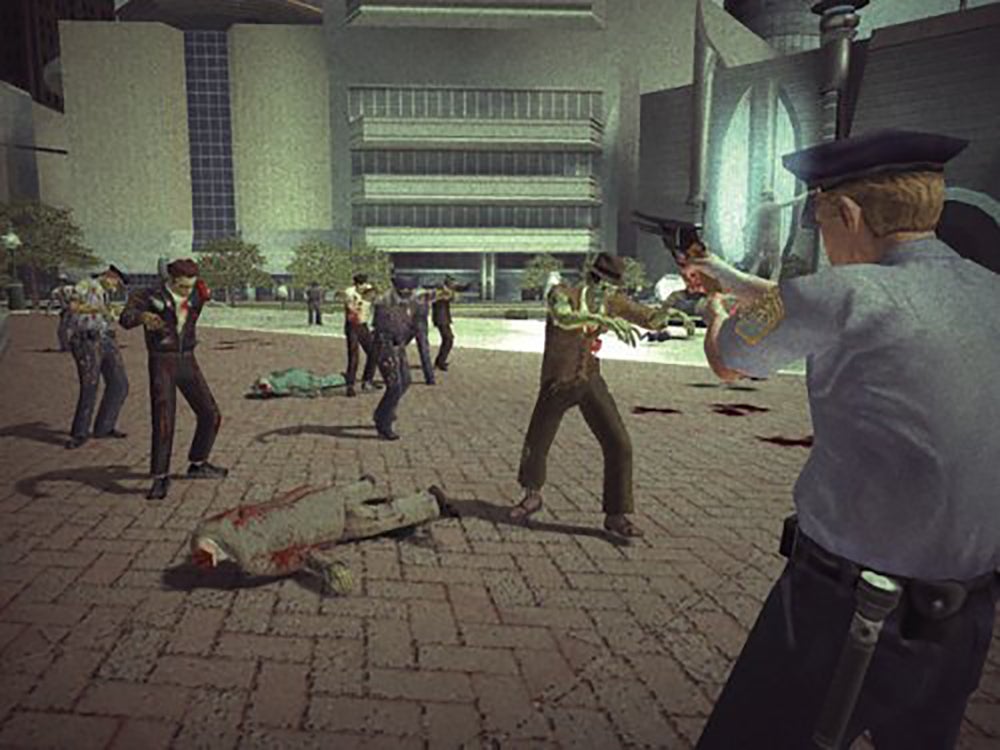 So no, Shakespeare it ain't, but there's a wonderfully dark humor that runs through the whole game, placed carefully between the cartoonish and the callous. I refuse to believe Evil Dead didn't have some influence, as much of the comedy derives from gory, brutal slapstick, with Stubbs chewing open enemy skulls and dragging an increasingly large horde of undead behind him. Later on we also get to enjoy him give a rallying speech to the same horde, composed entirely of bellowing the word "brains!" in varying tones and inflections. Then he runs away from an explosion and trips over a farmyard sheep.
It's all very silly, but all the blood and horror—we are witnessing the end of the world, after all—add a certain spice that sticks with you long after you stop playing (though the game's painful shortness means that won't be long). It's macabre, but also oddly innocent. Stubbs doesn't even come across as spiteful or evil, instead acting like he doesn't quite understand that what he's doing is bad. Hell, one of the few memories he keeps from life is an unbridled love for his former girlfriend. He feels more sweethearted than heartless, even while leaving a trail of actual hearts behind him.
The gameplay is where things fell down for most people. Rebel Without a Pulse was built off the original Halo engine, but there's little of Bungie's beloved gunplay on display here. Most of your time is spent running into a battlefield, strategically finding the right humans to bite, then leading the newly-infected toward more survivors, hoping that your losses are outweighed by the addition of freshly-bitten recruits.
It's not a perfect system, largely let down by a lack of real depth on either a mechanical or tactical level. The only control you have over your horde is either to whistle for them, give individual zombies a brisk shove, or just trust they can work things out on their own (a lot to ask from minions who had their brains eaten). The best they can do on their own is walk straight towards the enemy and chomp on them the moment they're within arms' reach. Meanwhile, Stubbs does what he can on the frontline by slinging gas-filled organs as grenades and mind-controlling human enemies with his severed hand, allowing you to co-opt whatever weapons they're holding. It's a gameplay model largely held up by little pleasures and gimmicks, like the ability to leap into vehicles or rip off an opponent's arm and beat them with it. (More games should have this feature.) There's even a palpable sense of escalation, as we go from idyllic utopia in the first levels to apocalyptic warzone in the final scenes.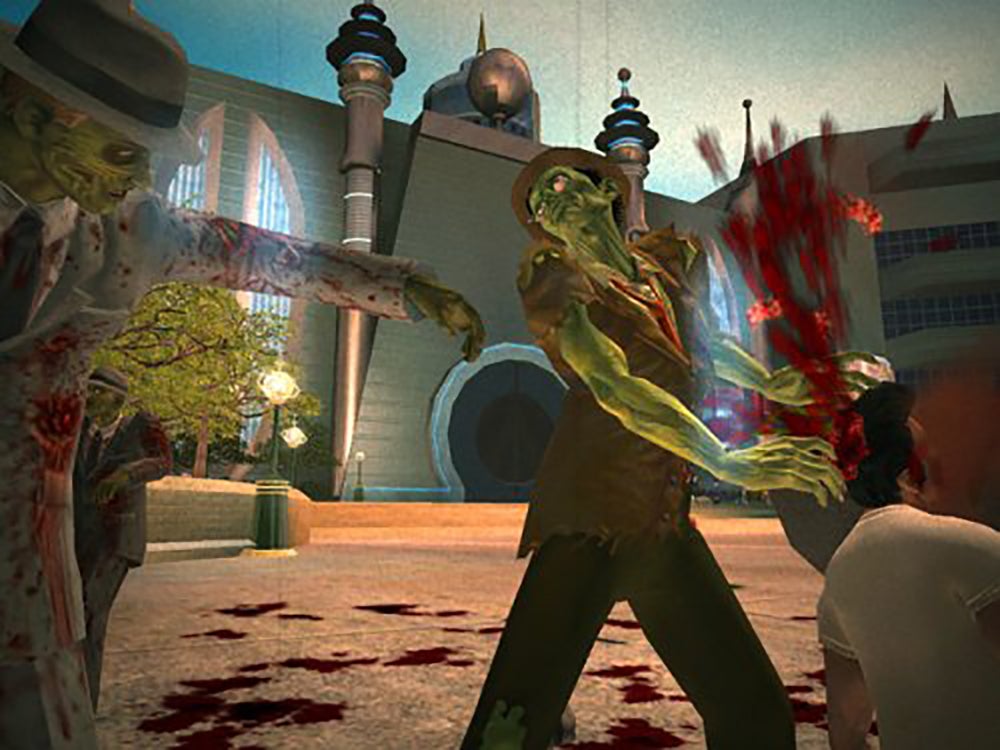 The one startlingly notable element that's aged well even today is the soundtrack, which is all modern covers of period-appropriate songs by bands even a music novice like myself had heard of. Death Cab for Cutie did their own version of "Earth Angel," the Dandy Warhols reimagined "All I Have to Do is Dream," and The Flaming Lips performed—no, seriously—a plinky-plonky version of "If I Only Had a Brain" from "The Wizard of Oz." Say what you will about Rebel Without a Pulse, but I'd argue it was all worth it for the music alone.
Stubbs the Zombie is undoubtedly a flawed game, but I do think it always deserved better, in part because it's just so strange. Our hero is a barely-animated corpse whose primary goal is to kill the world, seemingly because he's not sure what else he should be doing. In a way it's pretty reminiscent of Destroy All Humans, but with a little bit more pathos and humanity in the concept. So why did the latter get a reboot, and yet Stubbs always stayed more dead than undead? After all, the reviews weren't bad, more middling or even mildly praiseworthy. It's certainly a very hard game to hate.
Well, part of the reason it didn't leave much of a legacy was just catastrophically bad timing. Stubbs the Zombie came out in November 2005 in North America… but only on the original Xbox and PC, not the Xbox 360, which was also getting a November release. All anybody wanted to talk about was the next console generation, so Rebel Without a Pulse got lost in the explosion of bigger news. To make matters worse, 2005 was just about in the early stages of the zombie craze that would last until the early 2010s, so Stubbs didn't even stand out much in his own genre, drowned in a wave of similar products and ideas. I couldn't even find data on how well the game sold (with the exception of one employee saying it didn't do great), which leads me to suspect nobody wanted to broadcast those figures much. In the wake of all this, a brief, stupid controversy about cannibalism only ended up feeling more pointless than poignant. Why get upset about a game nobody was playing? Still, you have to admire the developer's response to the controversy, which took the whole affair about as seriously as a custard pie.
But perhaps I'm wrong about the poor sales figures, as Wideload were planning a sequel of some sort, or at least some furthering of the Stubbs saga. It kept talking about it, saying it was going to happen… right up until the point that Disney shut the studio down in 2014, having bought Wideload five years previously and pushing it to make cheap Wii titles and licensed mobile games in the few years before it was quietly shot.
The closest we got to a true sequel was a planned spiritual successor named Ray's the Dead, with some of the same developers going on to make their own independant studio. It certainly had the same basic concept as Stubbs: playing as a lovable zombie who bites idiots and amasses his own personal horde to bite further idiots. Ray's the Dead even went on Kickstarter back in 2013 with a planned release for the same year, but it never got funded and was quickly shelved and canceled until a second campaign tried again in 2014. This one was technically successful, but the project has taken so long to complete that a brief demo was only dropped a couple of months ago. At this rate, Ray's the Dead will truly be a Stubbs successor in at least one area: being made for a console generation that's about to be obsolete.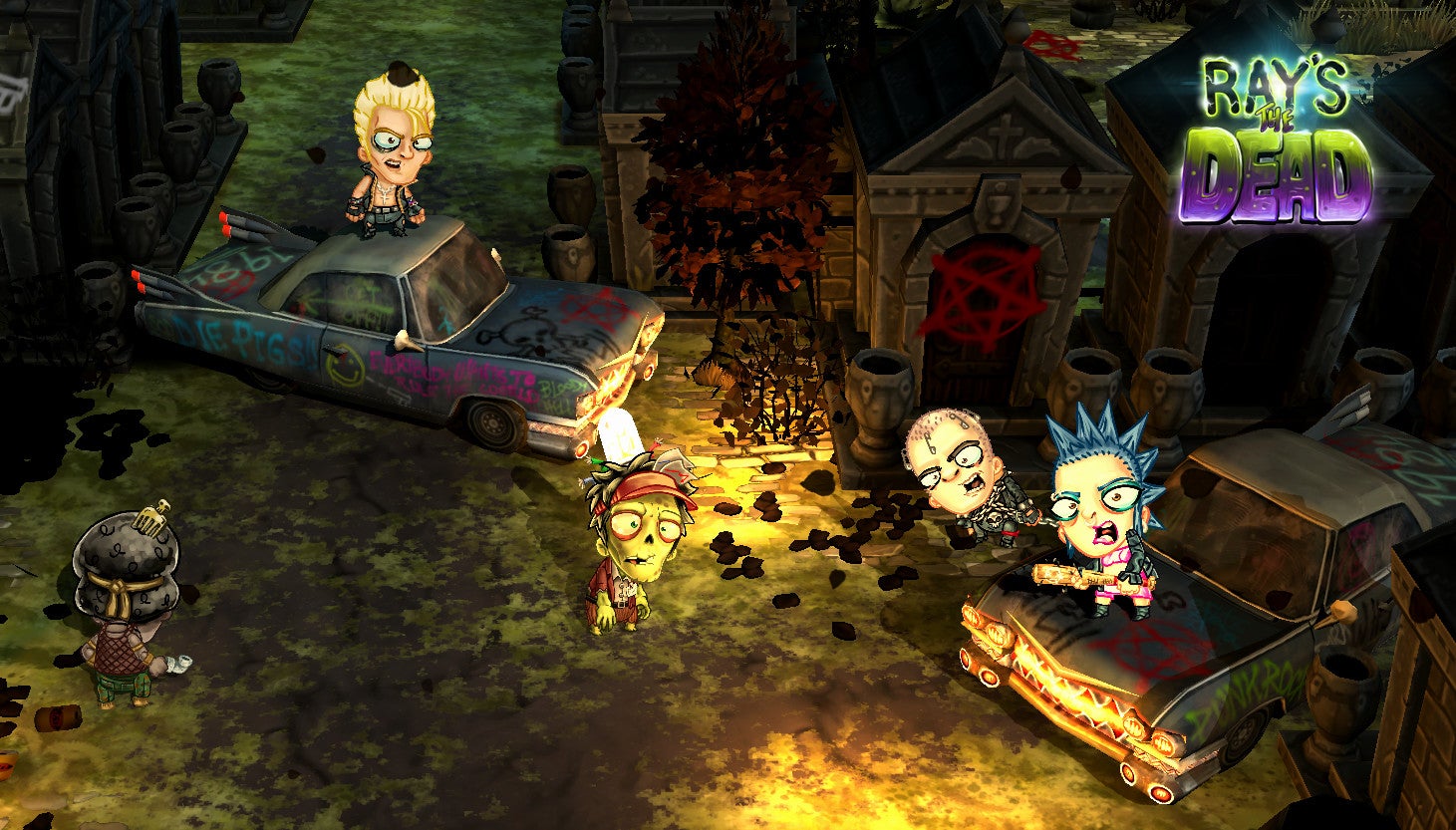 Even if Ray's the Dead came out tomorrow and was really good, which I certainly hope, it wouldn't be the same as a Stubbs remake or sequel, something which is certainly not going to happen any time soon. Matt Soell, responsible for the original concept and the game's writing, tweeted a couple of years ago that Disney owned the rights and that "they're in no hurry to update an M-rated game about a brain-eating zombie." Well, shit.
I guess poor Stubbs will have to live—or unlive—as part of the amorphous mass that is all of Disney's dead intellectual properties and possessions, stuffed into an old vault alongside Club Penguin and Malibu Comics. The rebel without a pulse certainly deserves better, but if you have an original Xbox in a closet somewhere, dust it off and check Ebay for a copy of Stubbs the Zombie, so you can wile away a weekend paying homage to the greatest corpse who never let society (or mortality) hold him back. Maybe, if we're very lucky, he'll shamble his way to our screens again.