What is DC Comics Rebirth? Everything You Need to Know
This is the new shape of the DC Universe. What's happening, what's changing, and what's not.

This article first appeared on USgamer, a partner publication of VG247. Some content, such as this article, has been migrated to VG247 for posterity after USgamer's closure - but it has not been edited or further vetted by the VG247 team.
DC Comics is changing again, in one of the largest relaunches since it kicked off the New 52 in 2011. The New 52 was DC's attempt at streamlining its complex continuity, which for some characters had stretched back for decades. It had varying levels of success for the company, bringing in new readers, but losing some veteran DC Comics fans in the process. Certain characters didn't make the transition over to the New 52 and those that did sometimes had different personalities and relationships than before.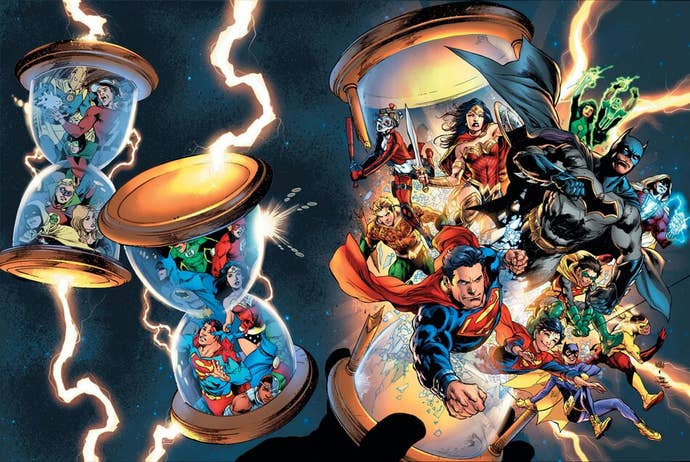 Last year, during the corporate move from New York to Los Angeles, DC Comics ran the Convergence event, which brought back the DC Multiverse. All those classic versions, spin-offs, and out-of-continuity comics existed once again.
Rebirth seems to be the next step in that process. The linewide branding is a callback to Green Lantern: Rebirth and Flash: Rebirth, two comics by DC mainstay Geoff Johns that were intended to correct issues in their various lines and set the tone for those heroes going forward. Johns will be writing DC Universe Rebirth #1, which will transition the New 52 over to the new status quo in the same manner.
"Rebirth is about focusing in on the core of the character and their respective universe," said Johns in the recent Previews catalog covering the Rebirth books. "It brings back what has been lost: the legacy of the characters, the love and the hope of the DCU."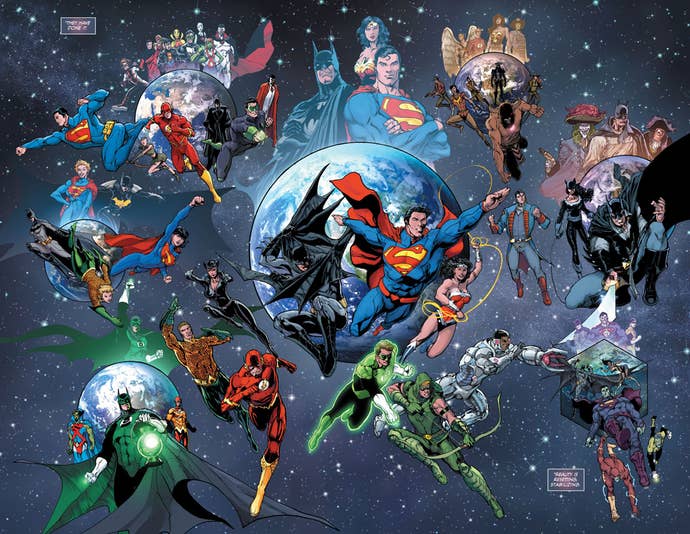 It's Not a Reboot
Rebirth is not another reboot. Most of what consists of the DC universe is continuing forward. If you've been reading current DC Comics, you can carry on reading your favorite characters, sure in the knowledge that those characters aren't drastically changing again. Rebirth will reintroduce classic aspects or supporting cast members, but for the most part the New 52 is an experiment that DC wants to continue.
According to Johns, Rebirth #1 will focus on five aspects:
One major DC character will die
Certain DC characters will be reintroduced into the DC Universe
There's a secret that tackles in very nature of the DC Universe
Batman will focus on a mystery involving his greatest villain
Once the secret about the DC Universe is exposed, a new evil will threaten the entire universe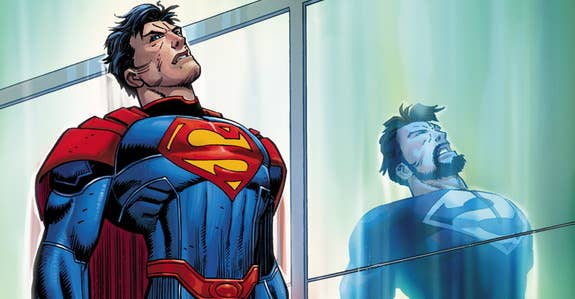 Most of this sounds cryptic, but DC has been telegraphing part of it in recent issues. The death is likely of New 52 Superman, who revealed in last week's Superman #51 that the ongoing struggle of losing and regaining his powers has corrupted his cells. We don't know if the death is real or metaphorical at this point. The mystery Batman is struggling with is the identity of the Joker, information Batman recently gained in the pages of Justice League, which is also written by Johns. The rest? It'll have to wait until DC Universe Rebirth #1, which launches on May 25.
Prior to Rebirth #1, every DC Comic ends, with many of the long-running New 52 books ending on issue #52. They will replaced with unique Rebirth one-shots describing the new status quo, followed by new #1 issues with brand-new creative teams. The only books that aren't getting new #1's are Detective Comics and Action Comics, which are reverting to their original numbering. In addition, many of major books will be shipping twice monthly. I'll mark those below as bi-monthly - (BM) - following the title.
This article is intended to give you the basic gist of what's going on in each of the character lines and the books that will be spinning out of their Rebirth one-shots. If you're a Superman fan, just jump to the Superman section. Batman fan? Same deal. Everybody else outside of the major heroes will be split up into other groups.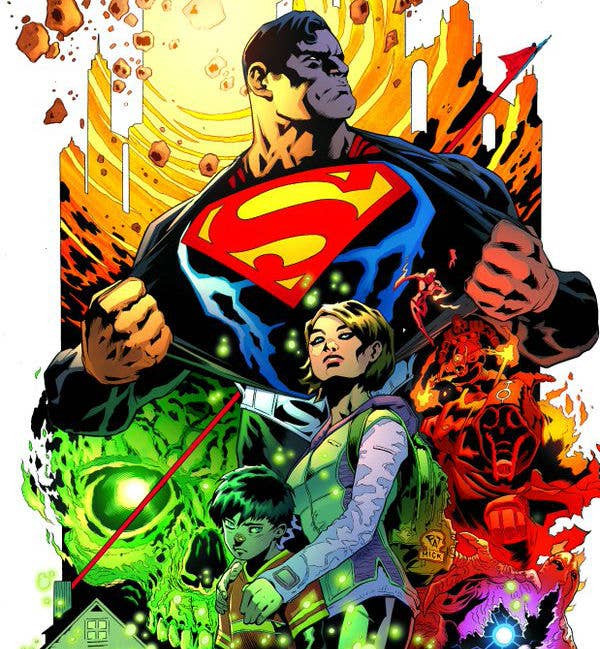 Superman
Superman Rebirth #1 by Peter Tomasi, Doug Mahnke, and Jamie Mendoza - June 1

Supergirl Rebirth #1 by Steve Orlando, Brian Ching, and Emmanuela Lupacchino - August 27
Action Comics #957 (BM) by Dan Jurgens and Patrick Zircher - June 8

Superman #1 (BM) by Peter Tomasi, Patrick Gleason, and Mick Gray - June 15

New Superman #1 by Gene Luen Yang and Viktor Bogdanovic - July 13

Superwoman #1 by Phil Jimenez and Emmanuela Lupacchino - August 10

Supergirl #1 by Steve Orlando and Brian Ching - September 7

Super-Sons #1 by Chris Burns, Dennis Culver, and Jorge Jimenez - September 7
Following the events of Convergence, the classic versions of DC Comics' heroes returned, but none of them were utilized with one exception: Superman. Pre-New 52 Superman was folded over in the continuity, along with his wife Lois Lane and his son, Jon. It was revealed that this Superman had always been in the New 52, but had declined to be a hero, instead leaving the beat to his current counterpart.
With the potential death or depowering of the New 52 version, Superman will now be about the classic Superman juggling his responsibilities as a hero and a father. Action Comics will also deal with that Superman and Lex Luthor, who has taken on the familiar S-symbol to become Metropolis' hero in the absence of his original arch-nemesis. Jurgens is also promising a separate Clark Kent, meaning New 52 Superman might still be around in some fashion.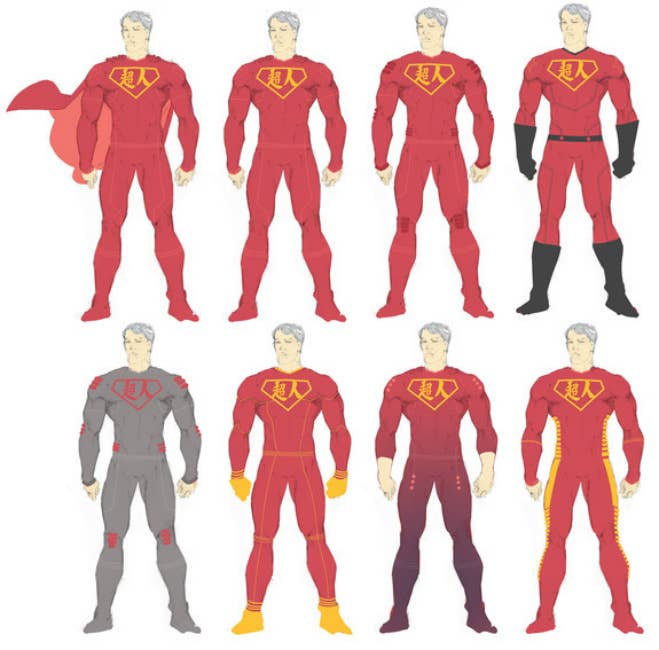 Other books in this lineup include New Superman #1, which covers a Chinese man who ends up with the powers of Superman. This spins out of the current "Super League" storyline in the Superman books, where a dying Superman decides to try to find a way to create others like him to protect the world in his absence. Superwoman #1 is another book seemingly related to that storyline, with New 52's Lois Lane gaining her own suite of Superman powers. Supergirl #1 transplants the New 52 character into a status quo reflecting the CBS TV series, working for the DEO catching alien villains. Finally, Super-Sons #1 is a shared book with the Batman line, featuring Jon Kent and current Robin Damian Wayne teaming up like their fathers do.
Books to Watch: Of the primary Superman books, I'm leaning towards Superman. Peter Tomasi is a great writer and while I prefer New 52 Superman over Superdad, I think Tomasi can make it work better compared to veteran writer Dan Jurgens. New Superman and Super-Sons sound like the more interesting books coming out of the lineup so far.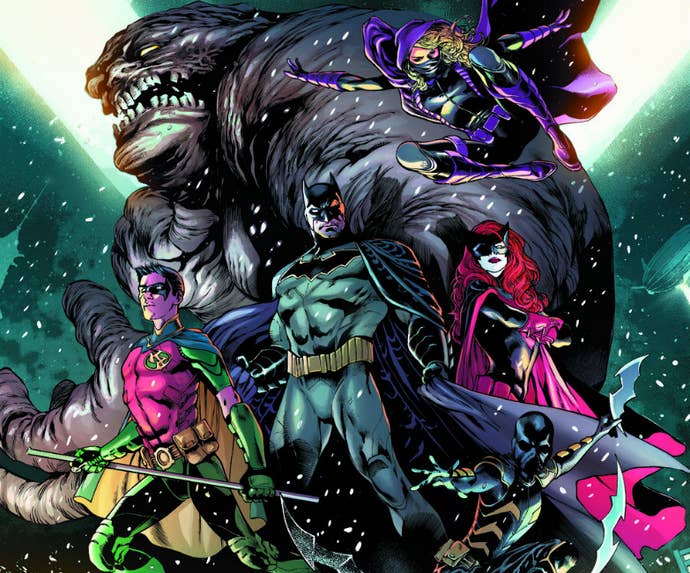 Batman
Batman Rebirth #1 by Tom King, Scott Snyder, and Mikel Janin - June 1

Nightwing Rebirth #1 by Tim Seeley, Javi Fernandez, and Marcus To - July 13

Batgirl & The Birds of Prey Rebirth #1 by Tim Seeley, Javi Fernandez, and Marcus To - July 13
Detective Comics #934 (BM) by James Tynion IV, Eddy Barrows, and Alvaro Martinez - June 8

Batman #1 (BM) by Tom King, David Finch, and Matt Banning - June 15

Batgirl #1 by Hope Larson and Rafael Albuquerque - July 13

Nightwing #1 (BM) by Tim Seeley, Javi Fernandez, and Marcus To - July 27

Batgirl & The Birds of Prey #1 by Julie Benson, Shawna Benson, Clarie Roe - August 24

All-Star Batman #1 by Scott Snyder, John Romita Jr., Jock, Declan Shalvey, Tula Lotay, and Sean Murphy - August ??
Much like during the New 52, the Batman books are largely untouched by changes in the overall DC Universe. Batman has a refreshed Bruce Wayne taking on a new hero that believes that the Dark Knight isn't good for the city. Detective Comics is now a Batman team book, with Batman and Batwoman training a group of heroes including Red Robin, Spoiler, Orphan (Cassandra Cain), and Clayface to protect Gotham.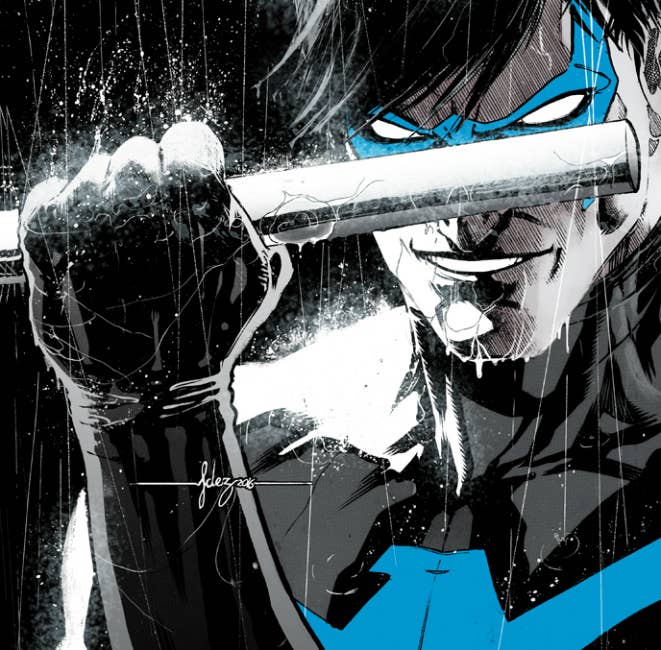 Nightwing will continue the story of former Robin Dick Grayson, jumping off from events in the current Grayson series. Batgirl moves the character beyond her current stomping grounds of Burnside and into a global sphere as she seeks to become a better hero. Batgirl & The Birds of Prey brings her together with Huntress and Black Canary, both of whom are relatively new in the New 52 continuity, against an all-new Oracle (Batgirl's former identity). Finally, All-Star Batman is a self-contained story by current Batman writer Scott Synder, featuring the Caped Crusader versus the very best of Batman's rogues gallery.
Books to Watch: The entire lineup is strong here. All-Star Batman includes Scott Snyder and a host of amazing artists, all with the focus of redesigning and reintroducing Batman's best villains. Tom King gets upgraded from Grayson to Batman, and Detective Comics is a great place to find cult-favorite Batman family heroes. Nightwing remains my favorite hero and current Grayson co-writer Tim Seeley returns him to the classic blue and black costume. Batgirl & the Birds of Prey is a big question mark, but is written by The 100 writers and sisters Julie and Shawna Benson, meaning it could be a solid book.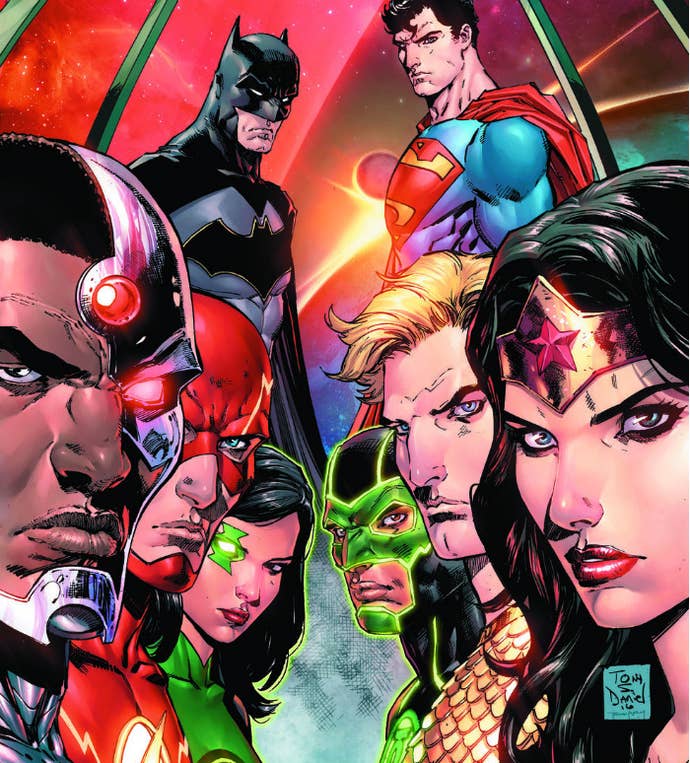 Justice League Heroes
Green Lanterns Rebirth #1 by Geoff Johns, Sam Humphries, and Ethan Van Sciver - June 1

Green Arrow Rebirth #1 by Ben Percy, Otto Schmidt, and Juan Ferreya - June 1

Wonder Woman Rebirth #1 by Greg Rucka and Phil Winslade - June 8

Aquaman Rebirth #1 by Dan Abnett, Brad Walker, Jesus Merino, and Phil Briones - June 8

The Flash Rebirth #1 by Josh Williamson, Carmine DiGiandomenico, and Neil Googe - June 8

Hal Jordan & The Green Lantern Corps Rebirth #1 by Rob Venditti and Ethan Van Sciver - July 13

Cyborg Rebirth #1 by John Semper, Will Conrad, and Paul Pelletier - August 3
Green Arrow #1 (BM) by Ben Percy, Otto Schmidt, and Juan Ferreya - June 15

Wonder Woman #1 (BM) by Greg Rucka, Liam Sharp, and Nicola Scott - June 22

The Flash #1 (BM) by Josh Williamson, Carmine DiGiandomenico, and Neil Googe - June 22

Aquaman #1 (BM) by Dan Abnett, Brad Walker, Jesus Merino, and Phil Briones - June 22

Green Lanterns #1 (BM) by Sam Humphries, Robson Rocha, and Ardian Syaf - June 25

Hal Jordan & the Green Lantern Corps #1 (BM) by Rob Venditti, Ethan Van Sciver, and Rafa Sandoval - July 27

Cyborg #1 (BM) by John Semper, Will Conrad, and Paul Pelletier - August 17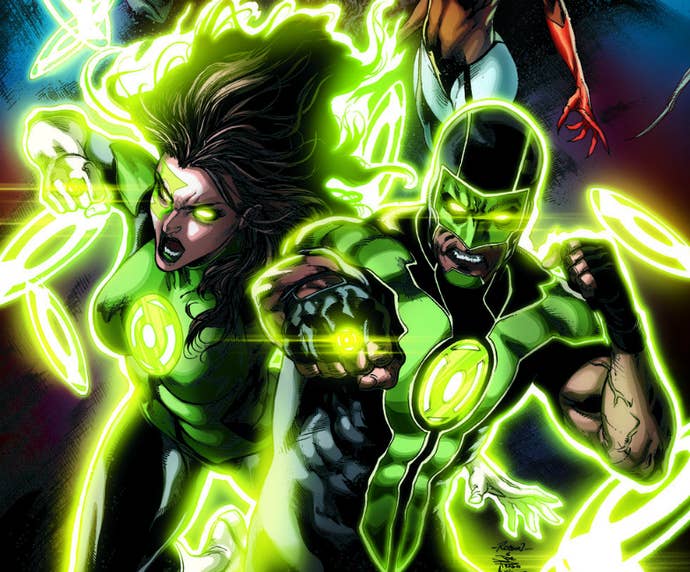 These books fill out the rest of DC's primary Justice League lineup. They're the solo books for the heroes who are either in the Justice League proper currently, or have previously been a major member. Outside of Batman and Superman, they're all intended to be tentpole titles, hence the twice monthly shipping schedule for every ongoing.
Green Lanterns doesn't feature any of the four heroes who have classically held the mantle. Geoff Johns previously created new GLs Simon Baz and Jessica Cruz, but neither character was utilized very well in the universe and this book is correcting that. It's a buddy cop book in the worse GL sector: Earth. Hal Jordan & The Green Lantern Corps is the traditional space-bound GL book, with Hal, Kyle Rayner, John Stewart, Guy Gardner, and the alien GLs up against Sinestro and his rival Corps.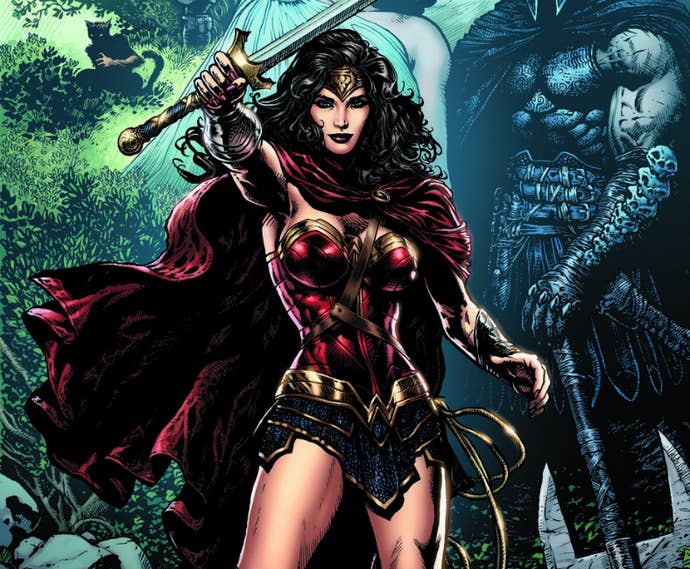 Wonder Woman brings fan-favorite writer Greg Rucka back to the character and it looks like he'll be changing some of her New 52 backstory in the process. Aquaman pits the hero and his wife Mera against Black Manta, who wants to ruin potential peace between Atlantis and the surface world. The Flash has Barry Allen tackling a host of new speedsters in his city, including a serial killer. Green Arrow reunites Oliver Queen and the Black Canary for the first time. Static Shock and Spider-Man: The Animated Series writer John Semper takes on Cyborg and moves the hero to Detroit.
Books to Watch: Greg Rucka returning to Wonder Woman is probably the biggest, but the rest of the lineup is creative teams with hit-or-miss work or weaker characters. Dan Abnett is great, so I'd say give Aquaman a shot. Hal Jordan & the Green Lantern Corps will probably be the better-selling GL book, but I'm interested in seeing what happens over in Green Lanterns, as both characters are largely blank slates.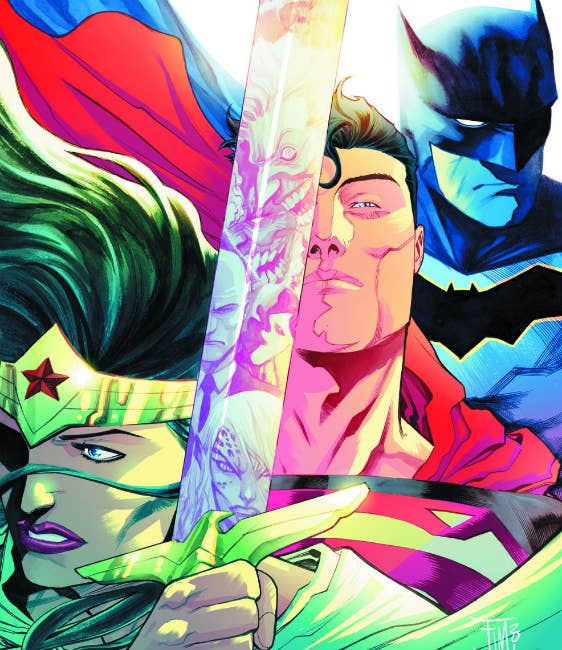 DC Team Books
Titans Rebirth #1 by Dan Abnett and Brett Booth - June 15

Justice League Rebirth #1 by Bryan Hitch, Tony Daniel, and Fernando Pasarin - July 6

Red Hood & The Outlaws Rebirth #1 by Scott Lobdell and Dexter Soy - July 27

Trinity Rebirth #1 by Francis Manapul and Clay Mann - August 10

Suicide Squad Rebirth #1 by Rob Williams and Jim Lee - August ??

Teen Titans Rebirth #1 by Ben Percy and Jonboy Meyers - September 21
Justice League #1 (BM) by Bryan Hitch, Tony Daniel, and Fernando Pasarin - July 20

Titans #1 by Dan Abnett and Brett Booth - July 27

Justice League of America #1 (BM) by Geoff Johns and ??? - ???

Suicide Squad #1 (BM) by Rob Williams with artists Jim Lee and Philip Tan - August ??

Trinity #1 by Francis Manapul and Clay Mann - September 21

Teen Titans #1 by Ben Percy and Jonboy Meyers - October ??
Here's where DC's lineup start to get more fuzzy, with less information available. Titans is the earliest available team book in the Rebirth lineup and it's also the one most tied to the New 52. The current Titans Hunt series involves Nightwing, Donna Troy, Arsenal, Tempest, and Lilith is they slowly find out who erased their memories of their time as Teen Titans. This book carries on that story with the same team of heroes and writer Dan Abnett. In contrast, Teen Titans will be the latest version of the kids' team, featuring Robin (Damian Wayne), Beast Boy, Raven, Starfire, and the all-new Kid Flash (New 52 Wally West).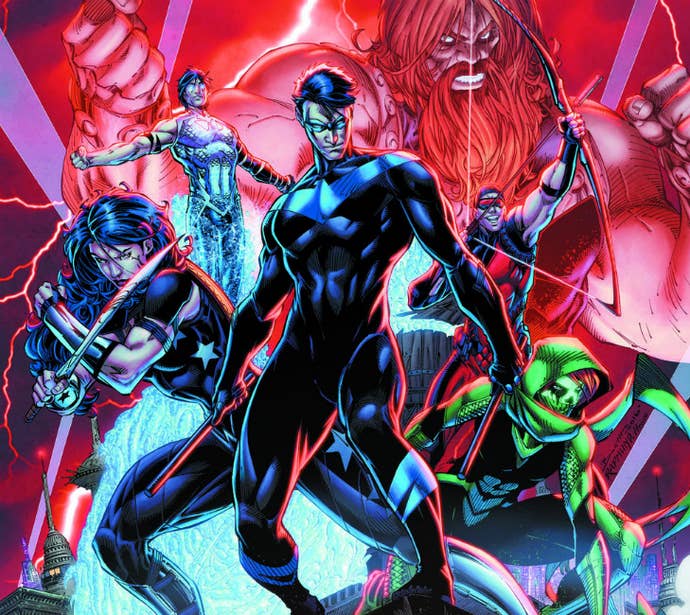 Justice League and Justice League of America seem to be switched now. Current Justice League of America writer Bryan Hitch, who was writing out-of-continuity tales, now moves to Justice League, writing the in-continuity adventures of a cosmic-focused Justice League. Justice League writer Geoff Johns seems to be moving to Justice League of America, a title without an artist, premise, or solid release date at the moment.
Since there's a big-budget movie on the horizon, Suicide Squad gets an upgrade with Jim Lee handling the art duties. The team will feature the characters from the film: Harley Quinn, Deadshot, Katana, Boomerang, and Killer Croc, with some other unnamed villains. Then there's Trinity, which replaces the Batman/Superman and Superman/Wonder Woman books with a single title featuring all three. Red Hood & The Outlaws keeps its lead, but adds Bizarro and Artemis as his team members, creating a Reverse Trinity of sorts.
Books to Watch: Bryan Hitch might've been an artist before, but he's been doing solid work on JLA up until now, so Justice League should be great. Geoff Johns steers the entire DCU, so Justice League of America will also be a must-read.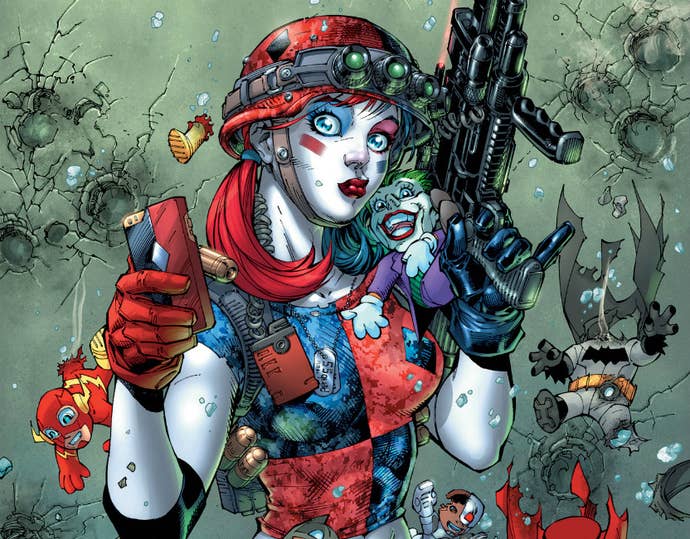 Everything Else
The Hellblazer Rebirth #1 by Simon Oliver and Moritat - July 20

Deathstroke Rebirth #1 by Christopher Priest, Carlo Pagulyan, Igor Vitorino, and Felipe Watanabe - August 10

Blue Beetle Rebirth #1 by Keith Giffen and Scott Kolins - August 24

Batman Beyond Rebirth #1 by Dan Jurgens, Bernard Chang, and Ryan Sook - September 28
The Hellblazer #1 by Simon Oliver and Moritat - August 3

Harley Quinn #1 (BM) by Jimmy Palmiotti, Amanda Conner, Chad Hardin, and John Timms - August 3

Deathstroke #1 (BM) by Christopher Priest, Carlo Pagulyan, Igor Vitorino, and Felipe Watanabe - August 24

Blue Beetle #1 by Keith Giffen and Scott Kolins - September 28

Batman Beyond #1 by Dan Jurgens and Bernard Chang - October ??
Earth 2 #1

Gotham Academy: The Next Semester #1
This is everything else that doesn't really fit in a specific category at DC. The Hellblazer is John Constantine's book and seems to be the only gateway to DC's magic side in Rebirth. Deathstroke features the return of veteran writer Chris Priest to comics and will tackle DC's best mercenary. Harley Quinn retains her previous writing team, which makes sense for DC's fun Deadpool analogue. Batman Beyond brings back Terry McGinnis, who DC killed off previously. Finally, Blue Beetle stars current Blue Beetle Jaime Reyes, with his new mentor Ted Kord.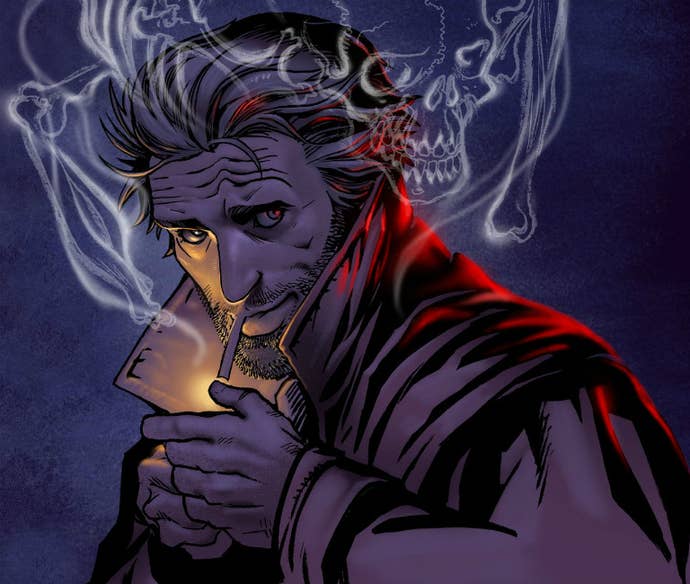 If you're wondering about the last two books, they're titles that are simply continuing on with no changes. Gotham Academy retains its current creative team and Earth 2 should be continuing the story from the current series.
Books to Watch: This entire lineup is pretty damn good and arguably better than some of the DC Heroes books. Oliver is a long-time writer for DC's Vertigo imprint, so there might be something great here. Harley Quinn is already awesome under her current stewards, so not much is changing here. Blue Beetle will probably be the dark horse winner, featuring not only both Blue Beetles, but also the current Doctor Fate.