Sonic Mania is an amazing must-play love letter to Sega's finest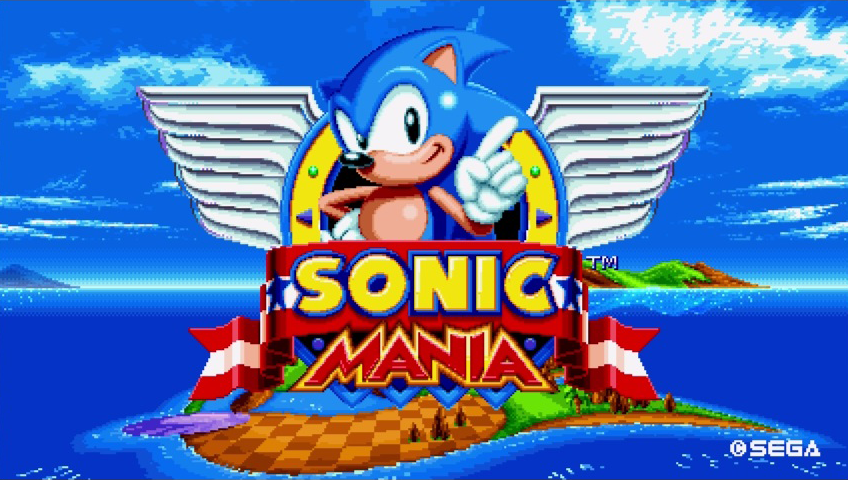 They actually did it. They nailed it. Sonic is back.
Or he's back, at least, until the extremely dubious-looking Sonic Forces launches later this year. Forces is what it is, but Mania is the real deal: this is a Sonic game that once again understands what made the snarky blue mascot so compelling to begin with. It takes that heart and runs with it, introducing new concepts and finessing old ones to create an experience that is sure to end up as one of my favourite of the year.
If you don't know the story behind Sonic Mania, here's the short version: fans have spent years reverse-engineering and hacking the classic Mega Drive Sonic games on websites like Sonic Retro. Eventually some particularly industrious fans recreated the classic Sonic engine in a way even Sega themselves were struggling to do. When they took that work to Sega, the publisher was smart enough commission them to port Sonic CD to modern platforms and Sonic 1 and 2 to mobile. These versions are definitive, adding features and characters to later games while preserving the physics and feel of the original games.
Then things went quiet. The developers posted a pitch video to YouTube of the first level of Sonic 3 & Knuckles, suggesting fans ask Sega to let them port it. Then something even better happened - the developers were given the chance to make an all-new Sonic game. The vision for Sonic Mania is simple: what would the lost Sonic 4 for Sega Saturn have looked like? A natural 2D continuation of the Mega Drive games, but with the extra horsepower and colour palette a more advanced system would provide. This is that game.
"Sonic Mania really does feel like a new sequel to those classic games, making use of existing ideas and code alongside new ideas in the exact same way a sequel would've back in the 90s."
Sonic Mania is technically part of the Sonic 25th anniversary celebrations, so it's part all-new and part celebration of the old. The game features 12 two-act zones - four all-new, eight remixed from the classic 2D games. The remixed zones tend to be more similar to their original incarnations in Act One, but then go off the rails with some weird and wonderful changes in the second act.
Before I get into that stuff, I just want to say that Mania is wonderful. It's exactly what I've wanted all these years, and I don't think it's nostalgia talking even though I was Sonic-obsessed as a kid - I think it's one of the best retro throwbacks in years. It does an excellent job of walking the tightrope between the two sides of the game - being deferential to that which came before while offering up all-new ideas. It's clear that it has been built with a love, care and attention that only truly hardcore fans could give.
Every gimmick you can imagine from classic Sonic is present here - there's the spinning cylinder platform things from Launch Base, the switches from Mystic Cave, the lighting gimmick from Sandopolis. It's clear that Christian Whitehead's Retro Engine has everything from all four classic 2D Sonic games in it, and so Mania makes use of all of it. Sprinkled in among all this are some all-new gimmicks and features for new and old stages alike. The end result is that Sonic Mania really does feel like a new sequel to those classic games, making use of existing ideas and code alongside new ideas in the exact same way a sequel would've back in the 90s.
A heads up: In this review, I talk about a couple of unannounced zones and passingly mention a few (but not all!) nods and surprises in Sonic Mania.
"When you see how different the old zones get in gameplay terms, the limited number of all-new zones becomes easier to justify."
One of my worries about Mania was that it'd trend too close to the confusing, labyrinthine level design of Sonic CD, and perhaps its greatest success is that it avoids this. It takes some of the design concepts from Sonic CD and sprinkles them into a game that takes its largest influence from Sonic 3 & Knuckles, with enormous, sprawling multi-path levels that you'll still be discovering new routes through on your third or fourth play.
Sonic, Tails & Knuckles all have their ability set from that game (plus some new ones), and that in turn means that each can access slightly different areas of a level. Some characters have different introductions to some levels too, resulting in unique paths for certain characters.
The special stages are inspired by Sonic CD, a Mode-7 like pseudo 3D environment where you're dealing with twitch reactions and positioning to avoid falling off the level or running out of time. These are initially difficult to get used to but soon click. S3K's Get Blue Spheres returns as an optional side game too. The special stage is accessed via giant rings as in S3K, but they feel better hidden and therefore more special here.
If I had to criticize any of Mania's core package it'd simply be that the eight-to-four ratio of old to new zones is probably a little short on the all new - but when you see how different the old zones get in gameplay terms, the limited number of all-new zones becomes easier to justify. They may share the same sprite art, but these levels feel fundamentally different to their original appearances.
Flying Battery's Act Two alternates between inside and outside, with the outside of the airship lashed with rain and wind that pushes you backwards. Oil Ocean Zone is visually recognisable but in gameplay terms very different, and in Act Two changes tempo completely with the ability to enter submarines that disappear beneath the oil and the ability to set the oil on fire, changing the make-up of the stage.
Other stages are more faithful: Green Hill Zone relishes in restoring ideas seen in prototype builds of Sonic 1 like a more underground area of the zone, and Chemical Plant lacks a specific new gimmick but has a verticality it always lacked before and an Act Two boss that made me cheer out loud - though I'd rather not reveal what it is just yet.
The game is full of this stuff, incidentally, and it goes beyond Sonic references to general Sega. Studiopolis Zone features buildings from Streets of Rage and a version of the real-life Sonic-branded, Sega-made popcorn vending machine. One boss shows up with a ninja-style move set and ninja stars that, of course, explode with a sound effect from Shinobi. Some of these cuts are very deep, with character cameos and little winks hidden in every corner of the game, all from the pre-Dreamcast era of Sonic. It's difficult not to love the game for this alone - the passion its developers have for Sonic is plain.
"It's an amazing love letter to classic Sega, but beyond that it's also a great game in general full of exciting new ideas for 2D Sonic."
Only one criticism really still stood up at the end of the game: Mania has the most ambitious boss design of any 2D Sonic - but these bosses are fairly hit-and-miss. A couple are particularly frustrating, and that's a bit of a shame. The story, executed as in S3K through simple sequences with expressive sprite work and no text or voiceover, is a little less clear than it was in Sonic 3, too. These are the criticisms - everything else is pretty much without fault, as far as I'm concerned.
The game itself will most likely take you three hours or on your first run, accounting for exploration, some deaths, and some special stage time. After that you can try to grab the other Chaos Emeralds to unlock the Super Form of your character of choice or tackle the game with different character to find different ways through levels.
There's also a multiplayer race through levels, a time attack, and a suite of unlockables that fans will love including the ability to give Sonic his Sonic 3 or Sonic CD move sets and & Knuckles mode, a mode that... does exactly what you think it would.
Oh, and Tee Lopes' music is magnificent - funky and cool original work mixed with respectful and restrained remixes for returning stages. The remix work on Act Two tunes for Sonic 1 & 2 stages (which never had specific Act Two music before) is particularly stand-out alongside the original work.
Anyway, my point is this: I recommend Sonic Mania wholeheartedly. It's an amazing love letter to classic Sega, but beyond that it's also a great game in general full of exciting new ideas for 2D Sonic. Much like New Super Mario Bros it proves that the existence of 3D iterations of this series does not make the 2D classics irrelevant - and in the case of Sonic, it actually serves as a firm reminder that in 3D the series has lost something.
I'm left hoping that Sonic Mania does well and 2D Sonic becomes a separate branch of the series once more - I hope Mania doesn't become a one-off. It's clear that Whitehead and his team are full of ideas for the future, and I'd love to see them create more new stages and perhaps reimagine some more obscure classic Sonic levels - say from the Game Gear games, or a level based on a Spinball location.
I'm excited about Sonic again - that's the power of this game.