Animal Crossing: New Horizons' Able Sisters Shop Sells More Clothing Than Ever Before
On top of sorely needed improvements for inclusivity's sake, New Horizons just gives you way more freedom in character customization.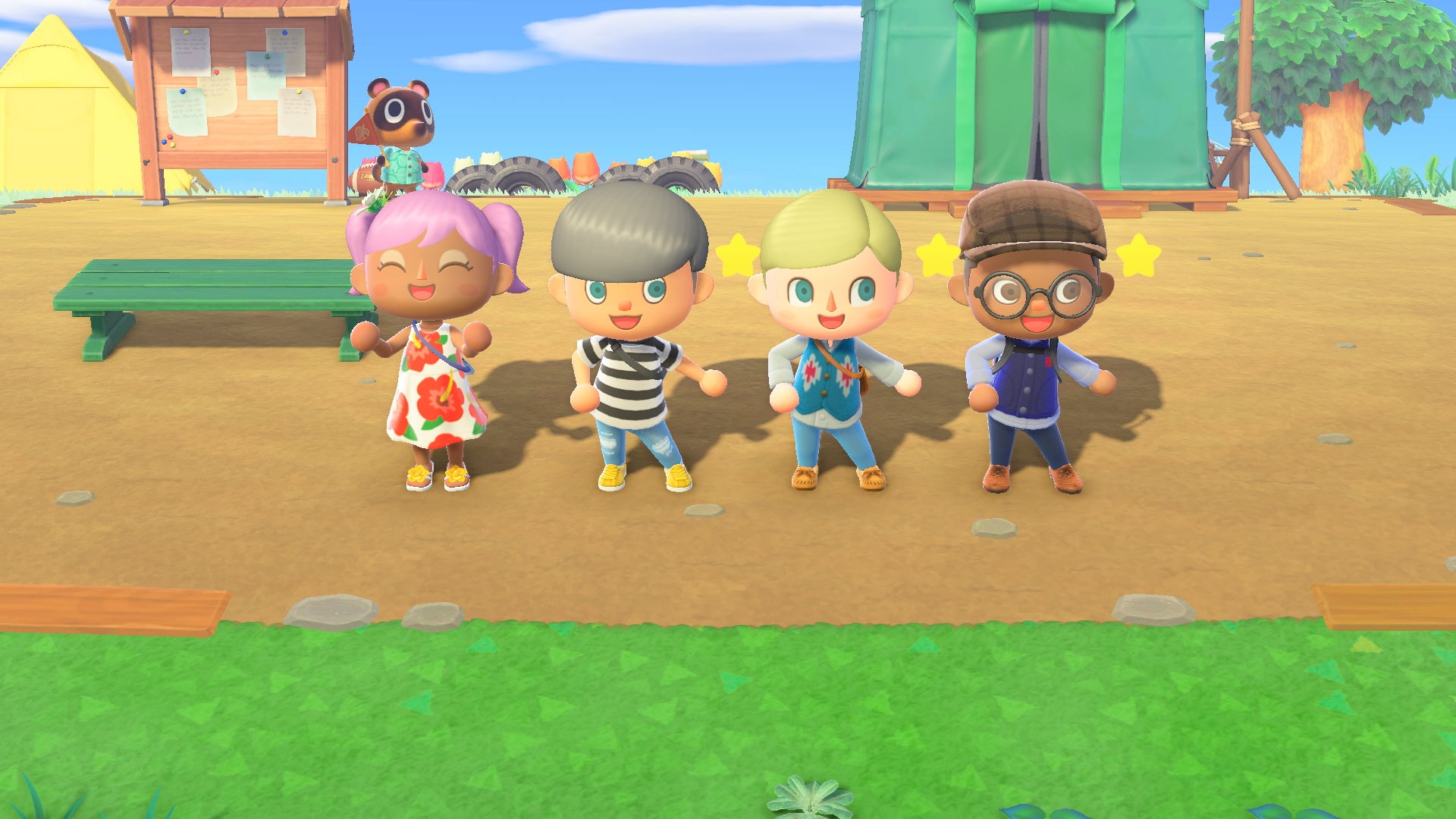 This article first appeared on USgamer, a partner publication of VG247. Some content, such as this article, has been migrated to VG247 for posterity after USgamer's closure - but it has not been edited or further vetted by the VG247 team.
On the DS, I played Animal Crossing: Wild World religiously for close to a year, but I don't know if I ever really identified with my character. Part of that was surely due to the fact that I was a kid; as all-age appropriate as Animal Crossing is, a lot of the fun and appeal for adults is the fantasy of owning a home somewhere nice with neighbors you like. I went online weekly to sell turnips at a high profit, made meticulous adjustments to my house, but I don't think I ever really felt like my little town-dwelling avatar was me.
Historically, others have had a much harder time getting their Animal Crossing player character to look like themselves. Austin Walker once wrote a terrific essay about how New Leaf's lack of skin tone options and the workaround of tanning your character were inexcusably exclusionary. Soon after New Horizons' reveal, we learned that Nintendo has not only added in skin tone options, but that it has added face paint and decoupled facial features and clothing options from your character's gender (though it looks like you're still made to pick male or female, likely to set pronouns).
Playing a hands-on demo at PAX East 2020 and watching others play in Nintendo's booth, though, I realized that the improvements to character creation hardly stop there. One of the defenses mounted for Animal Crossing either lacking customization choices or—take haircuts as an example—hiding options behind obtuse questions and slider settings has been that these limitations are simply part of the series; that they're somehow essential to the identity of Animal Crossing itself. New Horizons changes that.
Midway through my demo, which was facilitated by some members of Nintendo Treehouse, the save file I was playing on was advanced a little bit into the typical development of a New Horizons deserted island. My character's tent had been replaced with a small house, and the Nook family had gone from squatting in their tent to opening Nook's Cranny, which always used to be the very first version of their business you'd see. Another shop had opened up on the island, too: the mother of all customization spots, the Able Sisters' clothing shop.
Upon entering, Mabel greeted my character as a first-time customer and said thanks for picking a spot for the store. Billy, my Treehouse companion, said you'll be asked to pick where it and other unique locations open up, just as the Direct showed you'll do with new houses for island residents. Out on the shop floor, Able Sisters has the familiar daily assortment of developer-made clothing options and customizable designs, but if you enter the fitting room, things open way up.
You can see a snippet of the menu in the Direct, but it barely scratches the surface of how many options you'll be able to purchase from Able Sisters every day. There will always be dozens of options for shirts, pants, skirts, full outfits, hats, socks, and shoes rotating through the fitting room inventory every day, and the room's menu gives you a clear, simple way to try the look of new clothing on your character without buying it first. Weirdly enough, it reminds me a little of Clueless, specifically the scene where Cher has a computer previews her outfit for the day.
Beyond that, the options for designing your own clothing look to have been significantly expanded. In past Animal Crossing games, Pro Designs let you determine different custom patterns for the front, back, and sleeves of a shirt; now you'll also have more sophisticated options for designing clothing with particular shapes, like tank tops and hats.
As Nintendo announced in the recent Direct, you'll also be able to import designs made in New Leaf or Happy Home Designer to New Horizons by using the Nintendo Switch Online app, and it seems like there will be a way to make designs both new and old look a little better depending on the circumstance. The Treehouse representatives declined to comment on it while I was at the demo, but eagle-eyed Animal Crossing fans have already spotted instances where those pixelated designs seem to have had some kind of smoothing algorithm applied to them. With the right designs, that could get your custom clothing looking much more in-line with the numerous non-custom options at Able Sisters.
All in all, these changes and additions should result in everyone having an easier time creating a player character that looks like them, with a style to match. For me, this is hugely appealing—the one thing you're going to see the most of in Animal Crossing is yourself, and the quicker and easier it is to get my character looking like me, the more likely I think it is that I'll stick with the game.
When New Horizons' desert island setting and crafting mechanics were first revealed, some longtime Animal Crossing fans were worried that it was heading in a different direction than previous games, or somehow adopting a stripped-down approach. On the contrary, everything we've seen so far suggests that this'll have the most to do and longest tail of any game in the series yet.
I think increasing the amount of character customization from the jump meshes well with New Horizons' drawn-out progression from lonely island to bustling home. I would guess that most players who tend to get their character looking perfect and then stop fiddling will have done so long before they unlock the island designer construction permit. For those who never stop tweaking their characters, it looks like there'll be more than enough ways to keep your appearance and fashion constantly evolving.
Animal Crossing: New Horizons launches for Nintendo Switch on March 20, 2020. For more on the game's customization options and other features, head over to our guides section.