Captain Toad: Treasure Tracker review: an absolute joy on Switch, but as bare bones a port as they come
Captain Toad makes the jump to Switch – and while his adventures are still a charming joy to play, this is as simple a port as Nintendo has offered so far.
While the Wii U had an undeniably shallow game library, it had some pretty great games going for it – and the latest to make the jump to Switch is arguably the cutest title on the machine, the utterly lovable Captain Toad: Treasure Tracker. A Super Mario Bros. spin-off that stars the affable, cheery Toad off on adventures all of his own, Captain Toad is for my money basically the perfect Switch handheld mode game – though those who experienced Captain Toad's and Toadette's adventures on Wii U will find little new to entice them here.
Each stage of Captain Toad sees the player dropped into a small puzzle-box like level. You can rotate the camera all around the level, viewing it from all angles, with different layers of the level visible like a cross-section. Toad isn't an aggressive type (though he can drag vegetables up from underground and toss them as in Super Mario Bros 2 / Doki Doki Panic), so it's ultimately up to you to navigate around enemies and obstacles to reach a power star. It's that simple.
Captain Toad is split into a couple of different chapters with some very light story elements to tie everything together. What's most impressive and memorable about the game is how it slowly layers in more complex game systems, teaching you about a new thing you and Toad can do to manipulate the world before testing your knowledge and lateral thinking to put that new skill to use in a puzzle.
As such these puzzle boxes never really get old as you plough through them: new mechanics are constantly being introduced, used until worn, then discarded in favor of something new. It's a relaxed pace for a brain teaser, and is perfect for a commute or just a bit of relaxing handheld play. There aren't as many levels as there should be, but each is brilliantly crafted, many offering up surprising little twists on the formula right as you're getting used to the previous one.
The stages are beautifully designed little puzzle boxes that begin quite simply but quickly become complex, multi-faceted things that'll test everything from puzzle solving to platform timing (though it should be noted that Toad can't jump). As well as the power star main objective Treasure Tracker earns its name by offering up additional objectives like Diamonds, Golden Mushrooms, coins and even little 8-Bit Toads that have to be found to mark each stage as 100% complete.
The length of the game is undoubtedly an issue as in the previous release, but each of thee levels there is includes a decent amount to do, and on top of all that you can split control with a second player for some frustrating but fun co-operative play. One player controls the camera and the touch-sensitive elements while the other controls Captain Toad himself – leading to some communication challenges and ensuing hilarity with the right partner.
That previously-mentioned touch mechanic is one of the few shortcomings of Captain Toad on Switch, since its on-screen replacement during docked play is poorly implemented at best and a distraction at worst. Level elements that are a breeze on a touch screen are suddenly a bit of a pain when docked, and high-pressure moments where you have to do something quickly such as turn a valve before an enemy hits you are actually more challenging when docked because of this. It's less than ideal, leaving you wrestling with gyro functions to manage basic level functionality. It works, but it could and should've been better than this.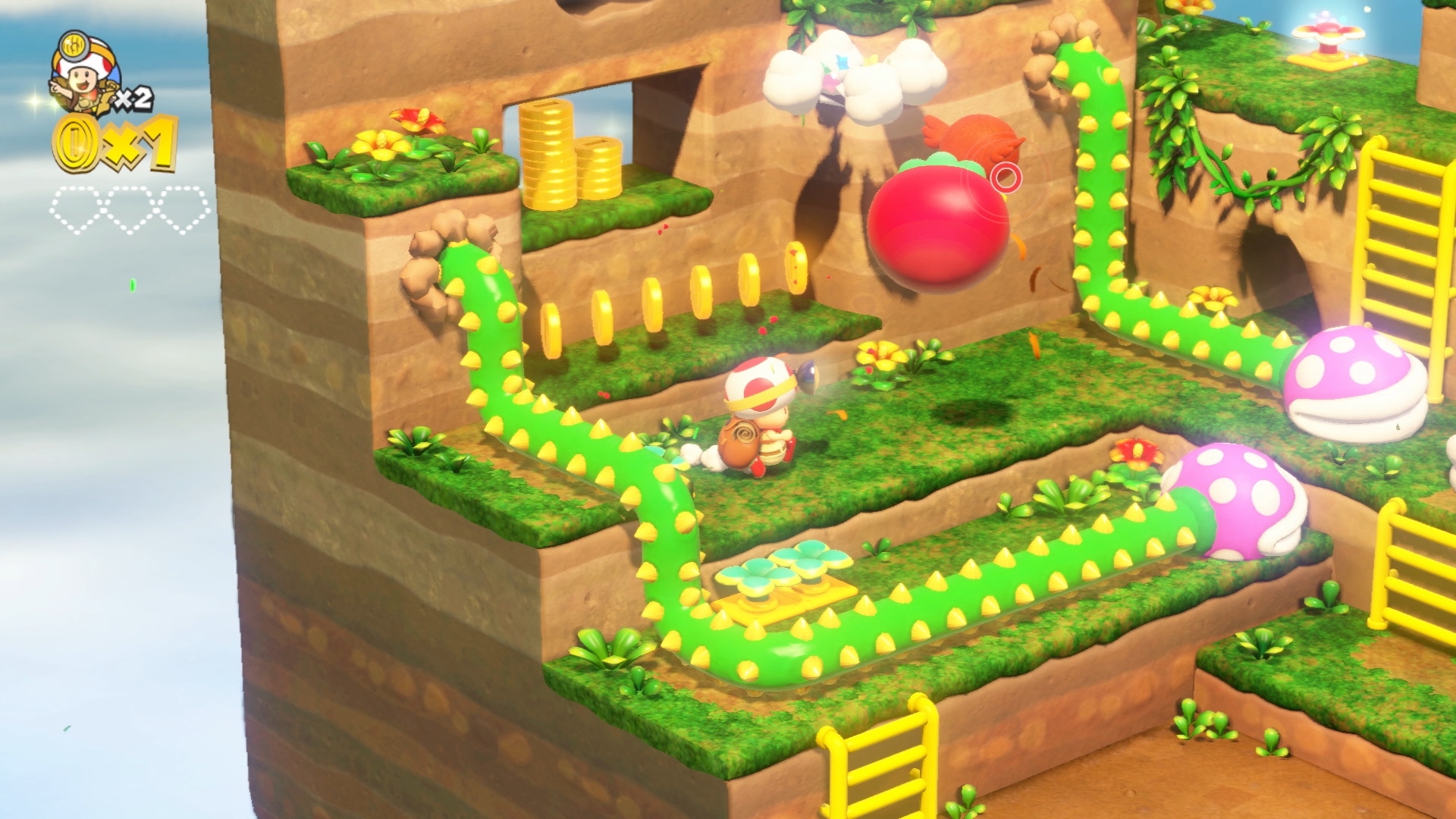 This new ported release only features a few new levels set in locations from Super Mario Odyssey as significant new content addition over the Wii U version, making this a definite skip for anybody who played it on that platform. If you didn't, however, it's a wonderful little game that runs well in its new home – and even the down-ported 3DS version is a little miracle, running brilliantly on such an aged platform.
Captain Toad: Treasure Tracker is an incredibly bare-bones port, but that doesn't really matter in the end. We all know it was originally released on a naff platform next to nobody owned, and a game this fun and charming deserves a second chance. The Switch and 3DS versions are fine ports, and suitable for just that.
Captain Toad: Treasure Tracker is out for Nintendo Switch and Nintendo 3DS. Review copy provided by Nintendo.