The Pandemic Could Be the End of Your Favorite Arcade
We talk to the arcade owners battling to survive the COVID-19 pandemic.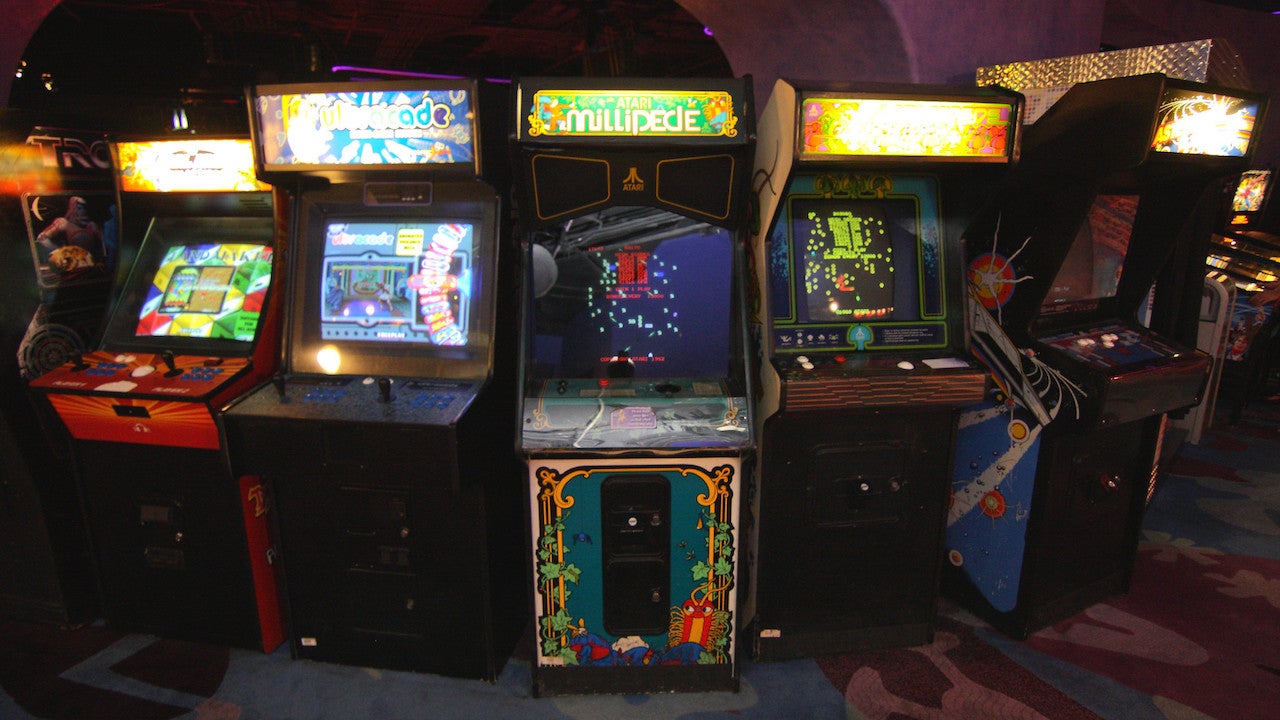 This article first appeared on USgamer, a partner publication of VG247. Some content, such as this article, has been migrated to VG247 for posterity after USgamer's closure - but it has not been edited or further vetted by the VG247 team.
The hometown arcade I grew up with, like hundreds of others across the country, shut down well over a decade ago. For a while, the GameWorks a 40-minute drive away in Seattle was the only other option. But in the past few years, smaller independent chains have launched, and tons of new one-off arcades have sprung up. It's not hard to find a combination arcade and bar in a city these days, and even all-ages locations have been helped by the emergence of VR, which is still a hard sell for many households. A few months ago, I would've said the arcade business looked to be in a boom time.
Instead, all arcades, regardless of their size and business models, are at risk. The COVID-19 coronavirus pandemic has shuttered all kinds of venues across the globe, but arcades face unique problems. Time spent with video games is up as people shelter in place, but this trend is partly spurred by the increase in unemployment. When businesses start to reopen, will people spend their potentially diminished wages on games at home, out in an arcade, or will they funnel it toward other hurt businesses like movie theaters or music venues? Arcades that rely on strong communities have to figure out how to keep them engaged in the interim and hope that they'll be eager to come back once the crisis has passed.
The pandemic is hitting venues and cultural establishments of all kinds. In a way the shared struggles illustrate just how much games culture overlaps with other forms of art and entertainment. At the same time, while the at-home and online video game market may thrive, this moment is no doubt the biggest threat to the existence of arcades yet.
Community or No, the Margins Are Incredibly Thin
Stephanie Gross and Mark Kleback opened Wonderville—a DIY performance venue, arcade, and bar—in June of last year. It's the new primary home of Brooklyn's Death By Audio Arcade collection, a growing group of indie arcade cabinets that are largely one-offs. Wonderville raised $100,000 via Kickstarter to open its doors, building on close to a decade of community support for Death By Audio Arcade stemming from past homes for the machines and appearances at events like MAGFest. It's both a hub for NYC's thriving games culture and a new part of the Brooklyn nightlife scene.
"We're really lucky we're a part of this app, GroupMe, with all these other bar owners in the area," says Gross, speaking with me the week after Wonderville closed in March. "We've been talking with these other bar owners about what we [should] do, what does this mean, as things were getting more serious very quickly here."
Most nights since it opened, Wonderville has been home to live events and shows that go on while people play the games, which are all free (there's a donation box near the door). The weekend right before New York City Mayor Bill de Blasio ordered the closure of all bars and restaurants, save for takeout, was rough compared even to a slow weeknight. Kleback says some workers wanted to work as long as they could, while others were saying days earlier that they thought it was time to close down.
"I think we were split with our staff," Kleback explains. "Half of them were encouraging us to close even earlier, some of them [said], 'The longer you stay open, we're happy to work and disinfect everything.'"
"I feel very lucky, at least, for our bartenders that our shifts pay a little higher than the norm," says Gross. "We did that simply because, being a new bar, we wanted to give them a cushion in case we had bad nights. Mark and I definitely had disagreements every other hour on 'should we close, should we not, what does this mean.'"
Ultimately, Wonderville did not hold out longer than most venues in the city, and unlike some NYC bars, it is not in a position where making drinks available for to-go or delivery is viable. For now it's closed, as is the case with most venues. With no foot traffic and bar revenue, the money to pay for wages and expenses runs out very quickly. Gross and Kleback haven't taken profits from Wonderville since it opened—they're still paying down the initial debt incurred in securing the space and getting it running.
Wonderville is going through its own version of what all arcades are going through. Its fellows in NYC, from 00's fighting game mecca Chinatown Fair to the trio of Barcade locations, have closed their doors and switched off their machines. Wonderville has launched a GoFundMe to support its workers, just as Chicago's Logan Arcade, Milwaukee's X-Ray Arcade, and others have.
Arcades across the country are pursuing other ways to weather the closures. Los Angeles' Button Mash is open for weekend meal deliveries and has launched a "Quarantine Boredom Pack" with iam8bit to further support its staff. Ground Kontrol in Portland, Oregon is directing people to its merch page. The Bay's High Scores Arcade has set up a donation page to hold on through the downtime. Portland's QuarterWorld and Tampa, Florida's Lowry Parcade are temporarily making some games available for rental. There's probably been no other time where someone could rent a four-player Simpsons machine out for a month for $150—but extraordinary times call for extraordinary measures.
Some arcades simply won't reopen. It's too early to tell for many, but Ohio has already bid farewell to the Full Blast Arcade. Home to a considerable collection of retro games and pinball tables, owner John Salter cited the pandemic in his closure notice on Facebook.
"We've made some great friendships that will last longer than the arcade ever could," he writes.
All Small Venues "Were in Crisis Before COVID-19."
Arcades like Wonderville, Logan, and X-Ray that have active event scenes at least have the option of taking those online in some fashion. The first quarantine stream Wonderville did was of a regular Jackbox night that was already part of its livestream schedule—the host simply put it on via Twitch from home. For arcades without a stage, or for bars and venues without the kind of social draw that games can foster, the options for maintaining their communities are less clear. If there's no obvious way for communities to come together online to support spaces like these, their chances for survival look bleak.
That's a problem that the NYC Artist Coalition has dealt with since before the pandemic. "We didn't have a contingency plan because the sad truth is we were in crisis before COVID-19," says Olympia Kazi, a member of the volunteer organization. The coalition's mission is to protect and provide support for affordable community spaces of all kinds, including places like Wonderville. "We are believers in grassroots culture in all its colors and shapes, and to be honest, it's something that's already in crisis in New York and many other big cities because they could not afford to exist," Kazi says. "We were ready because we're already operating with desperation in mind."
Nonetheless, Kazi says her inbox has been overwhelmed with outreach and requests for assistance since the closures went into effect last month. What the NYC Artist Coalition is seeing firsthand in the city and, anecdotally, across the country and world, both validates its purpose and illustrates the scale of the current threat to community spaces.
"People are saying that large public gatherings will be banned until the end of the year," Kazi says. "This interruption of business started in March, so we're talking about 10 months. That's huge. I think, the reality of it is, most [small venues], unless there is serious investment from our government, are going to just shut down permanently. Their business model is not going to be viable for a long, long time."
The base needs of your favorite arcade, eatery, theater, record shop, or bookstore are likely the same across the board: there's payroll, utilities, insurance, and—in most cases—rent to pay. Temporary stays on evictions will vary depending on the city and state you live in. More likely than not, there's been no action taken to freeze let alone cancel rents in your area save for choices made by individual landlords. Most businesses are not so lucky.
"There's a huge campaign about suspension of rent, and we support this campaign," says Kazi, referring also to a proposed bill that would suspend rents for some residents and for closed businesses. "We believe that it is more important at this time that human life is at stake, right? That people prioritize paying their staff, that payroll is more important."
As for utilities and other expenses, those are matters that'll vary greatly from business to business. Obviously, there are differences in need if you're an arcade that's completely shuttered versus a bar that still does delivery, and for now it seems the arrangements and concessions made there will come down to the response of local providers. Where certain expenses are no longer required, there's also a ripple effect—Wonderville, for instance, regularly pays an outside service to clean the space. Reduced access to and demand for the service industry impacts the businesses that exist to service those spaces.
"If Insurance Doesn't Cover This, What Good Is Insurance?"
If you don't have first-hand service industry experience, it might be difficult to grasp the razor thin margins and debts that many businesses operate with. If you've never run a small business yourself, though, it's likely you also have little to no idea of how much revenue goes into paying for insurance. As expensive as the policies are, the insurers are not coming to the rescue.
"That's one of our highest bills as a yearly expense," says Gross. "I'm paying $12,000 a year, and they wrote back saying it's insurance for all the other things."
That's happening to businesses across the country. "A lot of insurance policies have decided to not honor business interruptions and closures if they're due to a virus," Kazi says. "This was a provision that was introduced a few years ago after SARS."
One NYC Artist Coalition member reached out to their state assembly member, and now they've introduced a bill that would compel insurers to cover losses resulting from the pandemic. Similar bills are also being considered in New Jersey, Ohio, and Massachusetts. With the president making an off-hand remark saying insurance companies "should pay if they need to pay," the issue is poised to become a state-by-state legal tangle and a political powder keg.
Gross' response to learning about the virus exemption to business interruption coverage was to ask the same question that's on many business owners' minds: "If insurance doesn't cover this, what good is insurance?"
Of course, comprehensive stimulus could alleviate the need to fight insurers on this point, but that seems like an equally remote possibility. The stimulus bill passed last month provides a window for small business loans, but it remains to be seen how far that money will go and where. Kazi calls the bill "shameful" with regards to how it exempts undocumented immigrants from individual aid: "Those immigrants may very often work in these venues, in kitchens, as delivery people. They may be frontline workers right now, the ones who are doing all the deliveries people rely upon because they can't go out."
"We've been swimming in [loan] applications," Kleback says. "The truth is, loans are nice, but that's still money that you're on the hook for, and we're not making any money. It's not like our profits are going to be recouped—these are just lost."
Want to Play Games? Have a Streamed Dance Party? Maybe Do it With Your Arcade
"I feel optimistic that, on the other side of this, we are positioned to make it through at least, Kleback adds. "We might not be in good shape, but we should be able to sustain based on this community that we have."
Prior to the pandemic, Wonderville was on pace to pay down its debts by next year, says Gross. Now, those plans are deferred, and despite the gift card sales, GoFundMe for workers, memberships on the service Withfriends, and direct donations, there's no way that a closed bar can match the money brought in by regular customers and events. Things like merch sales, indie game bundles, and machine rentals may help, but we're already long past the point where this would be just a passing irregularity on any venue's ledgers.
The hope for Wonderville is that, as a place that grew out of a DIY collective, it's well-equipped to survive this trial even if it stretches on for months. Jackbox nights, multiplayer tournaments, and DJ sets aren't the same when streamed over Twitch, but they're far better alternative than just riding this out alone—and given how intertwined games and online-first culture are, it's not impossible that some venues could find creative ways to do more with this time than hold on for dear life.
That said, for arcades to come through this crisis in a strong position, people actually need to show up and support them however they can, even if that's just showing up for livestreams. If you're worried about having your favorite arcade be open for business when we're all able to gather again, keep up with what it's doing and with what the government is or isn't doing to help. At the very least, find a way to let it be known that you don't want your local spot to go away.
"We are extremely lucky to be a bar with a community that is willing to support us and wants us to succeed, but on the other side of that coin, the income that we're getting from donations and fundraising is far lower than we would get from drink sales," Kleback says. "If we can't make it through this with all the support we have, I can't see how a lot of other businesses will."
Header photo credited to Steven Miller under Creative Commons (CC BY 2.0) license.