Mighty Gunvolt 3DS Review: Frivolous Doesn't Have to Mean Bad
For a free giveaway, this retro platformer goes above and beyond.

This article first appeared on USgamer, a partner publication of VG247. Some content, such as this article, has been migrated to VG247 for posterity after USgamer's closure - but it has not been edited or further vetted by the VG247 team.
You have to hand it to IntiCreates: Their flagship crowd-funded release Mighty No. 9 is still months from release, yet they're already leaning hard on it. Case in point being Mighty Gunvolt, a free bonus download that came attached to Azure Striker Gunvolt last week.
Mighty Gunvolt, as the name would suggest, combines Mighty No. 9 and Azure Striker Gunvolt. Also, weirdly enough, it throws the Japan-only Galgun (an Xbox 360 shooter where you shot people with pheromones to get them all hot and bothered) into the mix as well. Said mix consists of a linear, NES-style platform action game with faithful 8-bit graphics. And it's bizarrely good — in fact, I've enjoyed playing it considerably more than the ambitious but uneven Azure Striker Gunvolt.
Mighty Gunvolt offers an interesting dose of perspective on the games it draws material from. The bulk of it consists of 8-bit renditions of Azure Striker stages, all the way down to bosses whose designs and patterns have been neatly replicated in four-color sprites. Likewise, the play mechanics have been considerably slimmed down as well. When playing as Gunvolt, for example, his electrical field attack mechanics manifests as a medium-range stream of electricity that hits enemies repeatedly, and his gun works as a proper weapon rather than simply a device to tag enemies as prospective targets.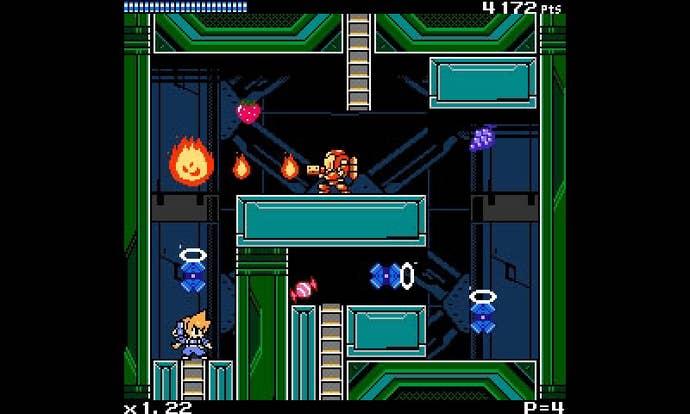 You don't have to play as Gunvolt, though. You can also play as Mighty No. 9's Beck, offering a rough sample of that game's play style for those who don't have access to the Kickstarter backer beta, and as Galgun's Ekoro. Each character features unique mechanics: Gunvolt can double-jump, Beck can dash, and Ekoro can briefly hover. Likewise, Gunvolt's electrical stream is replaced for Ekoro by the ability to turn defeated foes into companion characters who will tag along behind and fire powerful shots at other enemies.
While the game's five levels play out exactly the same for each character, each protagonist demands very different tactics. Not only that, but each stage has multiple routes that give each hero or heroine unique opportunities to collect power-ups — either health or fruit icons that build the score multiplier. Beck's dash allows him to squeeze through narrow crevasses, while the other characters can reach high and out-of-the-way platforms.
In short, it's an awful lot of effort and variety for what amounts to a bonus game. Admittedly, this is nothing new for IntiCreates; Galgun had a "retro game" panic mode to hide its saucy material from curious eyes, and Mega Man ZX Advent had an entire 8-bit style minigame adaptation of the ZX which probably had a lot to do with the team's subsequent work on Mega Man 9. And Mighty Gunvolt is only free for a while; eventually, it will no longer be included with Azure Striker Gunvolt and will be sold separately. There's also talk of updates to the game which would, presumably, add in more material from Mighty No. 9 (something sorely lacking here).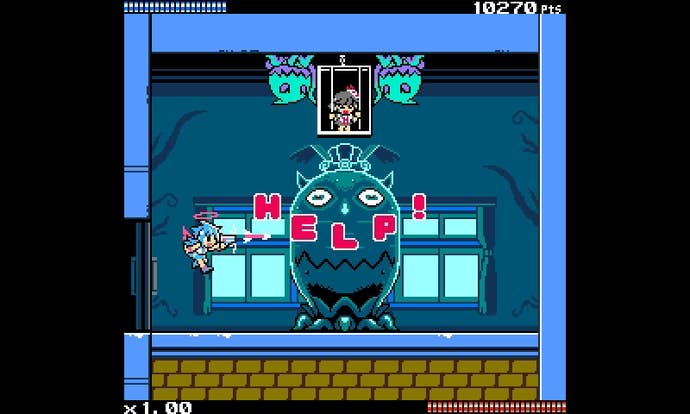 For now, a big part of what makes Mighty Gunvolt so appealing is the opportunity to play through Azure Striker content in a more straightforward fashion. While it sacrifices some of the real game's depth, Mighty Gunvolt makes for a more even experience: Level designs feel more interesting, bosses are perhaps somewhat less. But the net result is a game that manages to be consistently interesting from start to finish. And while the difficulty may clock in just a bit too easy for seasoned players (especially compared to the insane bosses in Azure Striker), the game's bite-sized levels lend themselves to time- and score-attacks far more so than Azure Striker's sprawling stages.
VisualsA spot-on recreation of NES aesthetics. Sure, everyone does it, but few do it right.
SoundThe chiptune versions of Azure Striker Gunvolt themes are often better than the original arrangements.
InterfaceIts two-button control scheme makes for a pleasantly straightforward action title in the olden style.
Lasting AppealShort and simple, Mighty Gunvolt's distinctive multiple characters and emphasis on time and score invite frequent replay.
ConclusionPerhaps most of all, Mighty Gunvolt captures the charm and simplicity of countless B-tier NES games. Even its debut — it came out of nowhere! — hearkens back to the pre-Internet days when being surprised by quality games was still possible. It's no masterpiece, but a great deal of care clearly went into Mighty Gunvolt's creation. It's one of the best bite-sized 3DS downloadable titles to date, and loads of fun for fans of classic games.