Interview - Star Wars: The Old Republic producer Jake Neri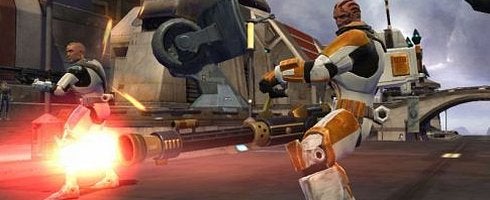 We were give the opportunity to visit Lucasarts for hands-on time with Star Wars: The Old Republic last week in San Francisco, and the MMO, in all honesty, looked and played great.
As we ran our female Trooper around killing badies and shooting drones, all actions were smooth, the UI was organized yet simple to understand, and the response time fantastic for a game that's not even complete. We didn't want to stop playing, but GDC shuttles wait for no woman.
From what we played, all bodes well for fans dying to get their hands on the game next spring, but playing it raised more questions than answers.
Luckily, the game's producer, Jake Neri, was there to answer them.
VG247: How's the development process going? Obviously, you aren't revealing everything at once but gradually letting details through leading up to release.
Neri: Development is going well. We've been working hard on it and fortunately what we've shown has been well received by fans and critics alike, so while we appreciate the enthusiasm we don't take it for granted. Still, it fuels our fire and we feel pressure, good pressure mind you, to do a good job on the game.
That's a little bit of what's going on, but we are trying to be measured on how we reveal things. Part of our philosophy is to always talk about what we know we can do well before we talk about things that are still in development. So, we know everyone wants all this information, but we're not sitting back going, 'Ha ha, we know more than you,' or anything.
Well, you know how MMO players are. We always want to know every little detail.
Neri: Yeah, they're great aren't they? [laughs]
I spoke with Ray and Greg from BioWare at GDC this week, and I asked them why they chose this particular timeline when Star Wars itself has so much lore behind it. I mean, there's so much it's almost Tolkienesque.
Neri: The folks here at Lucasarts have had a tremendous partnership with BioWare for a long time. We had a very successful relationship on KOTOR (Knights of the Old Republic), so it is a natural fit for us to work with them, and this era was chosen because it's fertile ground. It's reminiscent of what people know from the films yet new enough to bring a special and newer feel to Star Wars.
So, we tend to find partnerships that work and stick with that, and since this one has worked in the past for us - I mean, these guys are great. We love the timeline too, so it all of it was just a natural fit, really.
As far as planets in the game go, are more going to be added to the MMO map with more expansions, or chapters? Going back to the lore, there's just so much play around with - just how big do you see the game getting?
Neri: I have no idea. I mean, I guess it really depends. We would love to imagine this game lasting for years and years and years, so I don't know how big it could get. I know that at launch we plan on providing a substantial amount of content; stories, planets, adventures, zones, zones that are ripe for conflict and others that are safer for low level players. I am not exactly sure where we will net out by the time the history of the game is done, but we do have to continue to support new exploration and new planets.
One of the things that you hit on is the fact that there is all this rich lore and so there's endless possibilities of what we can do, and endless planets that we can go to. I think it's safe to say that we would love to continue tapping into that as time goes on. So, I don't know if that gives you the number that you are looking for or not, but philosophically you're right. We want to be exploring either the current stuff that's going on or the extended universe stuff that's going on. We want to be in the mix with all that and pull the really cool stuff out and give people what they want and expect from a Star Wars game.
As far as the core game is concerned, most MMOs have the little single-player jaunts and your three-man, six-man, and twelve-man teams, and then your larger raids with up to 24-players at a time. Do you have a percentage of how those different types of gameplay will be broken up?
Neri: Our game is heavily story-based, so there will be individual areas that you go into - which are instances - and there will be parts where your individual story is very critical and you won't want a bunch of people on top of you ruining your decision. But you can still do those with friends as well. What we are trying to do is create a game where players of all styles can get into it. So, if you like to solo you should be able to do that as long as you want with very few barriers. If you are the type who prefers the company of a group, we want that to be made available for you as well.
That makes people wonder how our story mechanic works for the MMO. We have to make sure that the story works individually as well as in groups. So, if you're asking if we are going to be having highly repeatable group content, well then yeah, absolutely; but we have stuff for mid level to high level too, absolutely. We haven't honed in on a number, we haven't talked about what our rating may look like. We haven't even really talked a lot about endgame, and that is something everyone wants to know for some reason. We are working on that though and will probably roll that out on our website when the times comes. But without getting into specifics about grouping and all that, I think people will be very satisfied with it once the game comes out.
What about PvP? Are you going to enable players to walk up to another and request a dual/spar/fight or what have you, or will you have a designated area that is PvP only with the rest of the map being PvE unless one requests a match?
Neri: That hits on another area where we haven't given out all the details, but we do have a plan for a PvP experience. We don't support the high level character killing the low level player, but it's safe to say that we're going to make sure that that does not happen. We've explored a lot of those endgame PvP mechanics and that is another area where I think people will be excited. I think the action that we're bringing to the combat, and the top cinematic stuff of Star Wars combat will fit right in with that PvP experience. I think people will be really pleased with it.
Space travel. Tell me a bit about that. How many different ships will we have and how is that going to work as far as space combat is concerned? Is there going to be an even amount of ground versus space combat?
Neri: That's a bit interesting because we hear that a lot. You know, 'What are you guys doing in space,' and all that. I mean, there is going to be space, but we haven't talked to much about what our plans are there, other than to say that we understand that people want it, and that is about as much as we can, and do say about it. Honestly, we are making sure our ground combat, our story and everything else is all tight and for now that is really what we are focusing on.
What about traveling from planet to planet? Will we will able to get into our ship and manually fly to a planet, or can we, oh, say, go to a warp point and get there faster - or possibly path to where we want to go like you would a mount in other MMOs?
Neri: You know, that's a good question. We haven't demoed that yet, but we obviously have to figure that out somehow, and hopefully, I think, we will have thought that out by then. I don't know about instant travel. I'll have to ask the designers what they think.
I know MMOs are a huge undertaking and you are wanting to take your time and get it right, but please tell me that we are not going to have to wait until 2012 to get the game. That's the year the world is suppose to end. Didn't you see that movie with John Cusack?

Neri: [laughs] Well, the target we are aiming for, which we have talked about, is spring 2011. But the thing for us is making sure that the game is great. We have a blessing and the curse here with huge expectations, and I think everybody on both sides of the equation here, along with the EA, BioWare, and the Lucasarts folks really understand the importance of getting this game right. We have been blessed with a tremendous amount of fans that are just totally interested in this so it's tough. You want to give it to them, but it's gotta be good, so we're going to try and do that.
But yeah, currently we're targeting spring 2011.
One last question and I will let you get back to it. What kind of PC will users have to own to run the game properly?
Neri: We are doing our best to make sure our game is accessible as possible with system specs. Our recommend specs or minimum specs haven't been announced yet but I mean, I myself don't have a super crazy gaming rig at home. Some folks do, some folks don't - but we need to make sure the game accommodates everybody.