Tricky Towers PS4 Review: Competitive Tower Building with Tetrads
Tricky Towers looks like a Tetris game at first glance, but it's not really Tetris at all.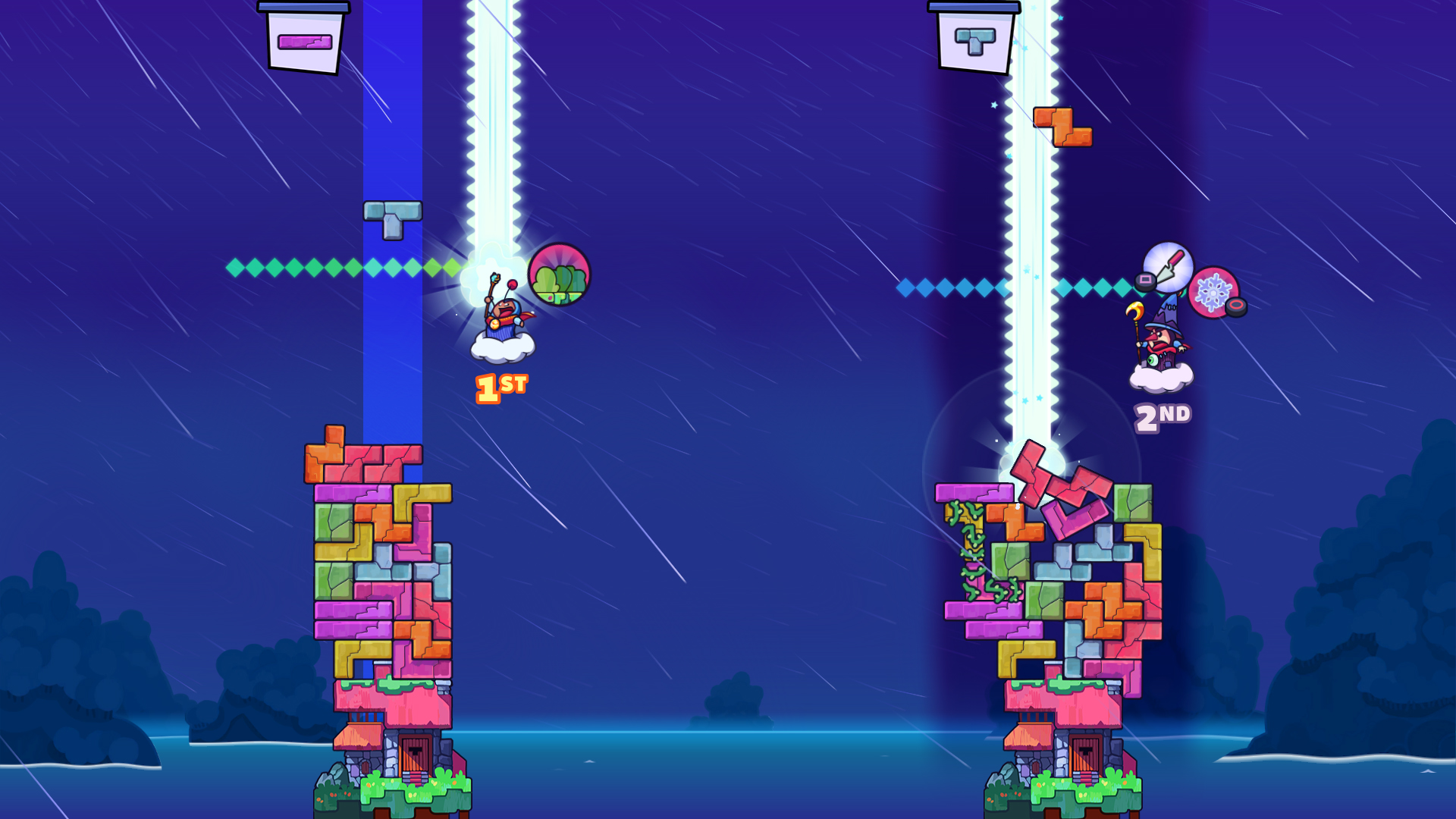 This article first appeared on USgamer, a partner publication of VG247. Some content, such as this article, has been migrated to VG247 for posterity after USgamer's closure - but it has not been edited or further vetted by the VG247 team.
Dutch developer Weirdbeard's Tricky Towers first caught my eye at the PlayStation Experience event in San Francisco at the end of last year. At first glance it looks like a Tetris variant, and for a moment I was fooled into thinking that perhaps a new version of the game was coming out on PlayStation 4 that I didn't know about.
Upon further inspection, though, it turns out that while the game does indeed initially look and play like Tetris, it's not really Tetris at all. It's ultimately a competitive tower-building game. Tetrads that are the same shape as the ones in Tetris fall from the sky, and the objective is to pile them on top of one another to create an edifice as quickly as possible. That sounds easy enough, right? Just a case of dropping pieces down the screen and piling them up to win? Well, it's not – and here's where Tricky Towers' excellent twist comes into play.
Tetrads can indeed be positioned on top of one another in the usual Tetris fashion, and as you pile them up, the game plays pretty much like Alexy Pajitnov's classic – except that lines of blocks don't disappear when you complete them. However, the pieces don't actually stick together like they do in Tetris – they're governed by gravity, so that if a piece is protruding too far from your column, or you don't match pieces together perfectly, they'll start to fall. This can create chain reactions that result in your tower destabilizing, and perhaps even falling apart completely if you manage to unbalance it.
Tricky Towers is primarily a multiplayer competitive game that can be played by up to four players locally or online across three different modes. In Race mode, the objective is to simply pile up your pieces as quickly as possible and be the first past the finish line some way up the screen. However, adding an extra dimension to the gameplay is your wizard who floats near your tower. As your heap of tetrads grows, you receive spells that can give you an advantage, perhaps turning a piece of your tower into a solid mass that can defy gravity, or binding pieces together to form a bigger, more stable whole. Sometimes you'll be awarded a spell that can be used against other players, for example, by adding a giant piece into their tetrad rotation that's really difficult to position on their tower.
Survivor mode is a little different. Here you have to build a stable tower and last as long as possible without pieces dropping off your building. Every time they do, you lose a life, and when three batches of pieces have fallen, you're out of the game. As in Race mode, you have access to the same kinds of offensive and defensive spells that let you strategically strengthen your tower, or mess with your opponent respectively, further adding to the competitive fun.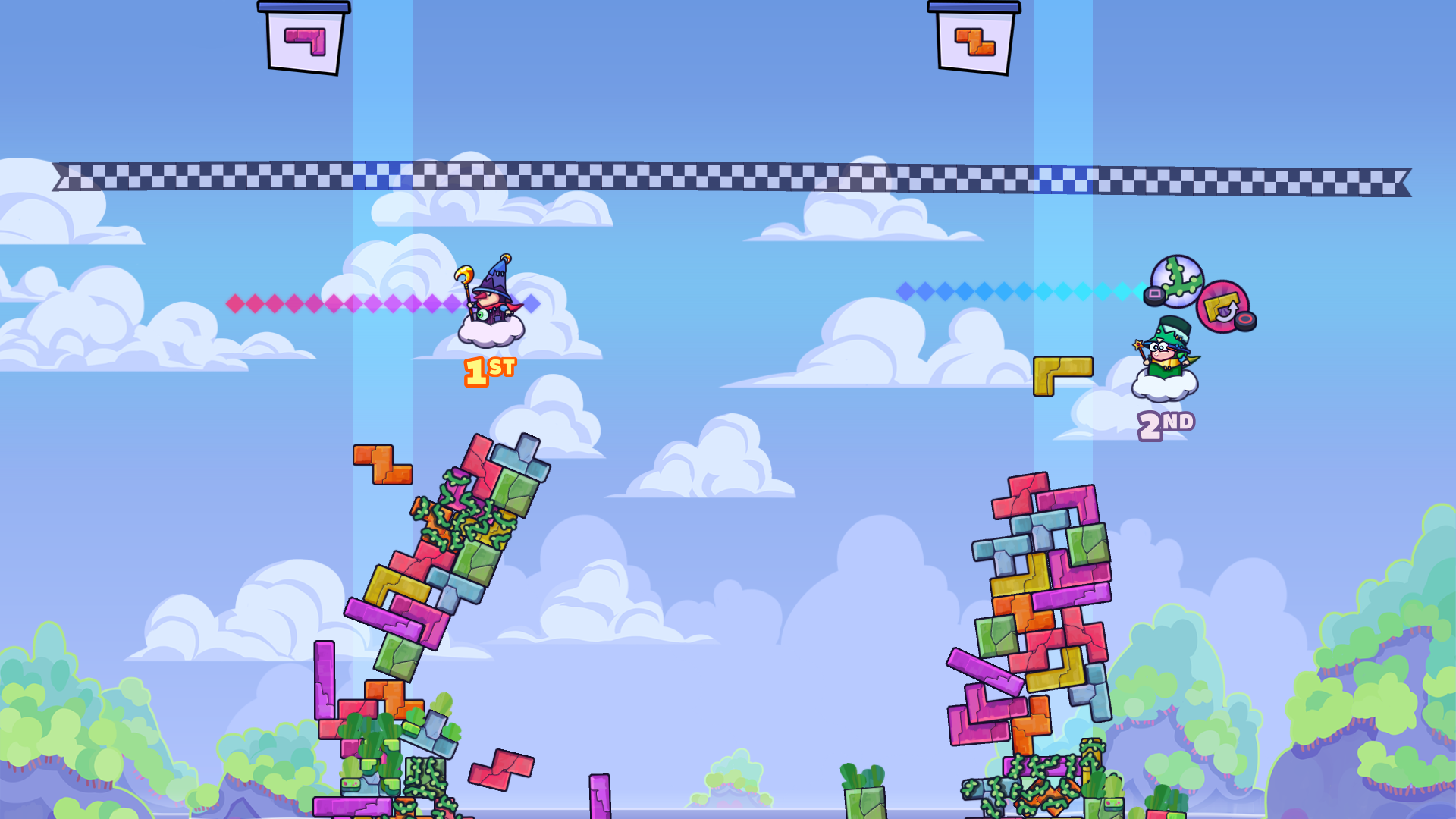 Finally, there's puzzle mode, in which you have to build a tower that's as wide as possible without dropping any bricks. This is definitely the trickiest of the three multiplayer modes, as well as the quickest. Games can be over in short order if you build your tower too high, or you fail to make a stable base and your pieces topple to the ground.
All three multiplayer modes are exceptionally easy to pick up and play, and that's largely the beauty of this game. It's simple, but great fun, and gives rise to highly satisfying "gotcha" moments, especially when you do something like drop a giant piece on an opponent at a key moment when they're nearing the finishing line, causing their tower to collapse. However, the same thing can happen to you, of course, and this delivers some great back-and-forth during matches that can really make the proceedings riotously entertaining. Tricky Towers is nicely designed in that respect to make competition fierce, but fun – making it a great party game because pretty much anyone can play.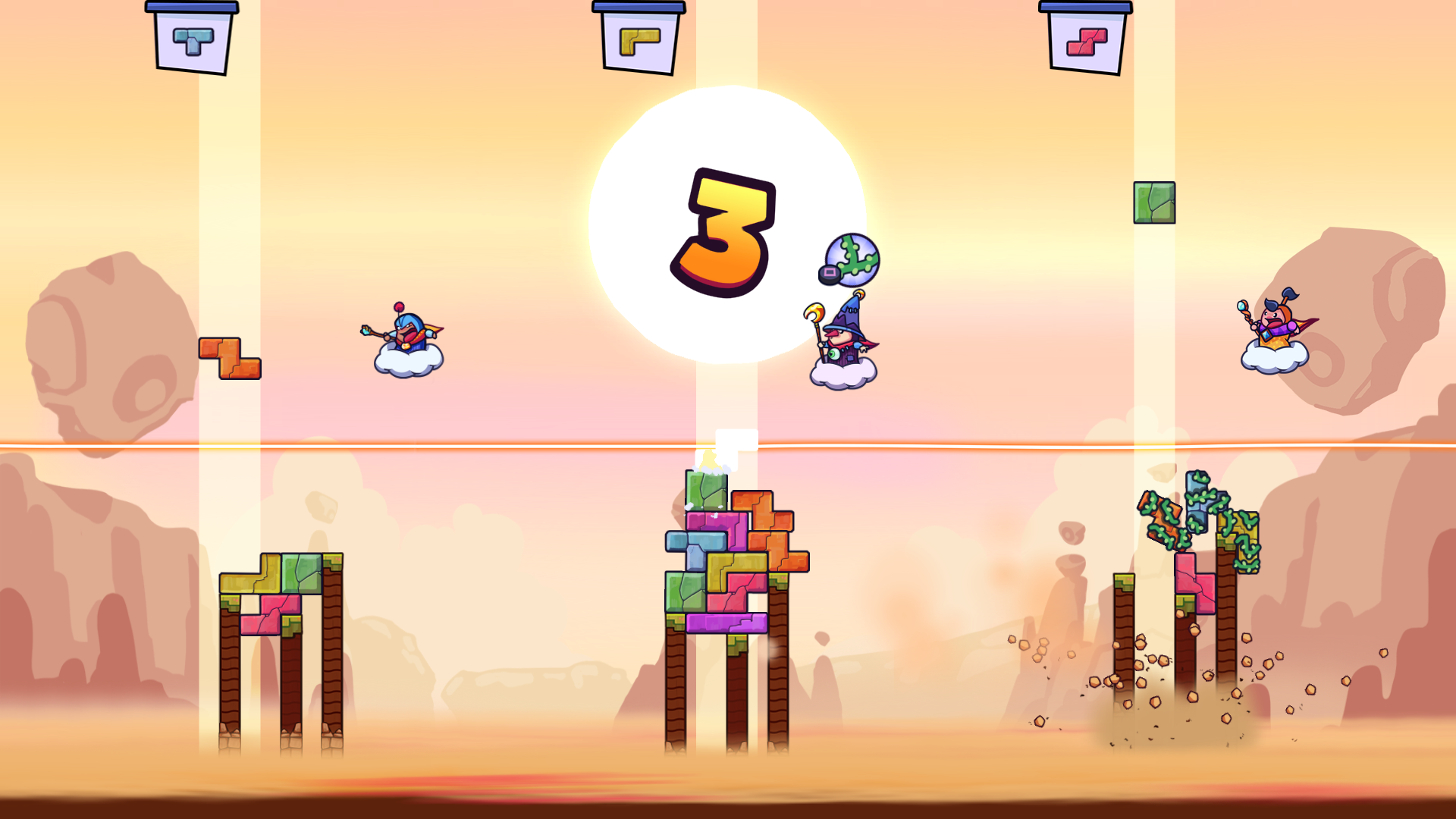 As well as a multiplayer mode, Tricky Towers features a single-player option that's also enjoyable – even if it does get very challenging over time. There are 50 different puzzles in all, and they're arranged in five sets of 10, four of which are locked when the game begins. To unlock the next set of puzzles, you need to finish any eight of the prior challenges.
There are three different flavors of puzzles, which bear some passing similarities to the three multiplayer modes. There's a challenge where you have to build a tower as quickly as possible and reach the finishing point before the timer expires. Another is similar to survival, where you have to build a tower using a certain number of pieces. If they fall, and you lose all three of your lives, the round ends. Finally, there's a challenge where you have to use all the pieces at your disposal to erect an edifice that fits beneath a certain height. If you can place all the pieces without breaking the height barrier, you win the round.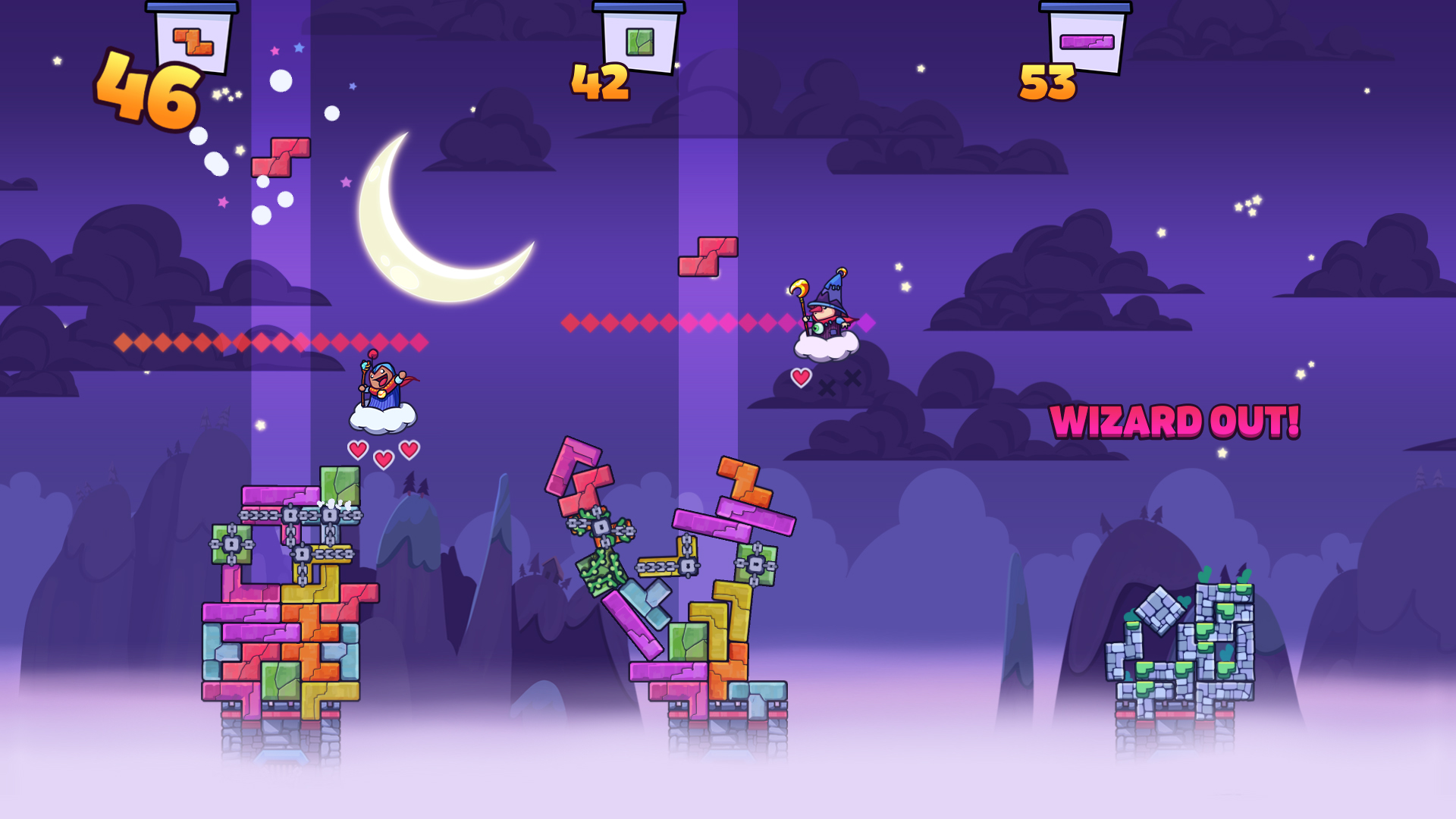 While I was entertained by the single-player mode, I did also find it a little frustrating. The first two sets of puzzles are fairly straightforward, but once you reach the third set and beyond, they start getting very hard – and some of the puzzles seem to rely on luck to get past them. Not so much the ones where you're building a low tower – those puzzles are all about skill, since you always get the same tetrads to play with every time, and it's just a case of learning where you need to put the pieces to complete the challenge – but definitely with the other two. The problem is that if you get the right pieces at the right time, you can breeze through a challenge, but most of the time luck isn't with you, and you have to deal with pieces that are a nightmare to place within your tower, resulting in your tower destabilizing and/or falling. This makes the single-player mode somewhat hit-and-miss. Sure, it's fun trying to complete all the puzzles, but the random element can just make the process annoying, especially when you have a long series of games in a row where you have repeated bad luck.
Fortunately, though, this problem doesn't impact the multiplayer side of the game, which remains Tricky Towers' strength. Whether you're playing online or locally, the game delivers intense and thoroughly enjoyable PvP contests that are highly entertaining. While I don't necessarily think Tricky Towers is the sort of thing you'll play for hours on end, it is really addictive in short bursts, making it an ideal party game, or something to dip in and out of when you have spare time – especially if you have friends or family to play with.
ConclusionThe single-player aspect of Tricky Towers is challenging, but can get rather frustrating due to its random elements. However, as a multiplayer game, Tricky Towers works really well. Its tower-building gameplay is incredibly easy to pick up and play, and it delivers fierce and fun competition that offers plenty of ways for players to mess with one another. Definitely recommended as a party game, or if you have friends and family to play with.